It seems there's construction and new businesses on every corner.
New owners of the Kmart building. MPV Properties (MPV) announced this week that it has purchased the former Kmart building and property at the corner of Concord Parkway and Poplar Tent Road. It includes 25.669 acres with more than 1,000 parking spaces.
The company's plan calls for creating a multi-tenant space in the Kmart building and to begin construction in August. Sears Outlet Stores, a current tenant, will remain, according to an MPV press release.
MPV intends to re-tenant the remaining space in the building with other entertainment and retail uses, however no new tenants are being announced at this time, the press release said.
Stephen Pharr with MPV Properties, LLC and Dawn Prince Hoover with The Shopping Center Group are co-marketing the property.
What will be there? The other current tenant, Charlie's Auto Repair, is not mentioned in the press release and would appear to be looking for a new location. That's not confirmed.
A photo with overlay included with the press release shows five segments to the Kmart building, an out parcel on Concord Parkway and two other shopping development areas along the Poplar Tent side of the property.
The CVAN Store and convenience store on the corner are not included in the sale and belong to other owners.
Two names keep coming up as possible tenants for the Kmart building: Elevation Church and a bowling alley. I haven't been able to confirm the church's interest. It has met at Jay M. Robinson High School for some time. The bowling alley/entertainment venue appears to be set.
Stars and Strikes Family Entertainment Centers. A Facebook page for this business went up Monday, July 8. It lists the Kmart address in Concord as its location and says it plans to open in the summer of 2020. Laser tag, bowling, bumper cars and event space will be included.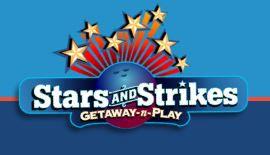 According to the Stars and Strikes webpage, the company opened its first location in Metro Atlanta in 2005. The founders are Jack Canouse and Chris Albano. There will be 17 venues including Concord. Most are in Georgia, but there are locations listed in South Carolina, Alabama and Tennessee. The only other North Carolina Stars and Strikes is in Raleigh.
The final parcel at Troutman Corners. Caliber Collision is coming to Troutman Corners, filling the last parcel in the commercial development done by Troutman Enterprises.
"It's bittersweet," said Keith Troutman, whose father Raiford started the family business in 1947. "It's ironic that Dad first started his business in paint and body and now a paint and body shop is filling that spot."
Caliber will use the existing buildings that housed Troutman Motors and Troutman Enterprises until recently.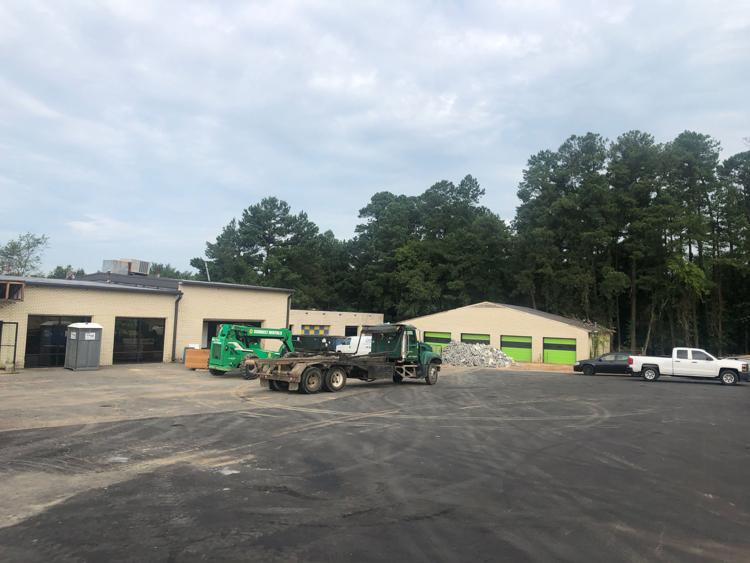 Troutman Motors moved to the corner of U.S. 29 (now Concord Parkway) and Rock Hill Church Road in the early 1980s. At the time, the only businesses nearby were a much smaller S&D Coffee and Jim Simmons' Toyota dealership.
Troutman put in underground retention for the storm water. The original plan had been for an above ground pond, but that would have meant the loss of one of the back buildings, Troutman said.
Construction crews are completely renovating the buildings before the new business will open.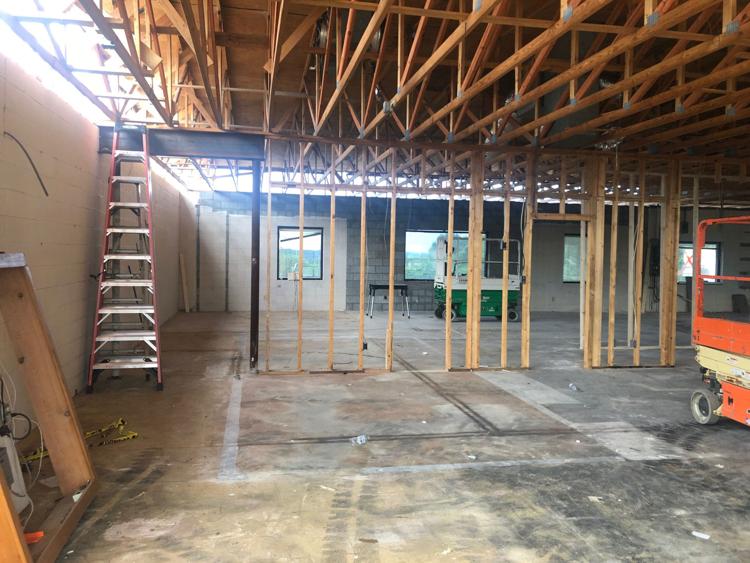 Troutman Motors once had 250 cars and trucks on the lot. Now many customers tell what they want and Cliff Helms and others work to find it.
"The car business is not the same. We have some cars on the lot, but mostly our base customers tell us what they want and we go find it," Troutman said.
Troutman Enterprises' biggest focus now is real estate and construction, though Troutman Barbecue on Church Street and Mama T's in Gold Hill are part of the company.
Troutman said his dad, who passed away a couple of years ago, would be proud to see how the business is continuing.
I'm really glad they put a Dunkin' Donuts on the corner.
Krispy Kreme opening date. Krispy Kreme officials have confirmed a projected opening date of Tuesday, July 23, for the new location on Concord Mills Boulevard.
Cabarrus County's first Krispy Kreme will be open Sunday through Thursday from 6 a.m. to 10 p.m. and Friday and Saturday from 6 a.m. to 11 p.m.
The new staff and management are currently training at the location, which is across from Concord Mills Mall.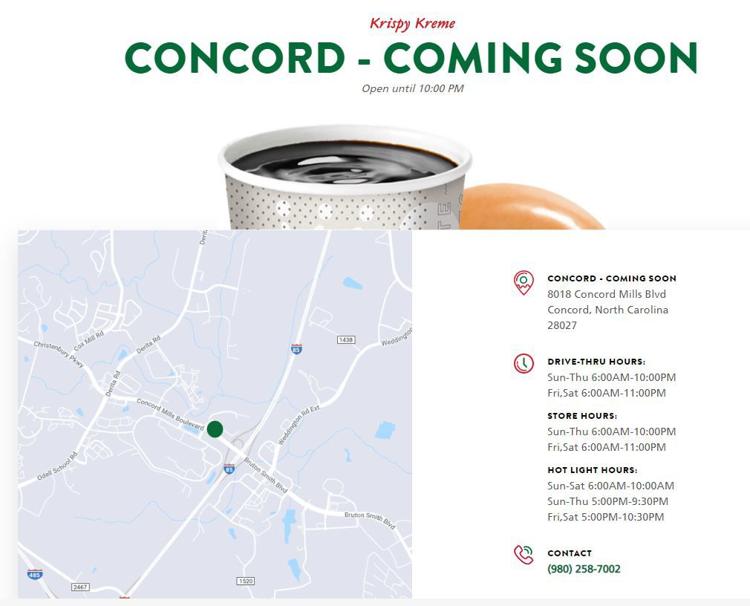 Here is the really important information for doughnut lovers – "hot now" hours will be every day from 6 to 10 a.m.; Sunday through Thursday 5 to 9:30 p.m.;  and Friday and Saturday from 5 to 10:30 p.m.
For the diet conscious – my Fitbit food log says an "Original Glazed Doughnut" from Krispy Kreme is only 190 calories. By my count, I can run four miles and have three-plus doughnuts, four if I run a little harder.
A bit of Cabarrus County news. The latest issue of "Journeys" is out. The seniors magazine published by Cabarrus County features senior citizens at the new iFly indoor skydiving center on the cover.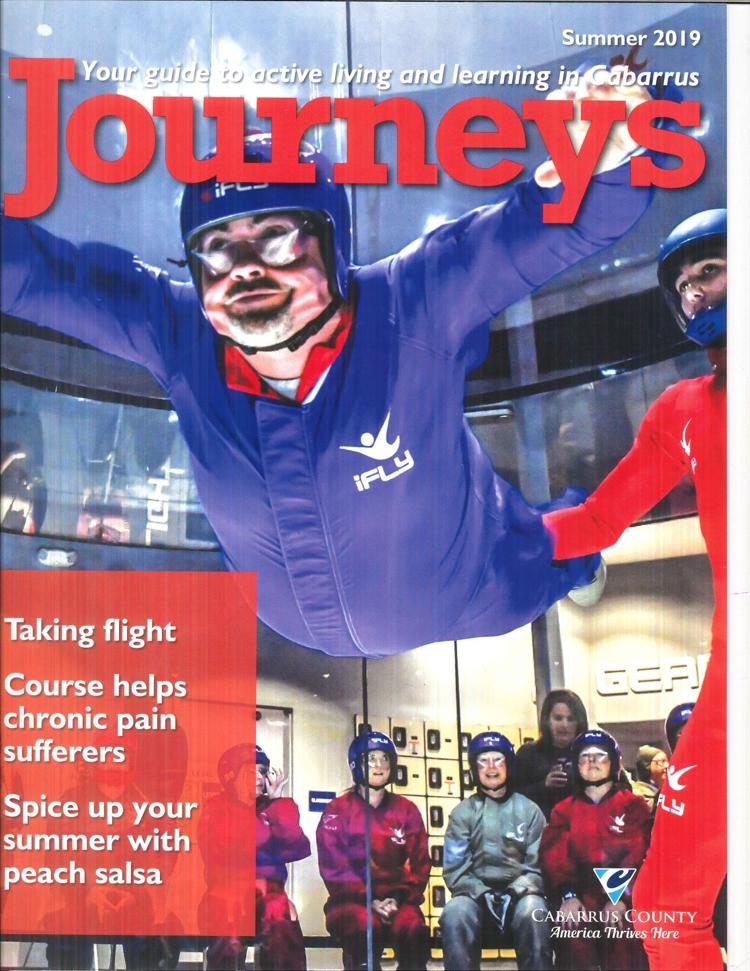 This edition of the quarterly magazine includes "10 Things to Know" along with Pam Outen's recipe for sweet peach salsa and lots more useful information.
You can get a free copy at all Cabarrus County facilities and other places around the county.
A few weeks ago vandals tagged the new bathrooms and a few signs at Frank Liske Park. They did a lot of damage to the new project.
One of the signs the creeps spray painted was at the turn to go to the lake. As it turns out, the county had already ordered a new larger sign for that location.
Several smaller signs were consolidated. It now gives direction to various parts of the park and shows the air quality status.
It's shameful these ne'er-do-wells can't keep their spray paint to themselves or at least limit it to the sides of train cars.
The business news you need
With a weekly newsletter looking back at local history.