Family spokesperson DeAnne Church Hobbs announced Saturday evening that Leanne Powell died peacefully at 6:09 p.m. in the operating room at Atrium Health System's main campus. A surgical team was on standby to take Powell's lungs and kidneys for transplant.
"Her organs are going to three patients in North Carolina, the state Powell held so dear," said Hobbs.
The matriarch of Cabarrus County's Whiskey Prison, Leanne Powell of Concord, died Saturday night, according to a Facebook post from the distillery.
Powell suffered a stoke on July 13, and was in an irreversible coma at the before she died. Her family's intentions are for her to be an organ donor.
"It is with great sadness that Southern Grace Distilleries announces the passing of our President and Co-founder Leanne Powell," Facebook post announced. "We cannot begin to tell you how devastated and heartbroken we all are at the loss of our friend, colleague and leader. She was an innovator, creative genius and the heart and soul of what we do. It is fitting to her giving nature, she wished to be an organ donor and many others will benefit from her life."
Southern Grace Distilleries at Mount Pleasant Prison officials said the distillery will be closed from Friday, July 26 through Sunday, July 28 for friends, co-workers and family to mourn.
"Leanne greeted every guest to Whiskey Prison with 'Thank you for coming out and supporting our small business!'" the Facebook post added. "We are confident that our excellent staff will continue to make every guest feel just as welcome. Wherever you are on Saturday July 27th, please join us and raise a glass of Conviction in memory of Leanne."
Powell is very much alive in the hearts and minds of her many friends and loved ones. They were out in droves to Atrium Health's main hospital in Charlotte since her family invited people to come and pay their respects, said family spokesperson and friend of 30 years, Georgia Lozier.
Thursday night, friends were still streaming in to say goodbye.
Cabarrus County's Senior Resident Superior Court Judge Marty McGee was there to pay his respects to his friend of 30 years. He and Powell met when they were working for summer youth programs in the area parks department. McGee said you really get to know someone working with a bunch of kids in the heat of summer. Given some time to reflect on what he'd say in tribute to his friend, he wrote:
"It is painful to think of either life or our community without her. She is a wonderful person: smart, shrewd, and kind – willing to be anyone's friend, but nobody's fool."
Alex Rankin, head of Concord Engineering and Surveying, was there to say goodbye to Powell and to reminisce with friends about their glory days together. He met Powell when he was running for Cabarrus County Commission in 1992. He was putting out campaign signs for himself, and Powell was putting out signs for Congressman Bill Hefner, whose campaign she was heading.
Rankin said Powell gave him political advice but, "I was not wise enough to take it." He was never elected to office, but he and Powell became friends and supported each other's political causes over the years.
He remarked on Powell's tremendous skills as a hostess, and one who brought a lot of people together. She was well-known for her parties, which always included a diverse array of people.
She was welcoming, he said.
"Leanne just radiated kindness, warmth, friendliness. She just attracted people to her. … She was a very accepting lady. She was open and friendly, and made you feel good about yourself. If you showed her something good in your character, she welcomed you as a friend."
Powell turned 51 in June, and had led a life of distinction. She was involved in local politics as a campaign manager for Hefner. She worked in the White House Women's Office in the Clinton Administration before moving to work for political appointee Jill Long Thompson, who was the Undersecretary of Agriculture.
After that she advised many political candidates over the years, including a high school social studies teacher from Biscoe, North Carolina, who'd decided to run for Congress.
Larry Kissell was making a name for himself in the Democratic primary campaign of 2006 for North Carolina's U.S. House of Representatives' 8th district seat. He was drawing attention because he traveled to appearances with a trailer hauling a "campaign goat" that a friend had given him.
When Powell took Kissell on to run his campaign, the first thing she did was fire the goat, demoting the animal to a family pet.
Powell helped get the unlikely candidate elected to office in 2008, unseating long-term Republican incumbent Robin Hayes. Kissell served two terms with Powell as his chief of staff before he was unseated by Richard Hudson.
Friday morning Kissell talked about Powell's philosophy and priorities for the 8th Congressional District. She was concerned with the big picture, but focused on individual's needs across the diverse district that included rural areas, metropolitan territory, and one of the largest military bases in the world, Fort Bragg in Fayetteville.
Kissell said his biggest accomplishment with Powell in his two-term tenure was staying true to his ideology.
"I think we established ourselves with our concern for our district. It was about what was best for the district," he said. "We did what we said what we were going to do, that was our guiding philosophy."
Following that ideology is likely what lost Kissel l his seat after his second term – he voted on a healthcare issue in a way that he felt most of the citizenry in the conservative 8th district wanted him to vote, and some of his Democratic base abandoned him.
Making friends and whiskey
After Kissell's loss, Powell was done. She frequently joked that she was leaving politics to "earn an honest living" making whiskey.
She and her friend, Thomas Thacker, who had served as Kissell's Deputy Chief of Staff, started brainstorming. Thacker doesn't like to take credit for the whiskey idea, but it was his, and Powell would tell everyone that.
"I really am uncomfortable taking credit for the things she accomplished... The initial idea to open a distillery was mine, but it was only one of a dozen or so ideas we were kicking around," Thacker said.
The idea struck a chord with her.
Over the course of a week she developed a detailed plan, time tables, road blocks, pros and cons, as well as a commitment to start the business if Thacker would join her in the venture, he said. "She did the work and the research that led to the decision to start the company. So, technically, it was my idea, but it was her plan."
Thacker said she was known for being able to develop a plan of action and being able to follow through every day.
He and Powell have been friends for 30 years, he said. She met him while she was working on a democratic gubernatorial campaign in 1988, and was trying to establish a list of supporters who could be of help. She took him to lunch and they remained friends since then.
That was the first of thousands of lunches she bought him.
"It's hard to think of losing someone you've been in touch with on a weekly basis for 31 years," he said.
And it's not just him. She had an uncanny ability to find and make and keep friends, he said.
"There could be 20 to 30 to 100 people who might feel like she was their best friend. Most people don't have the capacity to maintain that many relationships. Having two or three or four really close friends is about the most any of us can really imagine," Thacker said. "Her capacity to be a friend – a really true friend to so many people – it's staggering to think about."
Thacker talked about Powell's having a clear and genuine personality.
"She was the same Leanne every day," he said. "You never had to wonder which Leanne you were going to get."
Powell found her voice as a young woman, and she knew who she was. There was no period of "finding herself." She already was herself, he said.
"She had her purpose; she had her voice. She was comfortable in herself. That never changed. That speaks to her strength. She was never in a place where she wasn't confident to be herself," Thacker said. "That's something that many people never achieve. There are really successful people who never get to that point. She was there very early in her life."
She always had a plan and a commitment and a drive for whatever passion she was following, Thacker added.
"And that is what really matters, that is what gives businesses and political campaigns and even friendships their life and their energy and their viability: a plan of action, a plan of attack, a commitment to follow through every day," he said. "And Leanne Powell was better than anyone I have ever known at coming with those plans and working to see them through to their best outcomes."
Thacker said Powell's vision was so complete that the Southern Grace board of directors already knew what plans she had in place to continue the company vision.
"The company will continue to grow and to make this a part of her legacy, by maintaining its success, continuing to make a good product, selling it, continuing the non-profit aspect of it. We are going to continue the course that she set the company on. We are very determined to stay that course."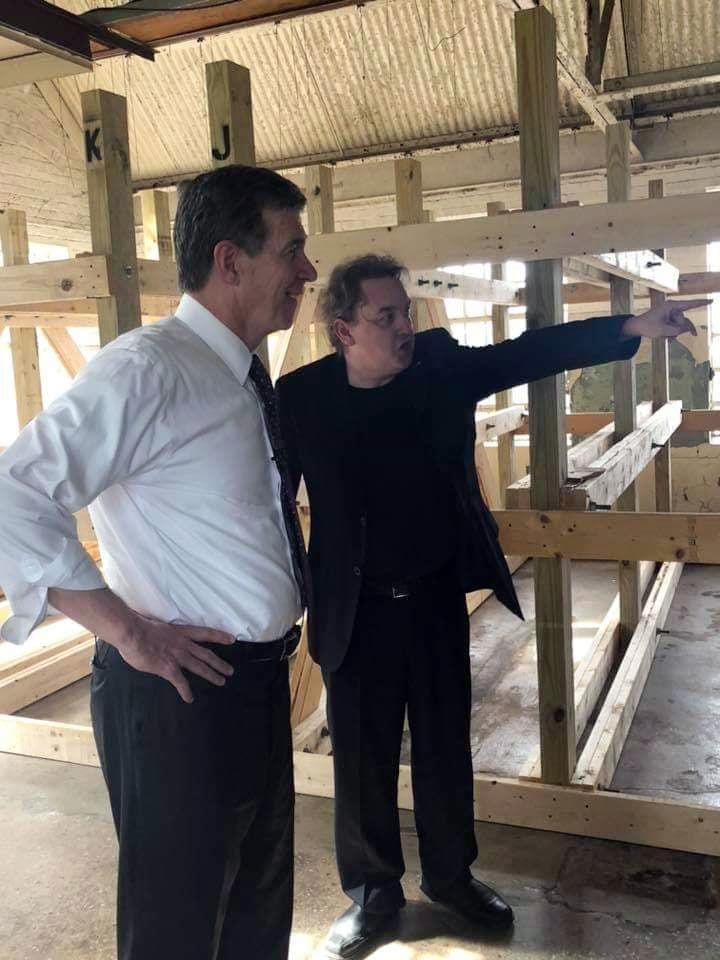 On Wednesday, North Carolina Gov. Roy Cooper visited Southern Grace Distilleries, keeping his prior commitment, even though Powell was hospitalized. He toured the facility, tasted the wares and pronounced it good bourbon.
"You're going to make a lot of money," the governor told the distillery team.
Later the governor spoke about Powell.
"My friend Leanne Powell made a real difference in the lives of North Carolinians with her passion, courage and innovative spirit. She was loved by so many people and her loss is deeply felt by all of us," Cooper said.
His Deputy Chief of Staff, Stephen Bryant, was along on the tour. Bryant and Powell have been long-time friends since they met in the 1980s in the NC College Democrats circuit.
Bryant said Cooper intended to sign a new piece of legislation known as the Alcohol Bill during a ceremony at the distillery, but the i's and t's were not fully dotted and crossed, so it had to be postponed.
Instead, he welcomed Powell into the Order of the Long Leaf Pine, with Powell's husband Drew Arrowood accepting on her behalf.
It's the highest civilian honor that an NC governor can bestow on a citizen of the Old North State, and it's awarded based on certain criteria, including 30 years of service to North Carolina. Georgia Lozier nominated Powell for the award, Bryant said.
When asked what he made of the fact that at the age of 51, Powell qualified for a distinction based on 30 years of service, emotion filled Bryant's voice.
"It's pretty incredible. It represents everything that she's accomplished in life, not only in her career as entrepreneur and public servant, but in her volunteer activities and all she did for others...
"When we met, she was a kid from Concord and I was a kid from Gastonia. We were kindred spirits at heart. I'm grateful and fortunate to have known her for 32 years and call her a friend," Bryant said.
So did many others. She will be missed.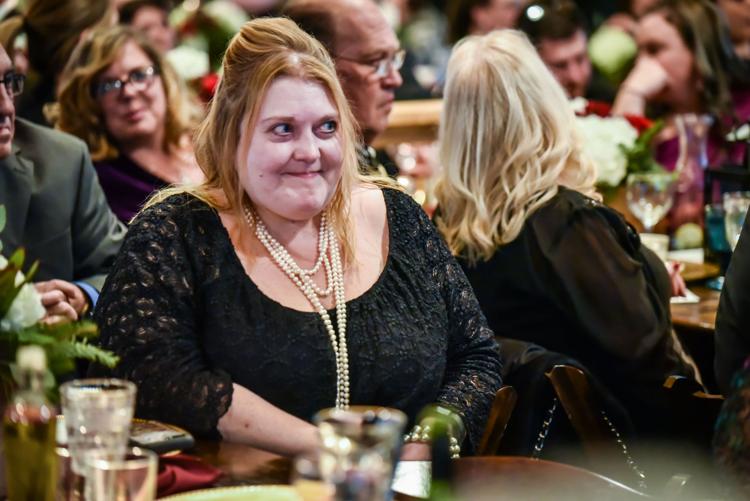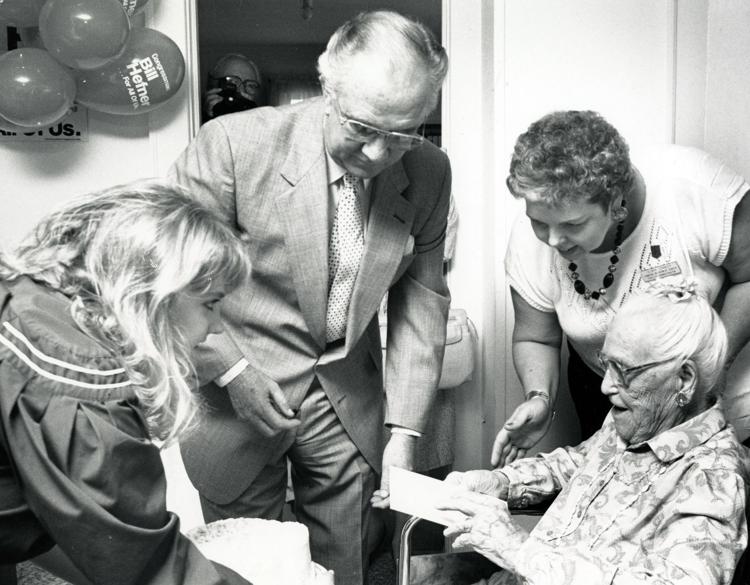 The business news you need
With a weekly newsletter looking back at local history.