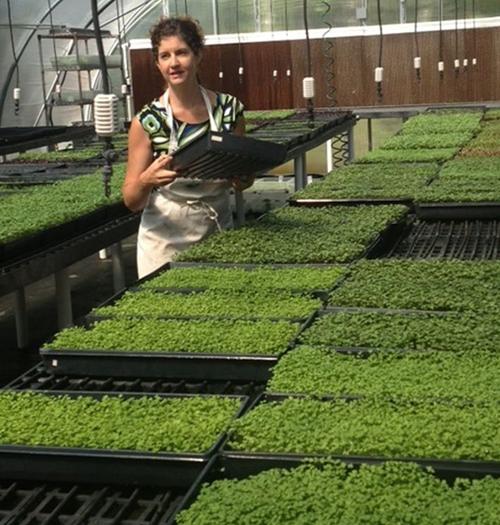 What do you get when you add a passionate mom who is an avid gardener seeking healthy choices, with a teeny tiny idea and an innate desire to help others? Give Kate Brun just 10 days to show you. You get Lucky Leaf.
Touring the Lucky Leaf gardens in Harrisburg and visiting with Kate was such a treat. My palette is still smiling. I was impressed as I drove to the humble location down a country road only to find one of the most amazing businesses and entrepreneurs I have ever had the privilege of meeting.
Lucky Leaf provides an innovative food source that gives you mega-nutrition in a handful of food. They are called "microgreens," and they are a popular addition to the food world. Fine dining chefs are thrilled with these beauties. They are great for soups, salads and sandwiches and add an artistic element to any plate, providing color, taste and texture in just a pinch.
It's easy to incorporate these infant foods into every meal. They are so cute, with their baby leaves and vibrant colors. The flavors are so intense; I can't believe something so tiny is so packed with taste. Imagine a leaf smaller than your pinky fingernail, with a taste that fills your mouth. Add in super-nutritious and you have the world's perfect food!
Microgreens are made of any edible vegetables, seeds and herbs. They grow easily and in record time and provide four-to-six times the nutrition of their mature counterparts. I tasted sunflower seed (my favorite, packing 30 percent protein and good for smoothies), mustard (second favorite, which tasted like wasabi), and many others. The beets, with no resemblance to the round red veggie, taste just like beets. The pea shoots are really interesting looking, tasting just like a green pea. The arugula is delicious and really good on pizzas, according to Kate. The shiso and purple basil tastes like licorice.
Kate has the growing of these tender veggie infants down pat, which is not an easy task on a commercial level. It involves consistent temperature, the right timing, gentle harvesting and a repetitive process. Kate's passion for quality crops and service is evident in the custom-designed greenhouse, which is full of sustainable growing methods and computer-controlled elements.
The facility has expanded every year since Lucky Leaf started four years ago. With more 30 restaurants and multiple distributers as customers, you can find their products on many grocer's shelves and in fine dining establishments. But Kate Brun and her staff are still interested in serving their local friends, providing delivery service, free tours, and samples and education to anyone interested.
In fact, one of Kate's most proud byproducts of her business has been education for children. She loves visiting local schools and provides grants for agricultural study. Children are especially excited when their seeds produce full-grown plants in just 10-14 days, right before their eyes. Kate gets the most pleasure from watching others discover a fascination with these magical microgreens.
What started out as an experiment in her own sunroom has expanded into a nationally recognized business and a local success story. In fact, when Martha Stewart wanted to write about microgreens, her people called Kate to help. They suggested she offer "grow your own" kits that are now available on her website, along with all other products grown to order (www.luckyleafgardens.com).
No pesticides, no fertilizers and no chemicals, sustainable watering and temperature controls, coupled with a huge compost/garden for the waste ("lucky soil"), nutrition-packed and yummy harvest in less than two weeks. What more could you ask for… in Honor of Planet Earth?