The golden anniversary is special, and in 2020 the Cabarrus Art Guild made it to theirs, celebrating all of its 50 years with the usual fanfare of exhibitions, demonstrations and special events – all in-person gatherings.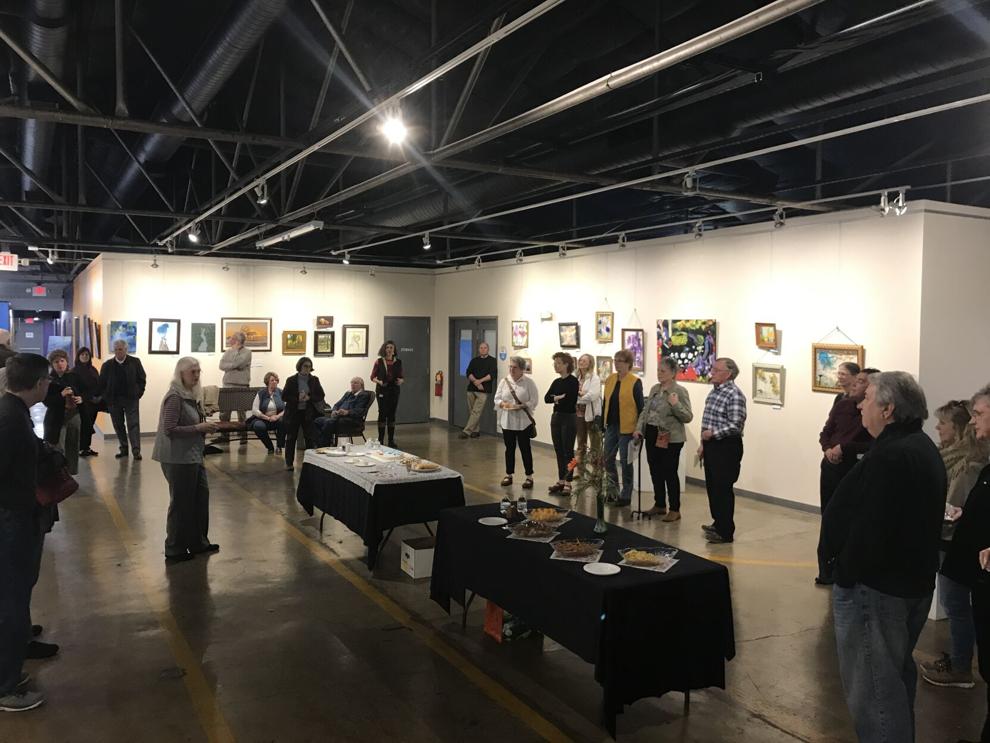 When the COVID pandemic erupted, and the guild wondered how they would continue their mission to bring artists and art enthusiasts together, an NC CARES Grant provided the funds to help them execute their plan to go virtual.
The NC CARES Grant is a one-time grant from the North Carolina Arts Council designed to help prevent non-profit organizations, like the Cabarrus Art Guild, from shuttering their doors during the pandemic. They're made possible thanks to the support of North Carolina state legislators. The Cabarrus Arts Council allocates the funds in Cabarrus County, and awarded the Cabarrus Art Guild with a $3,242 grant. That was enough to help them purchase equipment and software to take their exhibitions and demonstrations virtual, and even helped with their rent at ClearWater Arts Center and Studios.
The guild was never in danger of closing permanently, said Steve Gaskey, Cabarrus Art Guild President, but the grant helped the organization carry through with its plan to bring the arts to people virtually, without disruption.
"After it was mandated that we would not be able to meet face to face, then our group, which is really rather tight knit, chose to open the doors through our website," he said.
Gaskey, added that the guild is thankful for the grant. "It does a lot," he said. "Our rent for our studio is the most expensive part of our budget, and we were able to incorporate some new software to upgrade our zoom meetings."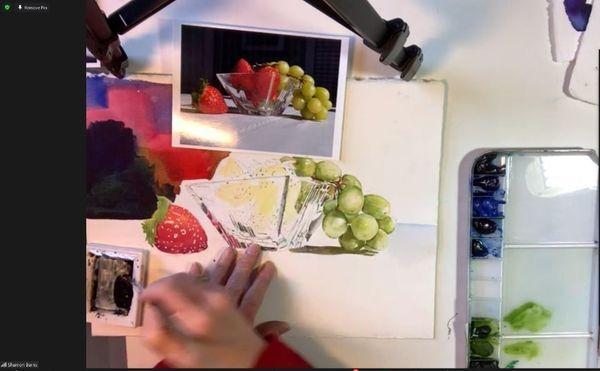 What's Happening at the Cabarrus Art Guild?
Virtual exhibition: Uplifting, Encouraging, Hopeful
Free Zoom Demonstration: Regina Burchett, Reductive Charcoal,
Call for artists: Annual Spring Judged Show 2021
Open to members and nonmembers living in Cabarrus and surrounding counties.
*** Many organizations may have postponed or canceled their events as a precaution to reduce the spread of COVID-19. We advise that you check with the event's organizer to make sure its activity has not been canceled.
ONGOING:
The Galleries of the Cabarrus Arts Council Gift Shop – Support local artists and the arts council by purchasing handcrafted works from The Galleries Gift Shop. Purchases online and then choose a time to pick up curbside at the Cabarrus Arts Council, 65 Union Street South, Downtown Concord. Cabarrusartscouncil.org/shop.
Brenda's Art Lab: Children's 6-week Afternoon Art Class: Select days 4:30-6:30 p.m.; $150; This 6 week children and teen art class includes drawing, painting, pottery, and sculpture. Classes meet from 4:30-6:30 p.m. One day per week, Monday, Tuesday, or Thursday for 6 weeks. For more information call 704-786-8570. http://brendasartstudio.com/
Pottery lessons – Learn to throw a bowl, tumbler or vase on a potter's wheel. Lessons adapted for Kindergarten - Adult; Class size: individual, or groups up to four. Sessions are scheduled at mutually convenient days/times. Visit www.linbarnhardt.com or info@linbarnhardt.com for details; Lin Barnhardt Studio, Mt. Pleasant.
Paint Your Hearts Out: Kids Day - Every Tuesday from 12-6 p.m.; 10% off for kids 12 and under. Pricing depends on canvas size. Times: 12-2:30 p.m. or 3-6 p.m; call 704-312-2699 to reserve your spot; for more information visit https://bit.ly/3fu6F10 543 Winecoff School Rd, Concord.
Art Studio Kannapolis: Kids Workshop: Every Tuesday and Thursday, 5:30 p.m.-7:30 p.m.; Children ages 5-12 will make arts and crafts. Space is limited to 15 children. Each child is required to wear a mask and gloves will be provided. $25. Private parties and crafting sessions available on Saturdays. Registration email artstudiobynicolina@gmail.com; 812 North Main Street, Kannapolis.
North Carolina Music Hall of Fame: Open by appointment: The North Carolina Music Hall of Fame Museum is a safe, fun, and touch-free visit for your friends & family! The Museum is open to the public by appointment Monday-Friday, 10 a.m.-4 p.m., closed 12-1 p.m. for lunch. Reserve your visit at Make A Reservation - North Carolina Music Hall Of Fame; 600 Dale Earnhardt Blvd, Kannapolis.
THIS WEEK
Old Courthouse Theatre: The Miracle Worker - Opening Weekend: Thursday, March 11, 7:30 p.m. – 10:00 p.m.; Old Courthouse Theatre is excited to invite you to The Miracle Worker, the 3rd show of our 2020-2021 season. For More information visit The Miracle Worker - Opening Weekend | Facebook; 49 Spring Street NW, Concord.
Cabarrus County Public Library: Virtual Open Mic Night: Tuesday, March 9, 5:00 p.m. – 6:00 p.m.; Ages 10-18 ; Been working on a story, poem or song during your time at home? Tune in and share with the community. Virtual event; Library System - Virtual Open Mic Night (RR) (activecalendar.com)
NEXT WEEK
We're Sew Creative: Bernina Guide Class 2 Stitch Fun: Thursday, March 18, 10 a.m. – 12 p.m.; This class will cover the various stitch options of your new BERNINA. Must have taken BERNINA Guide Class 1 prior to BERNINA Guide Class 2. Free for those who are new owners of Bernina machines purchased at We're Sew Creative. We're Sew Creative 8637 Concord Mills Blvd, Concord; http://bit.ly/3df7Enr
Virtual Exhibition: Fresh Works – Thursday, March 18 – Saturday, June 5, 2021; an exhibition of early career artists and Artisans. Details to come.
Cabarrus County Public Library: Roots Write Time: Thursday, March 18, 6:00 p.m. – 7:30 p.m.; This narrative writing group will inspire you to turn the facts of your family history into meaningful stories. Register by March 17 to receive the Microsoft Teams meeting link. http://bit.ly/3shYTx5
Jody and Joanna & Co. at The Wine Room: Saturday, March 20, 8:00 – 11:00 p.m.; Free; Enjoy drinks and the music of Jody and Joanna & Co. at the Wine Room in Afton Village; 5401 Village Drive at Afton Village, Concord, 28025; https://bit.ly/3p1jRyf
UPCOMING:
Kids' Writing Workshop: Monday, March 22, 2 p.m. – 3 p.m.; Ages 7-12 Bring out the creative writer in you with story starters, prompts, and games! Register to receive a link to the workshop, which is held on Microsoft Teams. http://bit.ly/3pFn86V
Writer's Workshop with Tracy Deonn: Friday, March 26, 11 a.m. – 12 p.m.; Ages 12 – 18. Tracy Deonn, winner of the Coretta Scott King - John Steptoe Award for New Talent, and author of the New York Time's best seller Legendborn, presents an one hour virtual writing workshop on Microsoft Teams. Register by Thursday March 25th to receive the meeting link. Registration Required. Space is limited. Library System - Writer's Workshop with Tracy Deonn (activecalendar.com)
The Cabarrus Arts Council contributes the Arts & Entertainment column, which highlights the arts in Cabarrus County, to the Independent Tribune each Wednesday. Use the contact information provided to confirm the details of events. If you would like your arts information to be considered for inclusion, email Elisabeth Thornton at elisabeth@cabarrusartscouncil.org.