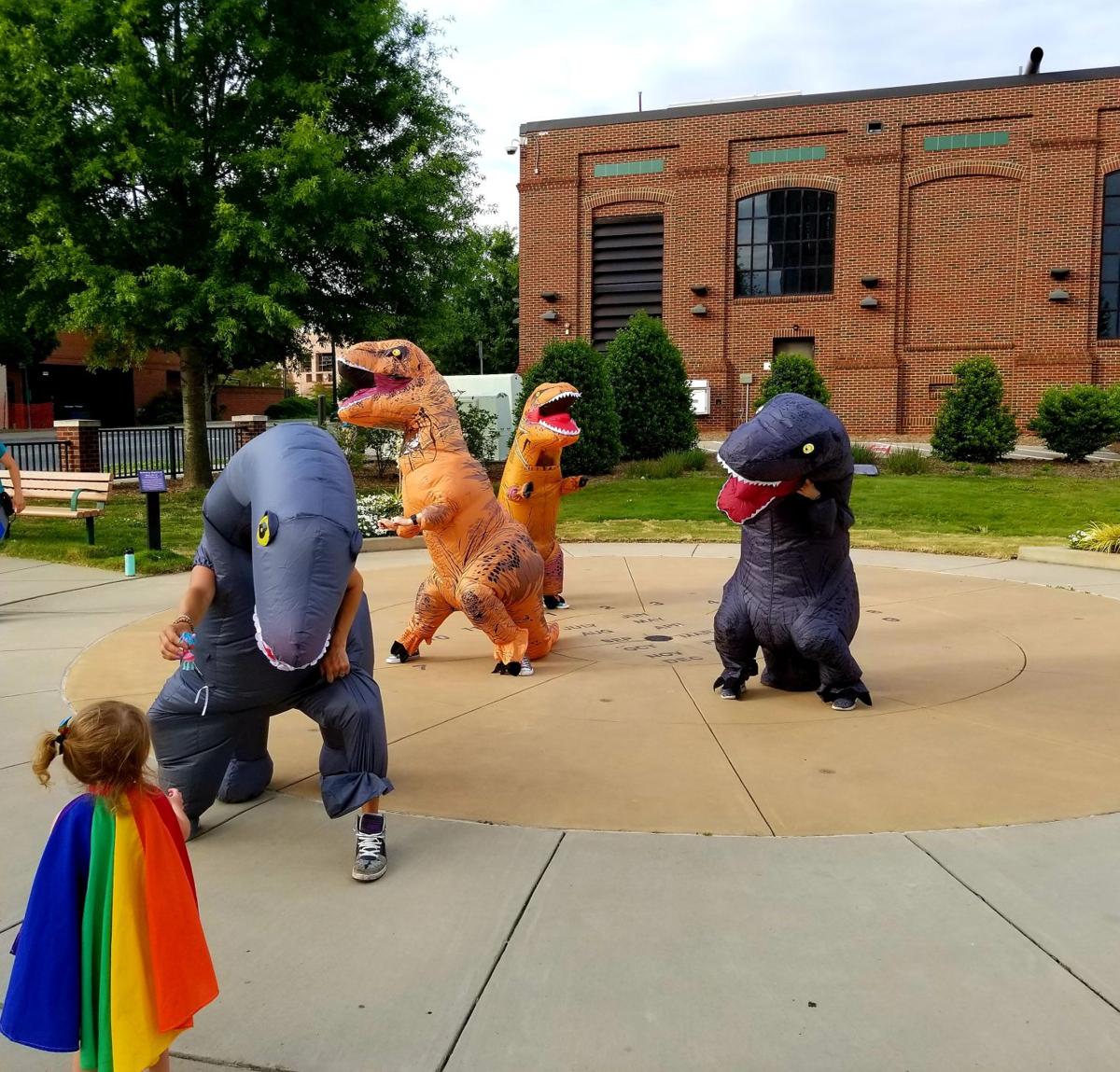 CONCORD – Drivers heading down Union Street Sunday evening, May 17, may have seen a few dinosaurs dancing on the sidewalks of downtown Concord.
The women who donned the inflatable costumes haven't just danced their way downtown. Over the past few weeks, they have visited Senior Citizens at Crescent Heights Retirement and Brian Center Health and Retirement to bring some fun to residents.
The group came up with the idea as a way to spread some joy while in quarantine. One of the group members, Kat Harmon, has two aunts that live in retirement homes in Ohio. After learning from her mother how her aunts were feeling isolated from the outside world while staying inside. Harmon knew she wanted to help other people in similar situations. She just wasn't sure how.
Harmon is a yoga and dance instructor with a studio at Red Hill Brewing Company. In one of her Zoom lessons, she noticed her pupil, Valerie Pinnock, wearing an inflatable dinosaur costume during yoga. It got quite the laugh from the group.
When asked why she had the costume, Pinnock explained that her father had cancer in 2017 and during that time he was fascinated by internet videos of people dressing up in the costumes. To bring him a little happiness, she said, she and her entire family bought several dinosaur costumes to wear while putting on a show for him in the backyard.
Now those same costumes are being used once again to bring a big laugh to Concord residents.
The group started out with Harmon, her daughter, her husband, Pinnock and another woman from her Zoom lessons going to retirement homes armed with giant bubbles, a portable boom box and some dinosaur costumes.
"We didn't really know what we were going to do," Harmon said. "When we go there, we decided to play music, blow bubbles and just have fun."
The women ultimately decided to perform one of Harmon's choreographed dances that she teaches in her studio. They stood in front of resident's windows and balconies as they danced – bubbles blowing in the background.
When the dance finished, they would move on to a different section of the building and perform again. Harmon said that she danced so hard that first day that she ended up with whiplash. Thankfully she has learned how to avoid that.
"It is all about the arms," she said. "No one can really see my head, so I don't have to use it as much."
After each performance, people laughed and clapped from their windows and Harmon could tell that they had made an impact.
"I believe in good vibes and bad vibes and how they can mess with our health," Harmon said. "Just like how a bad vibe can mess with our health, a good vibe can heal us and I hoped the people received us knowing we just want to make their day better."
The crew felt drawn the streets of downtown and decided to expand their operation.
"We just go wherever we feel inspired to spread joy," she said.
The band of dancing dinos met at the Rotary Square Sunday afternoon and suited up. After fixing a few fan malfunctions, they danced down Union Street blaring Whitney Houston's "I Wanna Dance with Somebody."
Cars honked their horns while driving past, and people even stopped their cars to watch the show – taking out their phones to film it. Some drivers even circled the block to get a second look.
The one unexpected part of the evening was dog walkers.
"Watch out for dogs dinos," Harmon's mother – also known as Mama Kat – said as several dog walkers stopped to let their pets view the scene.
One owner brought her dog over to the dancers for some belly rubs. The dog wasn't scared, she said, just a bit confused.
Toward the end of the evening, an older couple drove up to the group.
"They asked why we were doing this," said Mama Kat. "We told them it was to make people laugh. They said it worked."
As the group made its way back to the Rotary Square, the dinos made a final stop at the splash zone to do one more dance before packing up their gear and heading home. Everyone hoped they had made a few people happy.
"We want to remind people that there are good things out there right now," Harmon said. "It is okay to be happy and feel good. There are still so many good things going on."
Stay up-to-date on what's happening
Receive the latest in local entertainment news in your inbox weekly!