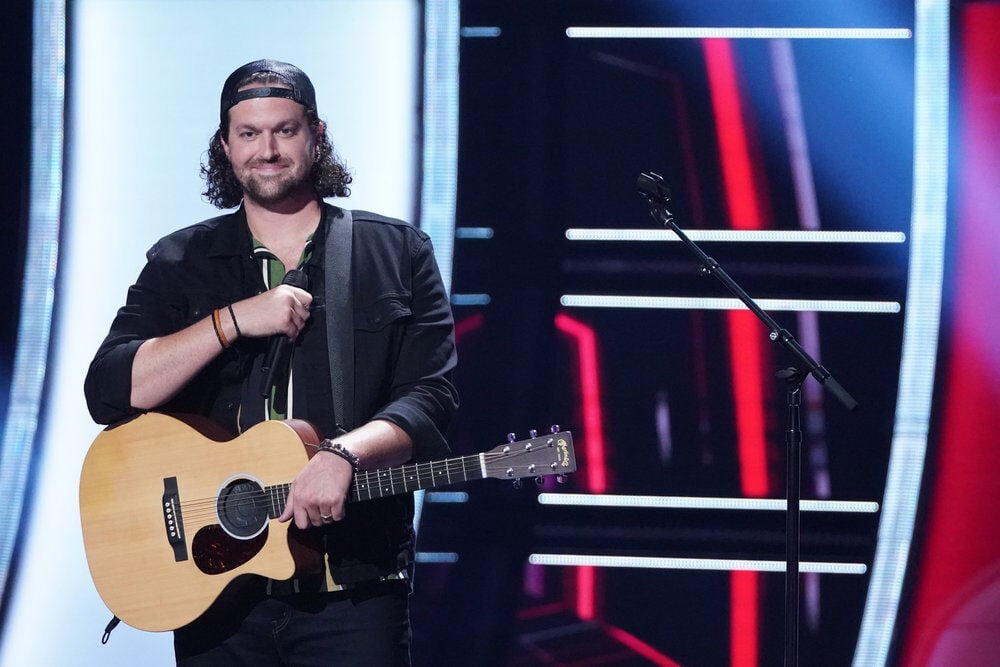 CONCORD — When John Sullivan took off his baseball glove to pick up a guitar about seven years ago, he didn't think auditioning for a television show would be possible. Now he is competing in the 19th season of "The Voice."
The season began airing last month, opening with its blind auditions. Sullivan's audition was broadcast last week. Looking back at it, he said it almost didn't feel real.
"I honestly went in there with no expectations," he said. "You can't help but hope and think for the best-case scenario, but if baseball taught me anything, it's to ride the middle ground. You're at where you're at, and just be thankful. And that is what I was."
But even with his mellow view, Sullivan felt a few nerves once the lights came on.
"I wasn't nervous when I was talking to Carson (Daly) and before I went on. But I swear, as soon as I hit the stage and started singing, my hands started shaking, and I had to reel it in," he said.
Sullivan had his eyes closed for the opening of the song, but when he opened them, he saw that country artist and show coach Blake Shelton had turned around.
"It was insane," he said. "Seeing him, you think it would make you calm down, but it just had my hands shaking even more."
But at the end of his performance, he was left with a surprising outcome. Both Shelton and pop artist Gwen Stefani had turned their chairs.
"In my mind, I was convinced that I would have no problem choosing Blake," Sullivan said. "I'm not going to lie, for a couple seconds I really almost said Gwen. I did not see myself as having a difficult decision, but it was tough."
When Sullivan decided to pursue music as a career, his wife had suggested he try out for a show like "The Voice." He said back then it felt out of reach. He had just left a career in professional baseball and was still learning his trade in both the guitar and his voice. Seeing how far he has come as a musician since then is a testament to what hard work can do, he said.
That was something baseball taught him.
Sullivan is a graduate of Jay M. Robinson High School, where he played varsity baseball for two years. At the time, music was not his major focus, but he did enjoy listening to it before practice or a game.
"I was into the punk scene a little bit just because I liked listening to it before I played ball. So I listened to a lot of Brand New, Jack Johnson and all that," Sullivan said.
He did pick up the piano for a bit in high school — playing songs from The Beatles in recitals. But he quickly put it down at the age of 17.
"I wasn't doing much playing besides my piano practicing. I wouldn't call that playing, it was more practicing. I didn't really feel like I wanted to get into piano," he said. "I felt like I wanted to get into something else."
And he did. After playing baseball in high school and college, Sullivan decided to try to go professional. During tryouts, he got his first guitar — a Lag.
Sullivan was working for Goodyear Racing at the time and found himself hustling at work to make it home to practice.
"We would get our work done early — just bust our butt all day — and my boss would say if you get your work done, you can head back home. We would work hard every day," he said. "And then I would just go home and pick up the guitar. As soon as I got home — sometimes I wouldn't even wash the brake dust off my hands — I would just get right to it."
When Sullivan traveled with the Trinidad Triggers to Colorado during the summer, he had a standing gig at a restaurant. On Friday nights, his teammates would even go out to watch him play.
When Sullivan packed his bags for what would be his last season in professional baseball, he wasn't sure music would be his career.
"At the end of the season, I wasn't sure I was going to pursue music because I was still trying to break my ties with baseball, and that was tough," he explained. "I wasn't excited to leave baseball to go somewhere else. It was almost like guitar inadvertently fell in front of me as a pillow as I fell on my face from baseball. I wasn't able to get up and look around until it was a couple months later."
One he left baseball, that passion for music that had steadily built was what was left. Sullivan said he had no excuse not to seriously consider it as an option.
But the first thing he needed to do was consult his wife.
"Her opinion on anything is my world. She was cool with it, and we made it happen. I told her then, I think I can do something with this. I thought she was going to call me crazy," he joked. "She wasn't down on me about it at all."
Her presence during the audition and filming process, he said, has kept him grounded.
"It was such a drawn-out process with COVID," Sullivan remembered. "My nerves would have killed me. But she was there to say, 'Alright, we got through Step 1; let's keep going.'"
Viewers may have seen Sullivan's 1-year-old son from the blind audition. While his son is too young to take in everything his dad has accomplished, Sullivan said he hopes his son sees that passion and hard work can amount to success.
"Even if he can't understand it now — he can see it later on. Obviously, he is going to think I'm not cool for a little while, which is the way kids are, but hopefully he sees this as a cool experience and learns from it," Sullivan said. "You know, I hope he thinks, 'I don't have to settle for something I don't want to do. I can go out and do whatever I want that makes me happy, no matter what level I start at.'"
The most important thing for Sullivan is to appreciate the opportunity the show has given him. He hasn't viewed the show as a competition, but a place to grow as an artist. Whatever the show throws at him, he said, the confidence and affirmation from playing in front of Grammy-winning artists and the friendships he has made with contestants have been well worth it.
Season 19 of the "The Voice" airs Monday and Tuesday at 8 p.m. on NBC.
Stay up-to-date on what's happening
Receive the latest in local entertainment news in your inbox weekly!