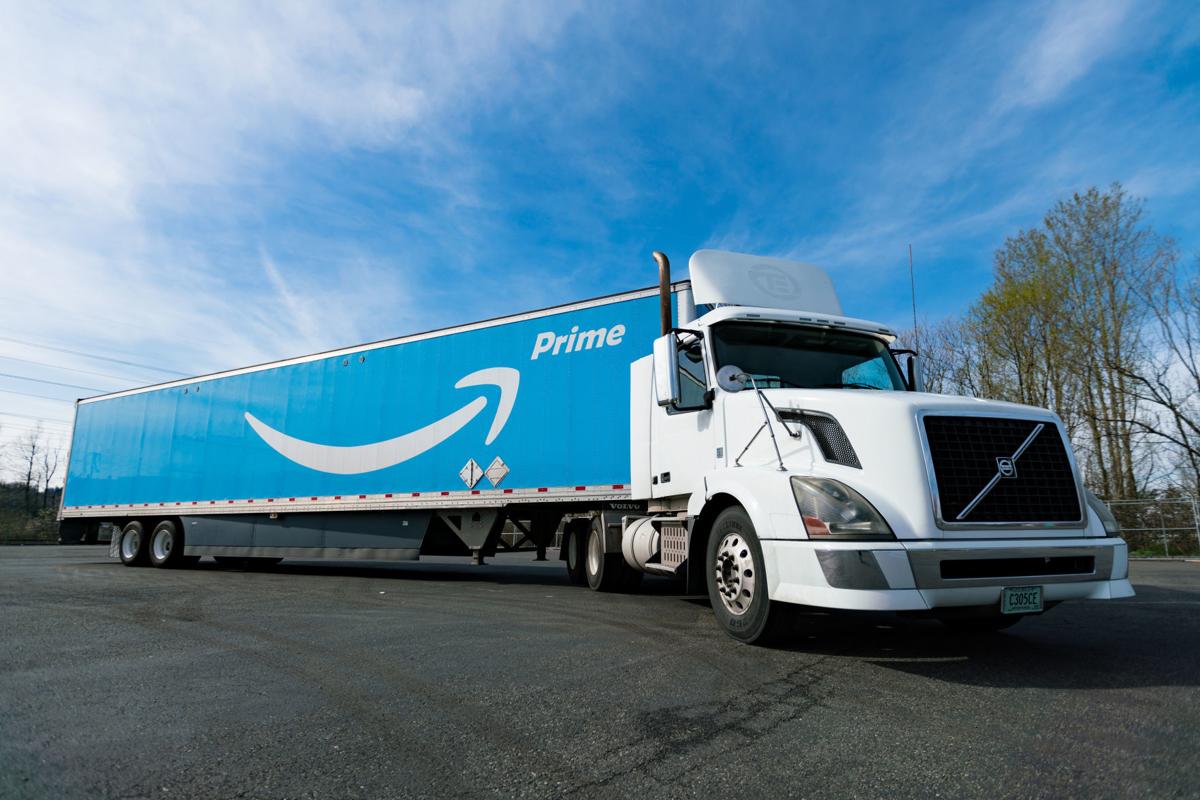 Today we have confirmation on one new building, an update on the Kmart building, and my rant concerning home repairs.
No. 1
Amazon's third Cabarrus location. It's official now. Amazon is bringing another location to Cabarrus County.
"Amazon Logistics has signed a lease in an effort to open a new delivery station in Concord, North Carolina, in 2020. We are excited to continue to invest in the state of North Carolina with a new delivery station that will provide efficient delivery for customers, and create hundreds of job opportunities for the talented workforce," according to Ashley Lansdale, Amazon spokeswoman.
The aim of the new station is to power Amazon's last-mile delivery capabilities to speed up deliveries for customers in the Charlotte metro area. This is the Goodman Road building off Poplar Tent and Interstate 85 that we told you about a few weeks ago.
Delivery stations enable Amazon Logistics to supplement capacity and flexibility to Amazon's delivery capabilities. Additionally, the station will create hundreds of full-time and part-time jobs, paying a minimum of $15 per hour and offering a variety of benefits packages from day one. Amazon has more than 150 delivery stations in the U.S.
Amazon Logistics will launch four more delivery stations in North Carolina in 2020. New delivery station site locations include Cary, Durham, Kernersville and Mills River.
Delivery stations also offer entrepreneurs the opportunity to build their own business delivering Amazon packages, as well as independent contractors the flexibility to be their own boss and create their own schedule delivering for Amazon Flex. To learn more, visit www.logistics.amazon.com and https://flex.amazon.com/.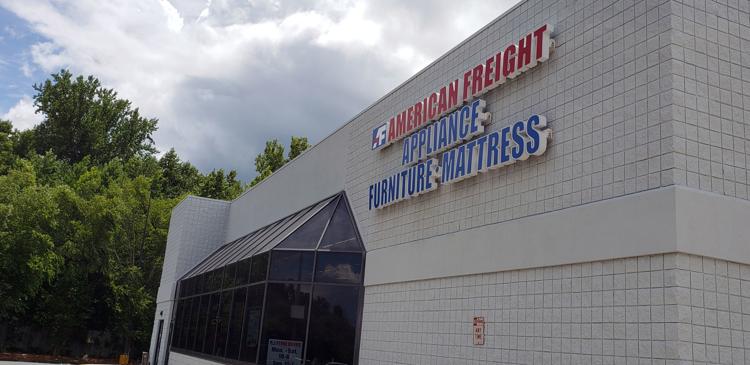 No. 2
A new name, a few changes. The Sears Outlet in the old Kmart building at the corner of Poplar Tent and Concord Parkway is now American Freight Appliance, Furniture and Mattress. The companies recently merged the 130 Sears Outlets and the 170 American Freights.
Sears Outlet is not surprisingly not owned or related to the former retail giant Sears-Roebuck.
The company decided to use the American Freight name rather than Sears. Certainly seems like a good idea with the woes of Sears in recent years.
American Freight in Concord is similar to the Sears Outlet. The biggest difference is the new store doesn't carry lawnmowers and tools and there seems to be a bit more furniture.
The entrance is different, too. You go into the store at the corner of the building near the former Little Caesars' carryout door. The store is confined to the far left of the building, and there is a wall separating it from the rest of the building.
I walked through Thursday and noticed a good bit of empty space at the back of the store. Blame it on COVID-19. It would normally be filled with refrigerators and freezers. The home improvement stores are not getting as many appliances, so there aren't as many closeouts and other items that normally go to American Freight. American Freight also has a "hiring" sign on the door.
No. 3
The rest of the Kmart building. Work continues on the Stars & Strikes entertainment complex, and it looks like the Elevation Church location on the garden and auto center side of the building is complete or nearly complete.
Workers were stripping the façade of the building Thursday, and I expect a new sign will be going up there soon.
It appears there is still a vacant segment of the building between American Freight and Stars & Strikes. The developer is planning outparcels for the site, too. A few trees have been taken down and one entrance on the Poplar Tent Road side was closed. No other outparcel construction has been done.
No. 4
The frustration of home repairs. Not much is more frustrating than people who have answering machines or voicemail, but who don't call you back. A couple of years ago, we had our air conditioning go out, so I called the company that installed the system. They eventually called back and said they couldn't have anybody out until at least the next day. I think, "no problem."
The day comes and goes — no HVAC company. I call the next day and get the voicemail. I leave a message. No call back. Two days later, still no call back, and no one shows up.
I called another company and they responded immediately. They came out the next morning, found the problem and fixed it. I have had a service contract with them ever since.
Fast forward to Saturday, July 4 — no hot water. The pilot was out, so I restarted it, but every time I turned the gas up, the flame would go out. After repeated attempts, it was clear I needed to call the plumber.
Monday morning, I called the plumber who installed the hot water heater. I got an answering machine. I left a message and waited for a call back. You guessed it. No one called back. I called again Tuesday afternoon and left another message.
I didn't wait as long this time. My first call was to my HVAC guy (the good one) but his person said they could do the work but they were backed up for about a week and a half because of people whose air conditioning was out.
I didn't want to be without hot water that long, so I tried the home improvement center referral service. A fairly well-known Charlotte area company called within 15 minutes. They would have somebody out Wednesday before noon, and they did.
The young man was nice, professional and quickly "recognized the problem." Or so I thought. He wrote up two options: A. Repair the hot water heater, but a part would have to be ordered at a cost of about $1,100. B. Replace the hot water heater and include a regulator to take the gas pressure down from 2 pounds to a half pound at a cost of more than $2,000. I told him I would have to think about that.
Dang, that was expensive on both ends. I paid the $52 and change service charge, signed several papers, and he was on his way.
I decided to check with my home repair insurance company. I have four or five policies that I pay a monthly fee through the gas company. I have water lines, gas lines (one each of inside and outside the house), plumbing repair and appliance polices.
I called but "due to high call volume" it would be a while before I could speak to someone, but they would call back if I left my number. I did. Two hours later, no one called, so I called again and by some miracle I got someone within five minutes.
But guess what? The hot water heater is not an appliance, and it is not part of the plumbing. If anything had gone wrong from the street to the hot water heater, or from the hot water heater pipe to anywhere in the house, I was covered, but not the hot water heater.
I told the representative exactly what I thought of her crackerjack company.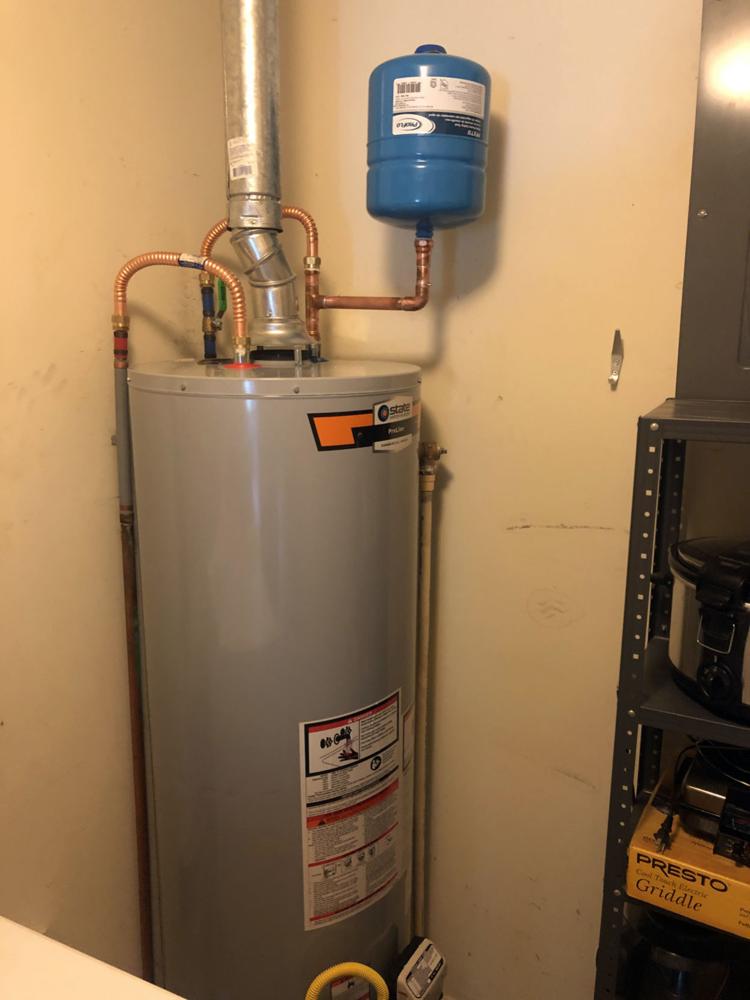 No. 5
Heroes at the gas company. With steam coming from my ears, I called the gas company, Dominion Energy (formerly PSNC Energy). The woman on the line took my name, address and phone number. Within 10 minutes, I was speaking to a rep who said he could be at my house in about 20 minutes.
In less than 20 minutes the rep arrived, looked at my hot water heater, quoted me a price and explained what the Dominion crew would do.
I told him what the other plumber said about needing a regulator. "You don't need a regulator. Your meter converts the pressure. Let's go look at your meter."
The Dominion rep explained that meter with a white faceplate was a half-pound meter and ones with red faceplates were 2 pounds. "You only need a regulator if it has a red faceplate."
The next morning, Thursday, a crew was at my house installing a new hot water heater and it was more than $600 less than the "plumber" said on his estimate.
Thank you, Dominion Energy. I had hot water by 11 a.m. (took 45 minutes for the tank to heat up).
It is clear to me that there are a lot of companies running around the area ripping people off. Honestly, $1,400 seems like a lot for a hot water heater but at least I know it was installed right.
Be the first to know
Get local news delivered to your inbox!