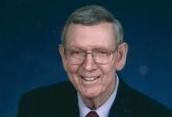 Some years ago, I read a story about a Christian who bragged that he believed in the power of prayer. He was not too worried when the rain began to pour down. However, the rain continued to fall, until the river overflowed, but the man was not worried. When the water flowed into his house, he began to pray, asking God to rescue him from the flood. As the water rose to waist height, a man on a raft beckoned him aboard. "No, I have prayed, I believe God will answer my prayer." When the water was roof high, a man in a canoe came by, but again, "No, I have prayed, I believe God will answer my prayer." Finally, as he stood atop his chimney, a helicopter crew dropped a rope only to hear, "No, I have prayed. I believe God will answer my prayer."
The water continued to rise, the man drowned and in heaven he accosted Peter, "Why did God not answer my prayer, I believed He would rescue me?" Peter replied, "We sent a raft, a canoe, and a helicopter! What more did you want?"
As evidenced above God answered the prayer, but the man could not recognize it was God speaking to him in the different ways. Christians know God speaks to us through prayer, His Word, other people and circumstances within our lives. I say Christians for God can speak only to those who belong to Him except when He is calling a sinner to Himself. The Bible says, "He who is of God hears God's words; therefore you do not hear, because you are not of God" (John 8:47, NKJV).
In this story all the ways God speaks to us is exemplified. God spoke to the man in the answer to his prayer but this man did not recognize it, because he was obviously looking for rescue only by the water receding. God chose the other methods. He ignored it. We do the same thing when we reduce God to our level of thinking.
God spoke through the Bible as he taught the man to pray. He says, "Ask, and it will be given to you, seek, and you will find; knock and it will be opened to you." (Matt. 7:7, NKJV). God's promise applies to us, but we need to leave it in God's hands on how He is going to answer.
The man's life consequences set the whole backdrop for God to speak. Unfortunately, he failed to see what God was doing. God can perform miracles in our lives if we will let Him. "Call to Me, and I will answer you, and show you great and mighty things, which you do not know" (Jer. 33:3, NKJV).