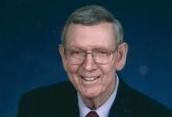 While in grade school, I was required to memorize a poem with the title of "Abou Ben Adhem" by Leigh Hunt. I remember most of it today, but as I read it now, I get a new meaning from it.
"Abou Ben Adhem (may his tribe increase).
Awoke one night in a deep dream of peace,
And saw, within the moonlight in his room,
Making it rich, and like a lily in bloom,
An angel writing in a book of goal:
Exceeding peace had made Ben Adhem bold,
And to the presence in the room, he said,
'What Writest thou?' The vision raised its head,
And with a look made of all sweet accord
Answered, 'The names of those who love the Lord,'
'And is mine one?' said Abou. 'Nay, not so,'
Replied the angel, Abou spoke more low,
But cheerily still; and said, 'I pray thee, then,
Write me as one that loves his fellow man.'
The angel wrote and vanished. The next night
It came again with a great awaking light,
And showed the names of whom love of God had blessed,
And, lo! Adhem's name led all the rest."
What amazes me is how this poem parallels the teaching in the Bible about "The Book of Life." As stated in the poem, this book contains the names of those who love the Lord. Ben Adhem insisted on his name being in that book, so it is clear he understood his name must be in the book if he was to receive eternal life. Ben Adhem wanted the angel to know he loved his fellow man. He evidently knew God had commanded he love others, for the Bible teaches us the second greatest commandment, "Love thy neighbor as thyself." There is a greater commandment, "Love the Lord your God with all your heart, soul and might." Thus, he learned this between the angel's first visit and the second. Ben Adhem must have realized he must love God as well as other people.
My earnest desire is for all people to understand how important it is to know their name can only be placed in that book through a personal relationship with the Lord Jesus Christ. Although many may try to work their way into the Book of Life, The Apostle Paul makes it clear "For by grace you have been saved through faith; and that not of yourselves: it is the gift of God, not of works, lest anyone should boast." (Eph. 2 8-9, NKJV)  This gift is available to all who will turn to Christ in faith asking for forgiveness and accepting him as savior, Lord and master.
This old poem certainly does its job in teaching people to love God and to desire to be in God's permanent record of those who will live with him forever. The question is whether each of us knows our name is in the "Lamb's Book of Life." This requires us to know the greatest of all the commandments: "Love the Lord your God with all your heart, with all your soul and might."
Be the first to know
Get local news delivered to your inbox!