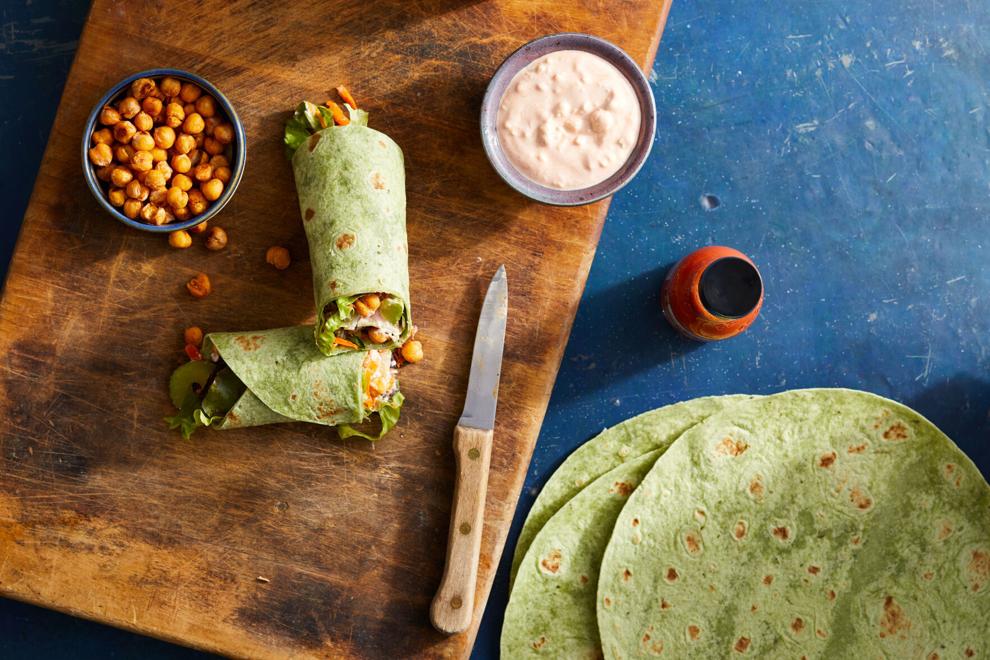 This vegetarian riff on a Buffalo chicken wrap adds the spicy Buffalo tang you love to crunchy roasted chickpeas all tucked into an easy-to-make wrap with carrot, celery and blue cheese. Make and take a wrap for a healthy packable lunch or serve them up on game day for a protein-packed snack everyone will devour.
Roasted Buffalo Chickpea Wraps
1 tablespoon white vinegar
1/2 teaspoon cayenne pepper, or to taste
1/4 teaspoon salt
1 (15-ounce can) no-salt-added chickpeas, rinsed
1/4 cup whole-milk plain Greek yogurt
1 tablespoon hot sauce
1/4 cup crumbled blue cheese
2 cups chopped red leaf or romaine lettuce
1/2 cup shredded carrot
1/2 cup thinly sliced celery
4 (8-inch) spinach or whole-wheat wraps
1. Position rack in upper third of oven; preheat to 400 F.
2. Combine vinegar, cayenne and salt in a large bowl. Very thoroughly pat chickpeas dry, then toss with the vinegar mixture. Spread on a rimmed baking sheet. Roast the chickpeas, stirring twice, until browned and crunchy, 30 to 35 minutes.
3. Meanwhile, combine yogurt and hot sauce in a small bowl. Stir in blue cheese.
4. Divide lettuce, carrot and celery among wraps. Top each with 1/4 cup of the chickpeas and 2 tablespoons sauce. Roll up. Cut in half to serve, if desired.
Make-ahead tips: The chickpeas will stay crisp for 2 to 4 hours at room temperature; if stored longer, re-crisp at 400 F for 5 to 10 minutes.
Recipe nutrition per serving: 346 Calories, Total Fat: 7 g, Saturated Fat: 3 g, Cholesterol: 8 mg, Carbohydrates: 55 g, Fiber: 8 g, Total Sugars: 3 g, Added Sugars: 0 g, Protein: 16 g, Sodium: 790 mg, Potassium: 368 mg, Folate: 42 mcg, Calcium: 128 mg.
Carbohydrate Servings: 3 1/2.
(EatingWell is a magazine and website devoted to healthy eating as a way of life. Online at www.eatingwell.com.)