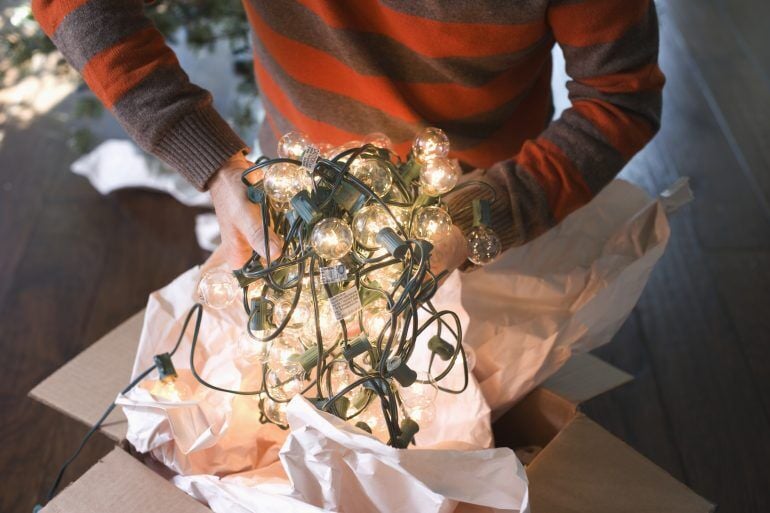 You've decorated the tree, put up the lights and placed a lit candle in every window. But the next thing you know, you smell smoke.
Candle fires, stolen presents and other calamities can put an unwelcome damper on your seasonal cheer, but insurance can often help clean up the mess. Here are some common holiday disasters and how your homeowners insurance can come to the rescue.
1. Decorations catch fire
"Chestnuts roasting on an open fire" takes on a whole new meaning when the halls are decked with fire hazards. Dehydrated Christmas trees can go up in flames if placed too close to a heat source, and fires from candles make up half of December home decoration fires, according to the U.S. Fire Administration.
Fire is covered in three main ways. Dwelling coverage pays for repairs to your home, while other structures coverage is for things like a detached garage or fence. Personal property coverage will pay to replace damaged belongings, up to your policy limits.
To avoid festive fires, keep candles away from flammable objects, follow all manufacturer instructions for holiday lights outside and keep a real Christmas tree hydrated.
2. Your identity gets stolen
If you've shopped online for holiday gifts this year, your credit card or bank account information may be at risk of getting stolen.
Identity theft coverage can pay for out-of-pocket expenses related to identity theft or fraud. Some homeowners insurance policies automatically include this coverage for free, but you'll probably have to add it to your policy.
You can reduce the risk of identity theft from online shopping by avoiding unsecured networks and by purchasing from trusted stores — check for a privacy policy on the site and a padlock to the left of the URL. To protect yourself from potential data breaches, reenter account information with every purchase instead of allowing online vendors to store your information.
3. Presents get stolen
If expensive holiday gifts go missing, don't pout. Your personal property coverage covers items stolen from your home and car, up to your policy limits.
To prevent any grinches from stealing holiday presents, avoid letting packages sit unattended and consider setting up a security camera system around your home. If you leave gifts in the car, tuck them away safely in the trunk, lock the doors and park in a well-lit location.
If gifts are stolen, file a claim with your insurance company only if their value exceeds your deductible.
4. A guest gets injured
Say you undercook the turkey and send relatives to the hospital. Maybe someone breaks a hip on your icy walkway, or the dog bites a guest. You could end up on the hook for their medical costs.
The medical expense coverage in your home insurance policy pays to treat your sick or injured guests, no matter who's legally responsible, while your personal liability coverage will cover you in case they decide to sue.
Because of the pandemic, you may be skipping holiday gatherings entirely this year. But if you do host guests, make sure you abide by the guidelines for small gatherings from the Centers for Disease Control and Prevention, or CDC, which include wearing face masks and practicing social distancing.
5. A water pipe bursts
If a pipe gets cold enough, water freezes and expands inside, increasing the chance of a burst. Water damage from burst pipes is generally covered by home insurance, but check the fine print in your policy, as you're covered only if the burst is accidental and not due to poor maintenance.
To avoid damage, watch for warning signs of frozen pipes, such as low water pressure or frost on the outside of the pipe. To offset the chance of a water burst:
Keep your home's thermostat set to a minimum of 55 degrees.
Open kitchen- and bathroom-sink cabinets to allow for circulation of warmer air.
Let water drip from faucets to relieve water pressure.
RELATED: The 25 worst Christmas movies of all time
Worst of the worst
To many, the holiday season brings images of curling up on the couch with a mug of hot chocolate, lighting a fire and watching a feel-good Christmas movie with friends and family. If you're not careful picking the right movie, however, you could find yourself watching the many failed attempts at a Christmas film.
Whether it's a quintessential hokey Christmas slasher film or the holiday sequel of a sequel of a sequel, these films can turn your cozy tradition into a cringeworthy nightmare.
To help you separate the good from the ho-ho-horrible, PrettyFamous, an entertainment data site from Graphiq, ranked the worst Christmas-themed movies of all time. To qualify, movies had to have at least 2,000 IMDb votes. Then, the worst of the worst were ordered based on their Smart Rating. This is a score out of 100 that takes into account a movie's IMDb rating, Rotten Tomatoes Critic and User rating, Metacritic rating, Gracenote rating and inflation-adjusted U.S. box office gross. In the case of a tie, the movie with fewer IMDb votes was deemed worse.
These movies are best avoided unless you have a penchant for ridiculously wacky, gory or downright campy Christmas flicks. And be warned: the movie that takes the No. 1 spot has a Smart Rating of less than 10 — a genuine Christmas miracle.
Note: Movie descriptions were sourced (with minor edits) from Gracenote.
#25. "Fred Claus"
Starring: Vince Vaughn, Paul Giamatti, Miranda Richardson
Of the two Claus brothers, Fred (Vince Vaughn) is the troublemaker and polar opposite of his saintly sibling, Nicholas (Paul Giamatti). When Fred's criminal ways finally land him in big trouble, Nicholas bails him out and brings him to the North Pole to work off the debt by making toys. The headaches mount for St. Nick, who not only must deal with his troublemaking brother, but also an efficiency expert who has come to evaluate Santa's operation.
#24. "Tyler Perry's A Madea Christmas"
Starring: Tyler Perry, Kathy Najimy, Chad Michael Murray
Madea (Tyler Perry) accompanies her niece, Eileen (Anna Maria Horsford), to the small town of Buck Tussel to pay a surprise visit to Eileen's daughter, Lacey (Tika Sumpter), who has refused to come home for Christmas. The real reason Lacey is avoiding her judgmental mother is that she has secretly married Connor (Chad Michael Murray), a white classmate from college. When Eileen and Madea arrive at Lacey's farm, she tells them that Connor is an employee, but her lie soon spins out of control.
#23. "All I Want for Christmas"
Starring: Ethan Randall, Thora Birch, Harley Jane Kozak
Ethan (Ethan Randall) and Hallie O'Fallon (Thora Birch) are two siblings who wish that their divorced mom, Catherine (Harley Jane Kozak) would reunite with their dad, Michael (Jamey Sheridan). As Christmas approaches, the kids manage to lock their mother's fiancé, Tony (Kevin Nealon), in an ice cream truck and have him whisked off to New Jersey, all in an attempt to make their mom believe that she's been stood up. The ploy works, and ex-husband Michael is waiting in the wings.
#22. "I'll Be Home for Christmas"
Starring: Jonathan Taylor Thomas, Jessica Biel, Adam LaVorgna
Estranged from his father (Gary Cole), college student Jake (Jonathan Taylor Thomas) is lured home to New York for Christmas with the promise of receiving a classic Porsche as a gift. When the bullying football team dumps him in the desert in a Santa suit, Jake is left without identification or money to help him make the journey. Meanwhile, his girlfriend, Allie (Jessica Biel), does not know where he is, and accepts a cross-country ride from Jake's rival, Eddie (Adam LaVorgna).
#21. "Jack Frost"
Starring: Michael Keaton, Kelly Preston, Mark Addy
As a touring musician clinging to dreams of stardom, aging rocker Jack Frost (Michael Keaton) never had much time for his wife, Gabby (Kelly Preston), and young son, Charlie (Joseph Cross). A year after Jack's tragic death in a car accident on Christmas Day, Charlie plays a mournful tune on his father's harmonica. Much to his surprise, the elder Frost is magically brought to life as a snowman on the family lawn. Given a second chance, Charlie and Jack struggle to make up for lost time.
#20. "Home Alone 4"
Starring: French Stewart, Mike Weinberg, Erick Avari
Kevin McCallister (Mike Weinberg) is upset that his parents got divorced. Worse yet, things are heating up between his father Peter (Jason Beghe) and his love interest, Natalie (Joanna Going). Forced to choose where to celebrate Christmas, Kevin begrudgingly decides to go to Natalie's mansion, where the guests include a foreign royal family. Kevin schemes to reunite his estranged parents and -- after Marv Merchants (French Stewart) reappears -- he struggles to protect a prince from abduction.
#19. "Reindeer Games"
Starring: Ben Affleck, Gary Sinise, Charlize Theron
Just released from prison, all Rudy Duncan (Ben Affleck) wants is to start a new life with Ashley (Charlize Theron), the girl of his dreams, whom he met through pen pal letters in prison. But between them and happiness stands her crazy brother, Gabriel (Gary Sinise), and his motley crue of deadly criminals who think Rudy has some inside information about a casino where he once had a job — a casino Gabriel and his short-fused posse plan to take down.
#18. "Jingle All the Way"
Starring: Arnold Schwarzenegger, Sinbad, Phil Hartman
Workaholic Howard Langston (Arnold Schwarzenegger) wants to make things up to his son, Jamie (Jake Lloyd), and wife, Liz (Rita Wilson). He promises to get Jamie the hottest toy of the season, Turbo-Man -- even though it's Christmas Eve and the toy is practically sold out. As Langston hunts down the elusive gift, he runs into mailman Myron (Sinbad), another father on the same quest. With the clock winding down, Langston's moral code is tested as he starts to learn the real meaning of Christmas.
#17. "Santa's Slay"
Starring: Bill Goldberg, Douglas Smith, Emilie de Ravin
After a millennium of spreading Christmas cheer, Santa Claus (Bill Goldberg) reverts to his demonic self and gives the gift of fear.
#16. "Love the Coopers"
Starring: Alan Arkin, John Goodman, Ed Helms
For their annual Christmas Eve celebration, Sam Cooper (John Goodman) and his wife Charlotte (Diane Keaton) welcome four generations of extended family, including son Hank (Ed Helms), daughter Eleanor (Olivia Wilde) and Charlotte's father, Bucky (Alan Arkin). Sam and Charlotte are separating after 40 years of marriage, while Hank is in the middle of a divorce. As the guests reveal their respective problems, they also rediscover the importance of kinship and the spirit of the holiday.
#15. "The Perfect Holiday"
Starring: Gabrielle Union, Morris Chestnut, Queen Latifah
Nancy (Gabrielle Union), a divorced mother of three, feels especially lonely during the holidays. Sensing her sadness, Nancy's youngest daughter, Emily (Khail Bryant), has a plan to make her mom happy again. She asks Benjamin (Morris Chestnut), a department-store Santa Claus, to pay Nancy a compliment. And Benjamin, who is also a struggling songwriter, knows exactly the right words to say.
#14. "The Santa Clause 3: The Escape Clause"
Starring: Tim Allen, Martin Short, Elizabeth Mitchell
Christmas cheer turns into holiday chaos when Scott Calvin (Tim Allen), aka Santa, invites his in-laws (Ann-Margret, Alan Arkin) for a visit and must, simultaneously, contend with Jack Frost's (Martin Short) scheme to take over the North Pole. Scott, his family and Head Elf Curtis must join forces to foil the nefarious plot.
#13. "Home Alone 3"
Starring: Alex D. Linz, Olek Krupa, Rya Kihlstedt
When an inept group of criminals tries to get a stolen top-secret computer chip through airport security, it ends up in a toy car in the luggage of the elderly Mrs. Hess (Marian Seldes). Unable to promptly retrieve the chip, the felons follow Hess and the car to her neighborhood. After she gives the toy to young Alex Pruitt (Alex D. Linz), who is home sick from school, he becomes the target of the criminals. However, the precocious kid is on to their schemes and ready to fight the thieves off.
#12. "An American Carol"
Starring: Kevin Farley, Kelsey Grammer, Trace Adkins
Documentary filmmaker Michael Malone (Kevin Farley) makes movies about America's shortcomings and is now embarking on a campaign to abolish July 4th. However, he meets John F. Kennedy (Chriss Anglin) on the eve of the holiday, who tells Malone that he will soon be visited by three ghosts. The spirits of a country singer (Trace Adkins), Gen. George S. Patton (Kelsey Grammer) and George Washington (Jon Voight) visit Malone and try to instill a sense of patriotism and love for his country.
#11. "Mixed Nuts"
Starring: Steve Martin, Madeline Kahn, Robert Klein
Philip (Steve Martin) manages a suicide-prevention hotline called Lifesavers, assisted by Mrs. Munchnik (Madeline Kahn) and Catherine (Rita Wilson). On Christmas Eve, Philip learns that their landlord (Garry Shandling) is evicting them from their office. Amid all this unrest, Catherine proclaims her love for Philip. And when a cross-dresser (Liev Schreiber) and a pregnant woman (Juliette Lewis) enter into the equation, things get even more interesting.
#10. "Christmas With the Kranks"
Starring: Tim Allen, Jamie Lee Curtis, Dan Aykroyd
Finally alone for the holidays, Luther (Tim Allen) and Nora Krank (Jamie Lee Curtis) plan to eschew the Christmas traditions and take a cruise in the Caribbean instead. This doesn't sit well with their Christmas-obsessed neighbors Vic Frohmeyer (Dan Aykroyd) and Walt Scheel (M. Emmet Walsh), who are determined to win the annual "best decorated street" competition, and the Kranks soon find themselves social outcasts because of their lack of Christmas spirit.
#9. "Deck the Halls"
Starring: Danny DeVito, Matthew Broderick, Kristin Chenoweth
Steve (Matthew Broderick), suburban dad and Christmas enthusiast, finds a wrinkle in his well-ordered existence with the arrival of his new neighbor Danny (Danny DeVito). Danny has big dreams and plans to illuminate his house with enough holiday lights to make it visible from space. Not to be outdone, Steve declares a war of one-upmanship with Danny that threatens to drag the Christmas spirit through the slush.
#8. "Surviving Christmas"
Starring: Ben Affleck, James Gandolfini, Christina Applegate
A wealthy executive, Drew Latham (Ben Affleck) has no close relationships and becomes nostalgic for his childhood home as Christmas approaches. When he visits the house and finds another family living there, he offers the residents, Tom Valco (James Gandolfini) and his wife, Christine (Catherine O'Hara), a large sum of money to pretend they are his parents. Soon Drew tests the couple's patience, and, when their daughter, Alicia (Christina Applegate), arrives, things get increasingly tense.
#7. "Home Alone: The Holiday Heist"
Starring: Malcolm McDowell, Debi Mazar, Edward Asner
With his parents away, an 8-year-old (Christian Martyn) engages in a battle of wits with some thieves (Malcolm McDowell, Debi Mazar).
#6. "Santa With Muscles"
Starring: Hulk Hogan, Don Stark, Robin Curtis
Amnesia makes a mean health food tycoon (Hulk Hogan) think he's Santa Claus, especially when it comes to a local orphanage.
#5. "A Merry Friggin' Christmas"
Starring: Joel McHale, Robin Williams, Lauren Graham
Boyd is forced to spend Christmas at his parents' house and has to hit the road with his eccentric father to get his son's Christmas gifts before morning.
#4. "The Nutcracker"
Starring: Elle Fanning, Nathan Lane, John Turturro
Christmas in Vienna is a dull affair for 9-year-old Mary (Elle Fanning), until her beloved Uncle Albert (Nathan Lane) arrives and gives her a special gift: an enchanted nutcracker. On Christmas night the nutcracker -- named NC -- comes to life and takes Mary to its magical land of sugarplum fairies and talking toys. Mary discovers that the wondrous kingdom faces a dire threat from the evil Rat King, and when the nutcracker is kidnapped, she must rally her new friends to save NC.
#3. "Santa Claus Conquers the Martians"
Starring: John Call, Leonard Hicks, Pia Zadora
Martian ruler Kimar (Leonard Hicks) is upset that the children of Mars are lazy and under the influence of too much pop culture from Earth. They are obsessed with the planet's television programs and don't want to do much of anything. In an attempt to get the kids peppy again, Kimar orders the kidnapping of Santa Claus (John Call), hoping that the jolly old toymaker will know how to cheer the children up again. But two Earth children are also nabbed, and this complicates things for Kimar.
#2. "Santa Claus"
Starring: José Elías Moreno, Cesáreo Quezadas 'Pulgarcito,' José Luis Aguirre 'Trotsky'
Merlin the magician helps Santa save children tempted by the devil to be naughty.
#1. "Saving Christmas"
Kirk's sister's annual Christmas party is about to be ruined by Christian, his brother-in-law, and Kirk realizes he has to show Christian how important Christ is to the holiday season.
The article 5 Holiday Disasters That Are Covered by Home Insurance originally appeared on NerdWallet.