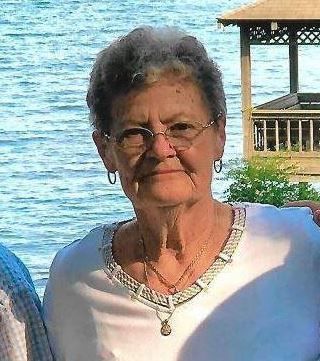 The snow that fell on Friday, Jan. 8, reminded me of snowfalls that I remember in the 1940s and 1950s.
Daddy and Mother tried to prepare for the winter months as best they could. I know that we had a stack of split firewood that to me looked like a mountain. It was always covered with our old cotton sheets so it would be kept as dry as possible. There were larger pieces that were split in half and probably 10 to 12 inches long that would be added as needed to keep the fire going and so there would be a good bed of coals to start the fire the next morning.
Daddy would stack some on the back porch so they would have good dry wood to start the fire in the old wood stove as well as the kitchen stove. Mother also had what she called the wood box in the kitchen where it would be handy for cooking. I also remember she had painted the box a pink color with some leftover paint that was used upstairs in the bedroom that was occupied by our resident ghost. I wonder what he thought of that pink room, as it is still that color.
As I have written before, we did not make snow cream out of the first snow. Daddy always told me it was God's way of cleaning the world.
The snows that I remember were very deep, but it might have been because I was so young that it was just deep in my mind. I do remember Mother bundling me up in as much as she could get on my body and putting several pair of socks on my feet before I put on my shoes.
I did not have boots but had galoshes that went over my shoes. Mother would then tie a twine string around the top of those to keep the snow away from my feet.
Do any of you readers remember galoshes? They call them overshoes today.
Oaklawn has a very steep driveway and when covered in snow and ice Daddy could not get his vehicle back up the hill. The old truck, a 49 Ford, would often have to spend several days at the bottom of the driveway. Daddy would try often to get the vehicle back up the hill. I remember him going across the road and getting a good start to try and make the climb. He made it sometimes halfway, but could not get to the back of the house for several days. In those days we did not have to worry that the car or truck would be stripped if left beside the road.
I was also remembering some of the meals Mother cooked when there was snow on the ground. She always made a pot of vegetable soup, using the items she had canned during the summer. There were lots of potatoes, tomatoes and onions. I think she used these because the potatoes and onions did not last long and had to be used before, they rotted. Mother also would cook a lot of mush and "poor man's gravy". How many of you remember eating this?
I was very fortunate and never had to go hungry, it might not have been what I liked but it was what was on the table and I ate what was there.
There were not many people living around Oaklawn but the ones I remember were hard working and very good people.
I do remember folks that came to our house and asked for food. My Daddy and Mother never let them leave empty handed.
I would not trade being born during that time in our history for anything, even if it now means that I have reached the age of 80.
I was horrified at the destruction that was done in Washington this past week. I just cannot understand the destruction that people want to do to our country.
The men who fought and died for our Flag did not do this for people to attack the Capitol and have no respect for our leaders. I for one am not fond of some of our leaders, but I have no desire to disrespect our laws like it was done.
Please pray for our country, it just breaks my heart that we Americans have been reduced to this type of demonstrations and I have no idea what the man that had on horns and a painted body represented.
Thank God also that a vaccine has been approved and people are starting to get their shots and in the future this virus will be under control.
Bobbie Cannon Motley's family lived at Oaklawn, in the Cannon Crossroads community, for generations. These are memories of days gone by, before all the development in western Cabarrus County.