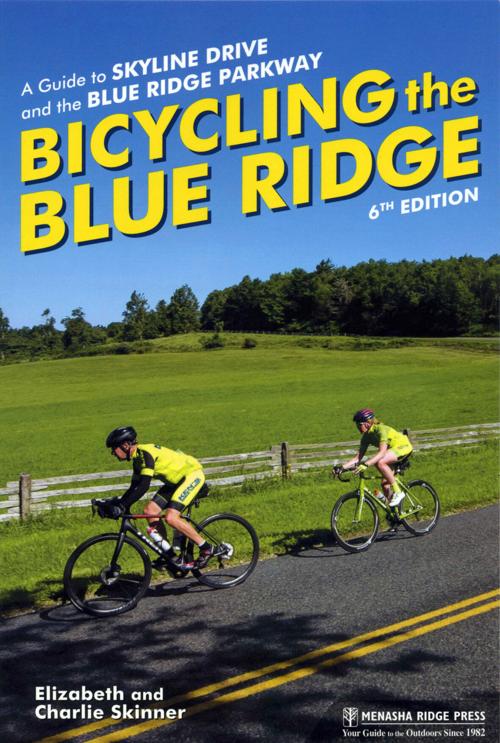 In her guide book on bicycling, Elizabeth Skinner calls the Blue Ridge Mountains one of the "thin places," a term the Celts and Christians coined to describe mystical places where heaven and earth nearly touch.
Her book, "Bicycling the Blue Ridge," which she co-wrote with her husband, Charlie, is celebrating its sixth edition, quite a feat for any book, much less a guide book.
The book covers the 470-mile Blue Ridge Parkway and the 105-mile Skyline Drive that runs the length of Shenandoah National Park in Virginia.
Riding the length of the parkway, whether in sections or in one straight shot, is a worthy and attainable "Bucket List" goal, Skinner said. But she offered plenty of warnings, one of which struck a chord with me and my obsession with studying elevation changes on maps, whether it be on hiking or bicycling trips: "Suspend all worry about elevation."
Skinner, the associate library director for the Forsyth County Public Library system, laughed when asked about that line in her book.
"You are going to climb," she said. "The nature of the Blue Ridge Parkway road is that you climb and descend all day long. The high point in your day might only be 3,500 feet, but if you go out and cycle 80 miles, you can be guaranteed that you will climb at least 8,000 feet."
Tackling such terrain requires a mindset, Skinner said.
"I call it zen climbing," she said. "You just get into a zone and climb."
A Florida native, Skinner first cycled on the parkway in 1985.
Since then, she has ridden from end-to-end at least 10 times. Although the book is handy for people interested in Sunday rides, it's meant for cyclists interested in extended tours, with detailed information on bakeries, diners, campgrounds and attractions. It also breaks down the parkway by sections of about 60 miles, helpful for people interested in shorter rides.
For an easier ride, Skinner recommends heading northbound at the Meadows of Dan at milepost 177 to Fancy Gap at milepost 199. The entire area around Roanoke, Virginia, is also tame, she said.
For folks not ready for the rigor of climbing, Skinner advised people to steer clear of the southern tail of the parkway, where the climbs are intense.
Her favorite sections include those with rigorous climbs such as the 60-mile stretch from Mount Pisgah, south of Asheville, to Cherokee, the parkway's southern terminus.
"It has difficult climbs, but the descents are amazing," said Skinner, 58.
Another fun stretch is the 18-mile, out-and-back ride from the N.C. Folk Art Center outside of Asheville to Craggy Gardens at milepost 364. The first leg is a steady climb, but the descent is a thrill.
As for safety issues, Skinner said, the traffic on weekdays is comparable to traffic on a country road in Stokes or Yadkin counties. Another bonus is the 45 mph speed limit.
But the parkway also has shaded spots to make it difficult to see cyclists and occasional dense fog.
"On descents, most vehicles respect that you'll be going as fast as they are. I typically take the whole lane, and you have to be confident," she said.
On ascents, she sticks closer to the white line, acknowledging that cyclists should have some experience on roads before hitting the parkway.
The Skinners' book has become a go-to source for people interested in riding the parkway from around the world.
"It's in a little niche and has served its purpose," she said.
Be the first to know
Get local news delivered to your inbox!