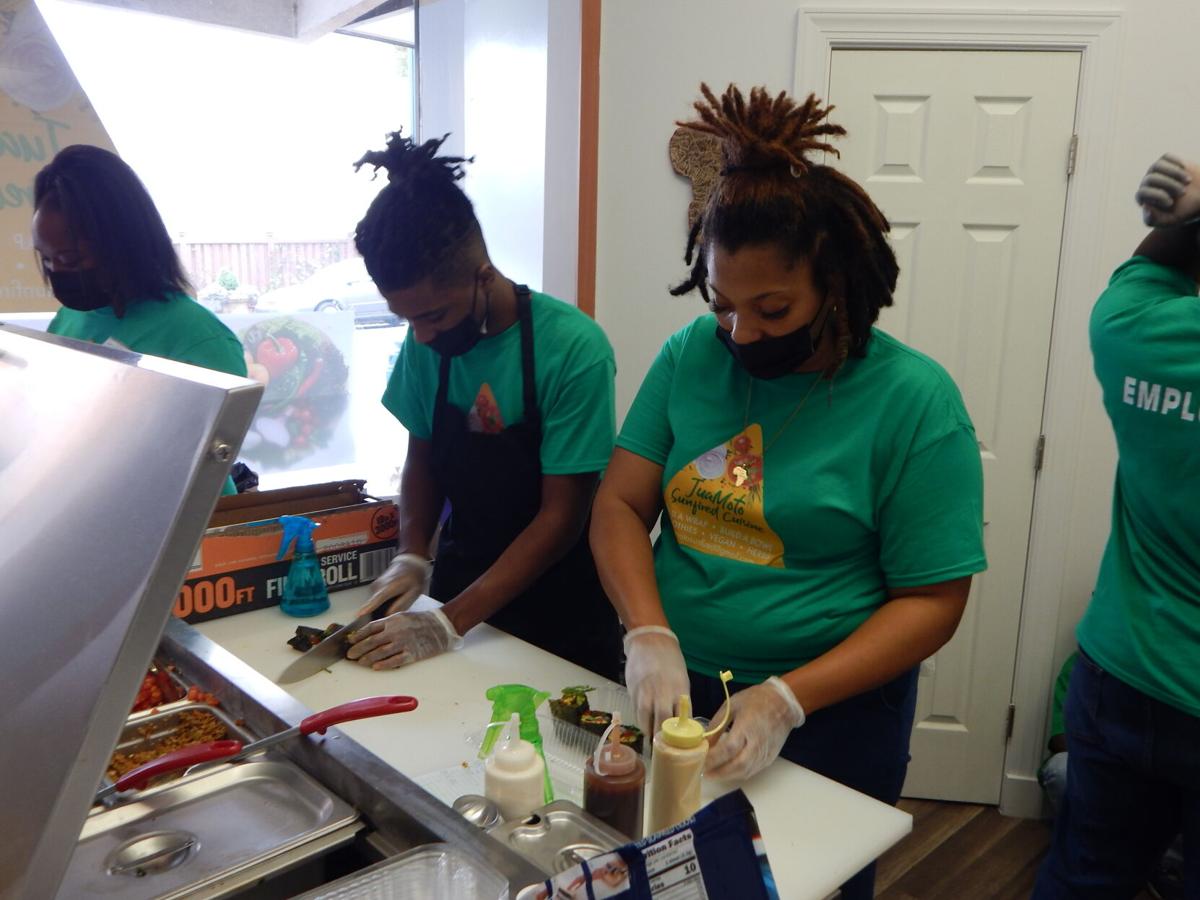 CONCORD — Residents may have heard the drums down Union Street last Saturday at the grand opening of JuaMoto Sunfired Cuisine, Concord's first Black-owned raw vegan restaurant.
Customers lined up — masked and socially distanced — to grab a wrap, bowl or smoothie before heading to other vegan vendors outside the restaurant that were there to celebrate.
Tau and A'at Mkweli ran between the wrap bar and kitchen to fill orders — in-person and online. There were so many orders that they were running through guest checks.
But the bustle was welcome after seeing their dream come to life after a year.
About their food
The restaurant's name, JuaMoto, is Kiswahili and means sun and fire.
Tau said the name is a representation of the way they view food.
"Our philosophy behind that is there is only one chef, one cook, one oven in the earth, and that is the sun," Tau said. "We, as man, manipulate and present the food to man to eat."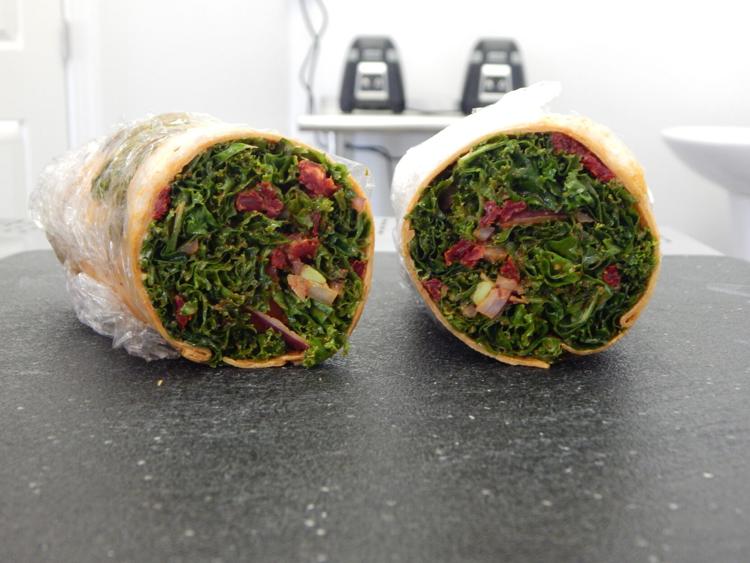 JuaMoto is a raw vegan restaurant, meaning the food isn't cooked, and it's all plant-based.
But their food isn't exclusive to plant-based eaters.
"The people just love the food," Tau said. "The meat eaters especially. They ask, how did you put meat seasoning on veggies?"
Tau said they believe food is more than just taking a fork or spoon to a person's mouth. Food is entertainment today, and they want to make it fun.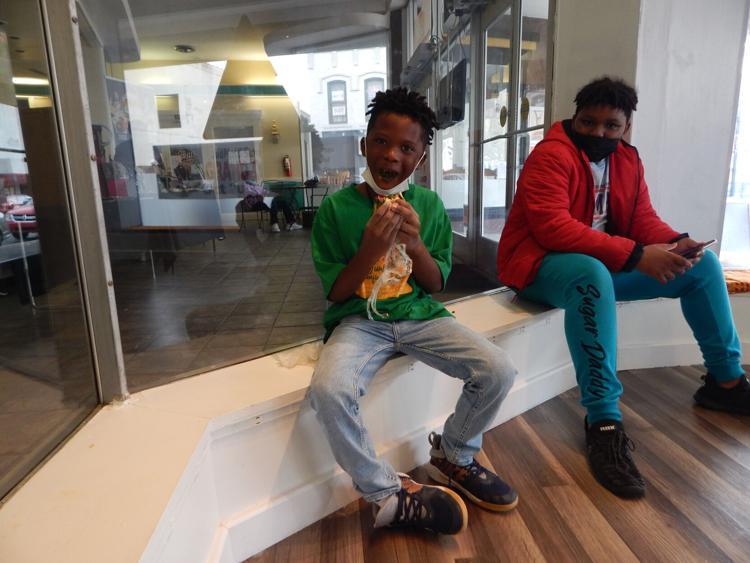 "We market our food as just good food. The health factor is really just a by-product," Tau said. "Veganism has been around for a while. The taste factor wasn't really there. We are spicing it up and giving it more flavor."
They don't use any microwaves, stoves or ovens, so finding a restaurant space was much easier.
How they got started
Before they branched out into the restaurant business, Tau and A'at started out making vegan food as a hobby.
A'at owns Micah Lucas Salon downtown, and Tau would make her a meal while she was working because raw vegan restaurants were far away.
People were interested in the man making smoothies in the back of the beauty shop, so the pair started catering last year at Rosa Parks Farmers Market in Charlotte.
When they saw that their food was received well, they decided to open a restaurant.
Tau had been an architectural engineer for five years before opening JuaMoto. He said he needed a change.
"I really want to get out of corporate America," Tau explained. "It started off as a hobby. We both enjoy making different types of food. This is second nature to us. We decided to go ahead and just share it."
Why they opened a restaurant
Both Tau and A'at eat vegan, and their family does as well. Trying to find places to eat around town was difficult, they said. So they decided to be the place people could go to get good, raw vegan food.
"When we were hungry, we had to go so far. If we wanted a smoothie, we had to go so far," A'at said. "Concord needs a push, a new life. We want to be a new energy to downtown Concord. We want to bring a more vibrant feel. We don't know of anywhere close that serves the way we eat here in Concord."
Tau wants to change the way people view vegan food. He said people look at herbs and spices and see them as meat seasonings. But he views them as seasonings for all food.
"People put herbs on meat to make it taste like herbs," he said. "They season it to taste like a plant."
A'at said their goal is to give people new experiences and to change the way they view food.
"We want to change up people's food palettes. We want to bring families together, have food classes. We want to build the community," A'at said. "We would like to do private classes and have people embrace some recipes, learn how to feed the family and take some recipes home. Food is very central to society."
Choosing downtown
When A'at and Tau decided to find a space for their restaurant, they started walking around downtown.
"My husband said we are going to take over downtown. We just walked down Union Street and we just wrote down everything for lease. The landlord had just bought the building not even a full year ago," A'at said. "He has been the best landlord. It just happened one day. We just spoke it into existence, and we stepped out on faith and called him."
She has been down there since 2016, when she opened her salon.
"People love the historic feel of downtown. We want our energy to pass to other owners to bring on another form of life," A'at said. "We want to be able to give good vibes and good food."
Tau said that with the pandemic, things took a bit longer to organize. But, thankfully, A'at was there to handle any clerical work.
"She had to call supply stores to see if they were even open," he said. "I just enjoy just being in the kitchen. Paperwork and tech is all her."
But on opening day, A'at was there at the wrap bar, tossing kale in seasoning alongside Tau.
But both are looking forward to the future of the restaurant and the way they can introduce a different type of meal to the community.
"We are hoping the city of Concord can embrace us," Tau said. "The city thus far has been very good to us and kind."
Be the first to know
Get local news delivered to your inbox!