CONCORD – It hasn't taken Nick Leverett long to understand the oft-quoted maxim that the NFL stands for "Not For Long."
Last Friday, the former Concord High School standout football player was among the nearly 1,000 NFL hopefuls to get cut from a team, as final rosters were trimmed to 53 treasured spots. Leverett had played well during the Tampa Buccaneers' training camp this summer, but he received a phone call Friday informing him that he was being let go.
Leverett, understandably, was crushed.
"Dang," he said, before gathering himself enough to tell the team official on the other end, "That's cool. Thank you."
At that moment, Leverett was out of the National Football League and among the scores of players worldwide who aspire to make football their full-time job.
At the end of the phone conversation, the same team official who'd just had the undrafted Leverett believing he was headed back to his native North Carolina had one more thing to say.
"Right before he hung up, he said, 'But I do have some good news for you,'" Leverett recalled. "I said. 'What's that?' He said, 'We do want to bring you back for the practice squad.'
"He said that, and I was like, 'OK! OK! We're working with something!'"
Added Leverett, "He said, 'If everything works out and you don't get picked up by another team (before clearing waivers) by Sunday, we want you to come back to the facility and sign your contract.'"
Just like that, in the span of a one-minute phone conversation, Leverett had experienced the lowest of lows and the highest of highs.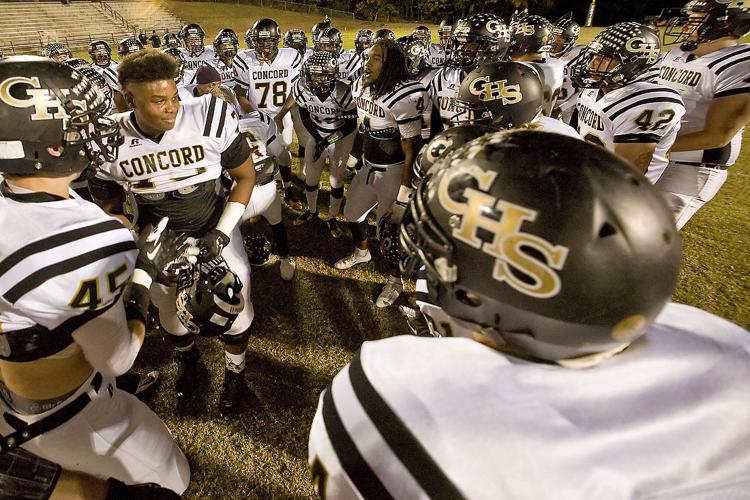 It didn't matter if he wasn't going to be on the Tampa Bay 53-man roster for the season-opener today. It didn't matter that friends and family from back home in Concord and Salisbury wouldn't see the smile face on TV when his Bucs are playing the New Orleans Saints today.
He's still a pro, someone getting paid to play football for a living. He's sharing a locker room with arguably the greatest quarterback of all time, Tom Brady, and he's testing his wares in practice every day against some of the biggest names in the most famous football league in the world.
And for a 23-year-old fresh out of college who isn't getting to suit up on Sundays, the money isn't bad, either. According to the NFL's Collective Bargaining Agreement, the salary for a rookie practice squad player is slotted for $8,400 per week.
Life is good, and Leverett is counting his blessings.
"When I found out I was on the practice squad, I was like, 'This is just the beginning of my journey, and I'm very thankful for it,' Leverett told the Independent Tribune in a telephone interview recently.
"Yeah, I was pretty excited," he said.
Leverett graduated from Concord in 2015 and spent his first three seasons of college at N.C. Central University, where he earned many gridiron accolades and graduated – with honors -- before moving on to wrap up his career as a graduate transfer in one season at Rice University.
Leverett proved himself on that level, too, stepping into the starting lineup immediately and playing a key role for the Owls. He wound up receiving honorable mention on the 2019 All-Conference USA Team.
He later earned a spot in the SPIRAL FBS All Americans Tropical Bowl, a showcase game for some of the top college seniors in the country, where he was able to work closely with NFL scouts and general managers throughout the week.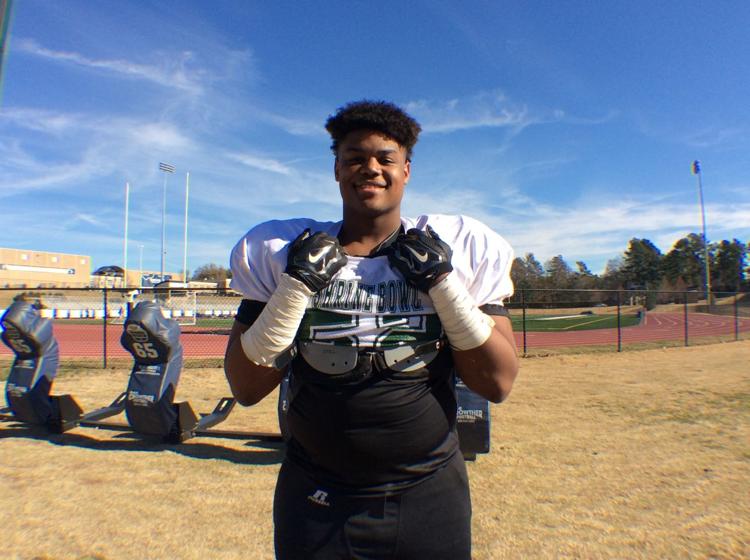 Leverett wasn't chosen in the 2020 NFL Draft last spring, but the Bucs signed the 6-foot-4, 310-pound offensive lineman to a free-agent contract, and he arrived in camp with a purpose. He battled every day against some of toughest defensive players in the league. And when he wasn't trying to block them, he was gleaning all the knowledge he could from them.
Leverett's work ethic during the Bucs' training camp was one thing that jumped out to Tampa Bay general manager Jason Licht, and it helped immensely that Leverett had a positive mindset despite getting limited repetitions.
"I went to (Licht's) office (after being cut)," Leverett recalled, "And he said 'We brought you in here at such a hard time, dealing with COVID, and it was kind of hard for you, unfair for you, as a rookie. We were trying to get our players that we already have established for the season. But we saw what you did, and we definitely want to keep you around.'
"This whole camp, I didn't get the number of reps that I wanted, and that kind of made me frustrated," Leverett added. "But the reps I did get, I was making them count."
Despite his veteran-like work ethic in camp, that didn't mean there weren't times that Leverett wasn't simply a kid out there living his dream.
He was in rarefied air on that field during practices, and he knew it. And, well, if he didn't, looking into the blue eyes of Brady as he gave him instructions was one heck of a reminder.
Leverett recalled his first "welcome to the NFL" moment.
"My first day at camp, I was in the huddle with Tom Brady," he said. "He had called a play in the huddle, and I was standing there like, 'Oh, my God, this is Tom Brady!' I was star-struck."
Leverett let out a laugh as he went through the treasured memory with a reporter.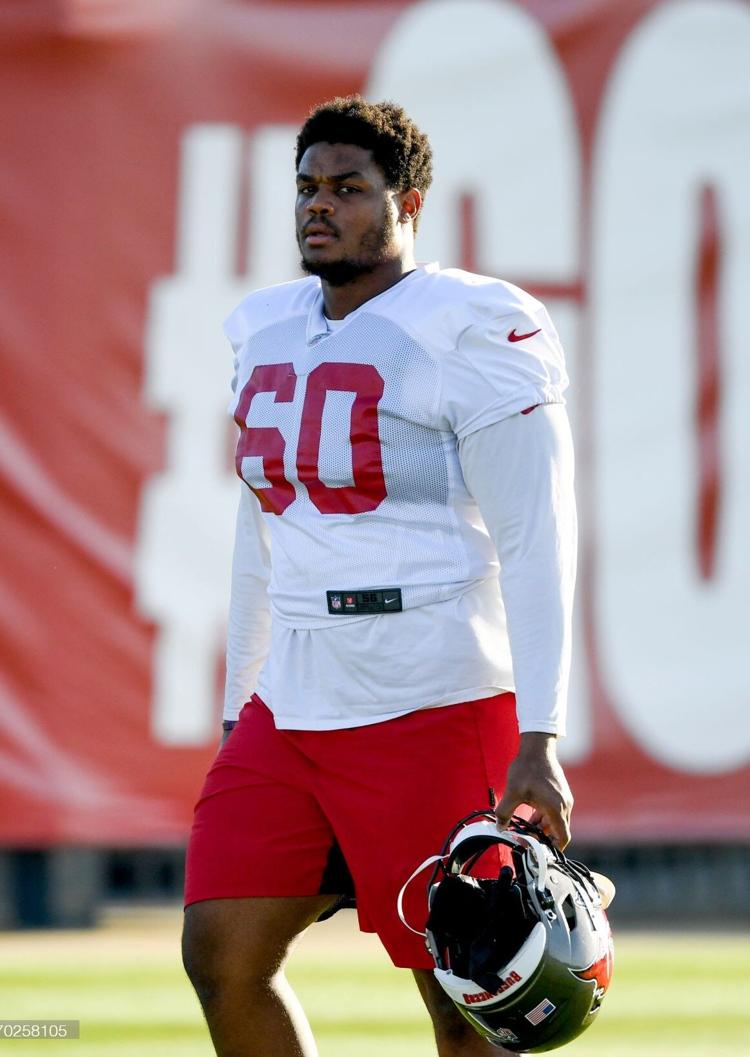 "And when I got to the line (of scrimmage), I had totally forgotten the play!" he said.
Leverett chuckled again, adding that the superstar quarterback forgave him, and the offense went on with the next play.
"It was crazy being around all those guys," Leverett said. "I was apologizing to (All-Pro defensive end) Jason Pierre-Paul for blocking him. I had been literally going around star-struck. Before I did a one-on-one drill with him, I was like, 'Mr. Pierre-Paul, I'm a huge fan of yours! I play with you on 'Madden' all the time!'
"I was telling all the dudes that, and they would just laugh at me. It was crazy."
But it was a veteran Leverett remembered as a player for his hometown Carolina Panthers who helped him get out of his star gaze.
"We have (nose tackle) Kyle Love, and he was a Carolina Panther for six or seven years," Leverett explained. "I was apologizing to him for blocking him, doing my job. He came up to me after practice one day and was like, 'I know you look up to all of us, but at the end of the day, you got here just like all of us. Now, you've got to start training your mind that you're on the same level as us.'"
It was official: Leverett was a part of the club. He wasn't just a wide-eyed rookie anymore; he was a pro football player trying to make the roster with all the other grown men.
"I was at practice two weeks into camp, and I pancaked the star linebacker, the starting linebacker,  Lavonte David," Leverett said, still managing to sound modest. "Eventually, I went against (All-Pro defensive lineman) Ndamukong Suh, and I held my own. That's when I knew, 'I'm made for this, because I prepared myself for this.'
"Don't get me wrong; I've still got a long way to go, especially processing the game speed and all that. But as far as physically, that's when it kicked in, 'OK, I belong here.'"
And with another Cabarrus County product in Tampa Bay, punter and Northwest Cabarrus graduate Bradley Pinion, Leverett said there's been added comfort, even though busy training camp schedules have kept them from hanging out.
"I haven't had the chance to spend time around (Pinion), but every time I see him, I'm like, 'What's up, CabCo?!'" Leverett said, laughing. "We've got that CabCo connection, and he's definitely a cool dude. I think he's actually one of our team captains this year, and I can't wait to get to know him better."
Although it's been just a week since he formally became one of Tampa Bay's 15 practice squad players, that phone call that made his emotions go from one spectrum to the other that day seems so long ago.
Now, at long last, he's just focusing on football.
"I had kind of prepared myself for (being cut)," Leverett said. "I have a lot of friends who are already in the league, and they were telling me, 'This game is tough. The NFL stands for Not For Long -- one minute you're on this team, the next minute you're on another team. It's a kind of a grimy business.'
"So when I got the call, I was prepared. I prepared myself to leave the game doing everything I could to put myself in the best position. So I was upset, but I wasn't torn down about it, because I knew I did everything I could.
"My motto for this camp was to control whatever I could control, and that's what I did."
These days, Leverett is apartment hunting in the Tampa area, doing his nightly Bible study, and working hard with hopes of getting promoted to the game-day roster soon.
"My coach (Tampa Bay head man Bruce Arians) told us today, 'You never know – a guy could roll his ankle or something, a guy could test positive for COVID, and suddenly you're stepping right on up (to the game-day roster)," Leverett said. "I think about it all the time, and I put my best effort forward every practice, whether it's a walkthrough or just a regular practice. I spend extra time in the film room as if I'm getting ready for a game.
"I know it can happen at any time, and my agent tells me the same thing. So basically, you stay ready so you don't have to get ready. That's kind of my thing."
In addition to spending time studying the Bible – I'm getting closer to God," he said -- Leverett still plays his "Madden" video game with regularity, although now he doesn't have to live a fantasy playing as people like Brady or Jason Pierre-Paul.
He can just go a few locker stalls down and talk to them.
"It's so exciting," Leverett said. "More than that, it's such a huge blessing. Not a minute goes by where I'm not thanking God for putting me at this level. I prayed for it, and my prayers were answered. It's just such a huge blessing to be on this level. My family's happy, I'm happy.
"I'm just living a happy life right now."
And despite what people say about what NFL really stands for, in Leverett's case, the feeling of knowing he's reached this point is going to last a long, long time.
Be the first to know
Get local news delivered to your inbox!