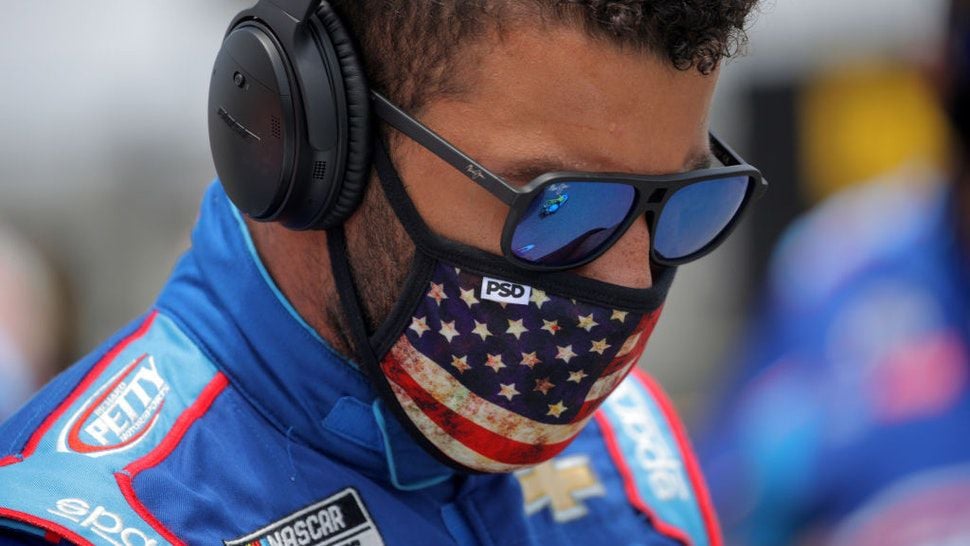 CONCORD – After an investigation into allegations that a noose was hanging in black NASCAR driver Bubba Wallace's garage stall at Talladega Superspeedway, the FBI has determined that no hate crime was committed.
According to a NASCAR statement on Tuesday evening, the FBI said that what was thought to be a noose was actually a garage door pull rope fashioned like a noose and that it had been there at least since October. There is photographic evidence to support the FBI's findings, NASCAR said, adding that Wallace's Richard Petty Motorsports Chevrolet being assigned the spot in the garage was purely coincidental.
"The FBI has completed its investigation at Talladega Superspeedway and determined that Bubba Wallace was not the target of a hate crime," NASCAR's statement read. "The FBI report concludes, and photographic evidence confirms, that the garage door pull rope fashioned like a noose had been positioned there since as early as last fall. This was obviously well before (the Petty) team's arrival and garage assignment. We appreciate the FBI's quick and thorough investigation and are thankful to learn that this was not an intentional, racist act against Bubba. We remain steadfast in our commitment to providing a welcoming and inclusive environment for all who love racing."
The Wednesday print edition of the Independent Tribune includes stories referring to the alleged noose incident, featuring a column from sports editor C. Jemal Horton, but the paper went to press before NASCAR revealed the FBI findings.
In an interview with CNN's Don Lemon later Tuesday night, however, Wallace said he was upset that people now are questioning his integrity about the incident, as many have criticized him of seeking attention and sympathy following negative reactions to his push to have the Confederate flag banned from NASCAR events.
According to reports, a Richard Petty Motorsports crew member discovered the rope in the stall Saturday evening. NASCAR was alerted and responded with a strong public statement of being "angry and outraged," and contacted the FBI, which dispatched 15 agents to investigate.
Amidst the ensuing chaos, a crew member from Wood Brothers Racing recalled seeing a rope tied like a noose when the series was at Talladega back in October 2019, as Wood Brothers had been assigned to the same No. 4 stall that weekend. On Monday, Wood Brothers immediately made NASCAR aware and assisted with the investigation.
During his interview with CNN Tuesday night, Wallace stood firmly on the fact that the piece of rope hanging in his garage at Talladega was no ordinary garage door pull, and he said he wasn't the only one who saw it that way.
"From the evidence that we have and I have, it's a straight-up noose," Wallace told Lemon. "The FBI has stated that it was a noose over and over again. NASCAR leadership has stated it was a noose. I can confirm that I actually got evidence of what was hanging in my garage, over my car, around my pit crew guys, to confirm that it was a noose. It was a noose that was whether tied in 2019 or whenever, it was a noose. It wasn't directed at me, but somebody tied a noose.
"The image that I have seen of what was hanging in my garage is not a garage pull," he added. "I've been racing all my life. We've raced out of hundreds of garages that never had garage pulls like that."
On Tuesday night, the FBI did not dispute the fact that the rope hanging in Wallace garage was a noose, but officials said "although the noose is now known to have been in garage No. 4 in 2019, nobody could have known Mr. Wallace would be assigned to garage No. 4 last week."
The day after the noose was initially discovered in Wallace's garage, a public outcry resulted, as he received support from sports celebrities like NBA superstar LeBron James and other drivers. Before Monday's race, which was rescheduled because of rain, scores of drivers and pit crew members lined up in support of Wallace as the national anthem played. The moment was capped off by the presence of the legendary Petty himself, who walked up and embraced his driver.
Since Wallace had led the cause to have the Confederate flag banned from NASCAR racetracks a few weeks ago, many believed the alleged noose incident was retribution from someone in the sport.
During a teleconference Tuesday night, NASCAR president Steve Phelps expressed relief that no one in the sport was guilty of committing such a vile act.
"For us in NASCAR, this is the best result we could hope for," Phelps said. "This is ... disturbing to hear that it was thought that one of our own had committed this heinous act. It is fantastic to hear from the FBI, definitively, that there was not a hate crime."
Phelps also made it clear that he believes that NASCAR did the right thing when it reported the incident to the FBI and had a thorough investigation opened.
"I do want to make sure everyone understands that, if given the evidence that we had was delivered to us on late Saturday afternoon, we would do the same thing," Phelps said. "We would have done the same investigation. It was important for us to do. There is no place in our sport for this type of racism or hatred. It's not part of who we are as a sport."
Wood Brothers also released a statement on Tuesday expressing relief and also making clear its solidarity with Wallace.
"We are thankful that there was no one involved in perpetrating hate during this weekend's race," the statement read. "Just like the rest of the NASCAR garage, we were shocked and appalled to learn of the existence of the rope fashioned like a noose.
"What transpired over the past day plus is a unity that has only served to strengthen the bonds between each and every crew member, fan and non-fan alike. The Wood Brothers organization is proud to stand with Bubba Wallace and the entire industry as we work to make every race fan a part of our NASCAR family."
But while Wallace received support, he also got his fair share of criticism. Before Tuesday's FBI announcement, former Truck Series driver Dustin Skinner, the son of former Cup star Mike Skinner, wrote the following on one of his social media accounts:
"I know it's not what you guys want to hear … but my hat is off to who put the noose in (Wallace's stall). Frankly I wish they would of tied it to him and drug him around the pits because he has singlehandedly destroyed what I grew up watching and cared about for 30 years now. I will not watch this sport anymore and that's sad … Go NASCAR, I hope the scumbag piece of (bleep) was worth what has been started but let me assure you he wasn't."
Mike Skinner and his family have condemned the comments.
Be the first to know
Get local news delivered to your inbox!