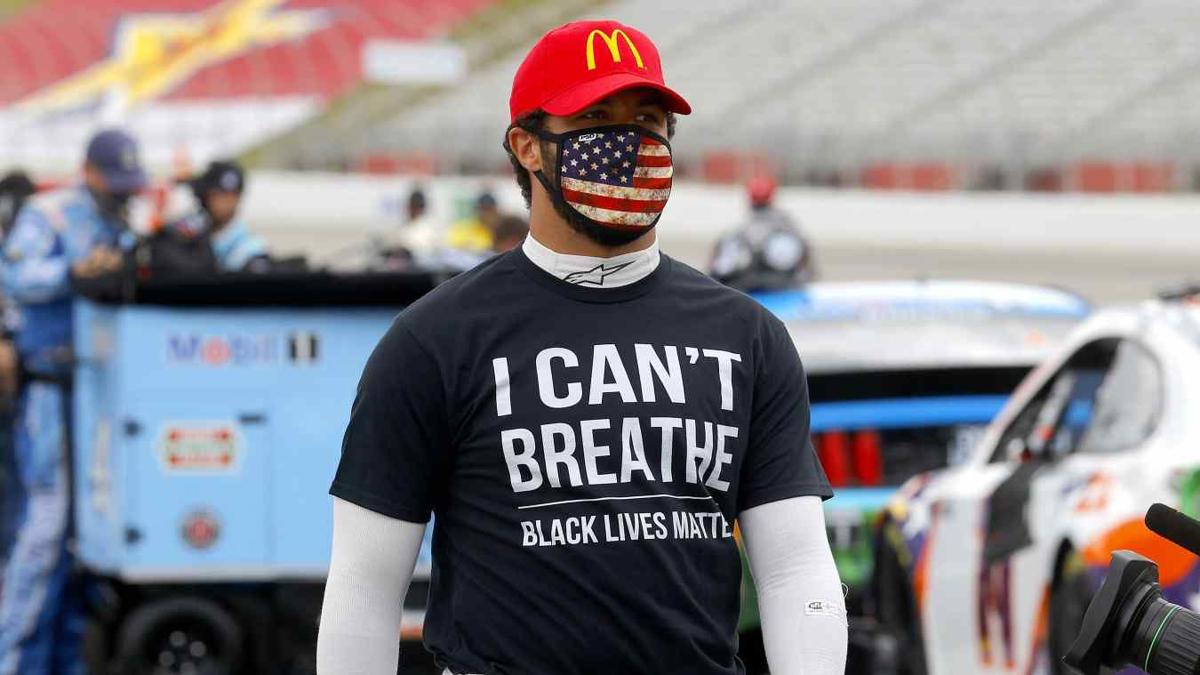 CONCORD – The acts of retribution against Bubba Wallace for helping to take the Confederate flag out of NASCAR racetracks began last week, starting with complaints by some longtime fans to boycott the sport's events.
But Sunday's "heinous act" – as NASCAR called it – hit a new low.
A noose was found hanging in the garage stall of the Northwest Cabarrus High School graduate at Talladega Superspeedway on Sunday. A noose symbolizes a form of murder initially used against African Americans during slavery, but it continued into the Civil Rights Movement and has recently made headlines for the hanging deaths of black people in California and Texas.  
Wallace is NASCAR's only African American driver and pilots the No. 43 Chevrolet for Richard Petty Motorsports, which is owned by arguably the most beloved figure in racing history. The noose incident comes fewer than two weeks after Wallace successfully encouraged NASCAR to ban the Confederate flag at its tracks and facilities.
At 10:44 p.m. Sunday night, NASCAR released a statement in which it denounced the act and vowed to uncover – and punish – the culprit(s).
"Late this afternoon, NASCAR was made aware that a noose was found in the garage stall of the 43 team," the statement read. "We are angry and outraged, and cannot state strongly enough how seriously we take this heinous act. We have launched an immediate investigation and will do everything we can to identify the person(s) responsible and eliminate them from the sport. As we have stated unequivocally, there is no place for racism in NASCAR, and this act only strengthens our resolve to make the sport open and welcoming to all."
Many people were also upset the incident, including ESPN analyst Marty Price, who said while speaking on air with colleague Scott Van Pelt, "I'm pissed the hell off!"
Sunday's race at Talladega was pushed back to 3 p.m. on Monday because of inclement weather. From his social media platforms, Wallace released his own statement Sunday night and was resolute in his stance on speaking out against social injustice.
"Today's despicable act of racism and hatred leaves me incredibly saddened and serves as a painful reminder of how much further we have to go as a society and how persistent we must be in the fight against racism," Wallace wrote. "Over the last several weeks, I have been overwhelmed by the support from people across the NASCAR industry, including other drivers and team members in the garage. Together, our sport has made a commitment to driving real change and championing a community that is accepting and welcoming of everyone.
"Nothing is more important and we will not be deterred by the reprehensible actions of those who seek to spread hate. As my mother told me today, "they are just trying to scare you." This will not break me, I will not give in nor will I back down. I will continue to proudly stand for what I believe in."
Wallace first spoke out before a race in Atlanta when he wore a T-shirt reading "I Can't Breathe/Black Lives Matter" in support of a recent movement to end racial injustice following the death of George Floyd while being arrested by the Minneapolis police. The next night, during an interview with CNN's Don Lemon, Wallace said NASCAR needed to ban the Confederate flag from its facilities.
"My next step would be to get rid of all Confederate flags," he told Lemon. "There should be no individual that is uncomfortable showing up to our events to have a good time with their family that feels some type of way about something they have seen, an object they have seen flying.
"No one should feel uncomfortable when they come to a NASCAR race. So it starts with Confederate flags. Get them out of here. They have no place for them."
Two days, NASCAR acted by indeed banning the Confederate flag from its racetracks, releasing this statement:
"The presence of the Confederate flag at NASCAR events runs contrary to our commitment to providing a welcoming and inclusive environment for all fans, our competitors and our industry. Bringing people together around a love for racing and the community that it creates is what makes our fans and sport special. The display of the Confederate flag will be prohibited from all NASCAR events and properties."
Many longtime followers of the sport were livid about the decision. Some fans -- including many who commented on the Independent Tribune's Facebook page – said NASCAR was taking away the sport's history and that they were "done" with the stock car racing series which has deep Southern roots. While Wallace had many supporters, he also received widespread criticism for his role in the removal of the flag.
In the race following the decision, Wallace's machine competed at Martinsville Speedway with a paint scheme emblazoned with "Black Lives Matter" on the left quarter panel to promote racial equality.
In an interview with FS1 before that race, Wallace lauded NASCAR for its decision to ban Confederate flags from its race tracks.
"Props to NASCAR and everybody involved," he told FS1, which broadcast the race. (NASCAR president Steve) Phelps and I have been in contact a lot, just trying to figure out what steps are next. And that was a huge, pivotal moment. A lot of backlash for the sport, but it creates doors and allows the community to come together as one. And that's what the real mission is here. So I'm excited about that, and (I'm) just going keep going on."
NASCAR long ago banned the use of the Confederate flag on its cars and licensed merchandise. In 2015, when photos of confessed killer Dylan Roof surfaced of him posing with the flag after he murdered nine black churchgoers in Charleston, South Carolina, NASCAR asked fans not to bring the flag to its racetracks "in a renewed effort to create an all-inclusive, even more welcoming atmosphere for all who attend our events." NASCAR even offered a trade-in program in which fans could swap a flag of their choice for the U.S. flag.
Nonetheless, the Confederate flag -- popular among NASCAR's largely Southern fan base --was still a familiar sight at racetracks, whether it was planted on top of campers in the infield, worn on articles of clothing or displayed on other personal items.
Be the first to know
Get local news delivered to your inbox!