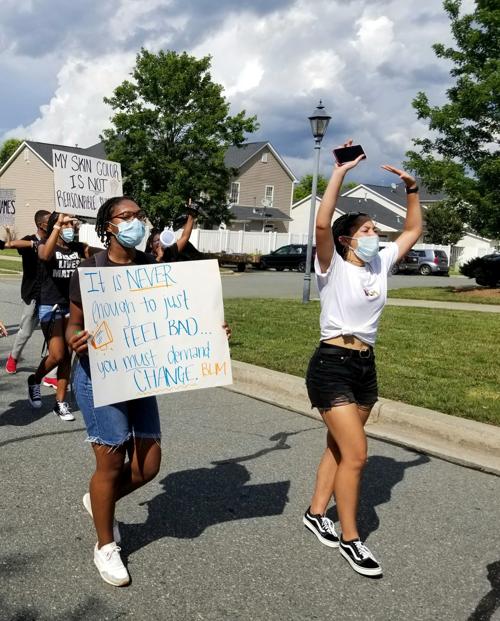 HARRISBURG – A Juneteenth youth protest was held in front of the Harrisburg Town Hall last Friday, June 19, along with a march that took place through the town center.
The event was held by the current Chair of the Harrisburg Youth Council Jaleah Taylor and Youth Council Secretary Sidney Curtis who both attend Hickory Ridge High School. They decided to host the protest after viewing the June Harrisburg Town Council meeting. Cabarrus County Sheriff Van Shaw, Harrisburg Mayor Steve Sciascia and Councilwoman Diamond Staton-Williams were present at the protest and participated in the march.
"We realized that there is a lot of lack of education on these topics, and we felt like that is what we wanted to base this around. Which is why we have these posters around to educate people further," Curtis said.
Taped to the columns in front of the town hall, there were signs posted that discussed the definitions and meanings of racial slurs, microaggressions, police brutality and the Black Lives matter movement. There were also artist-drawn images of George Floyd and Breonna Taylor.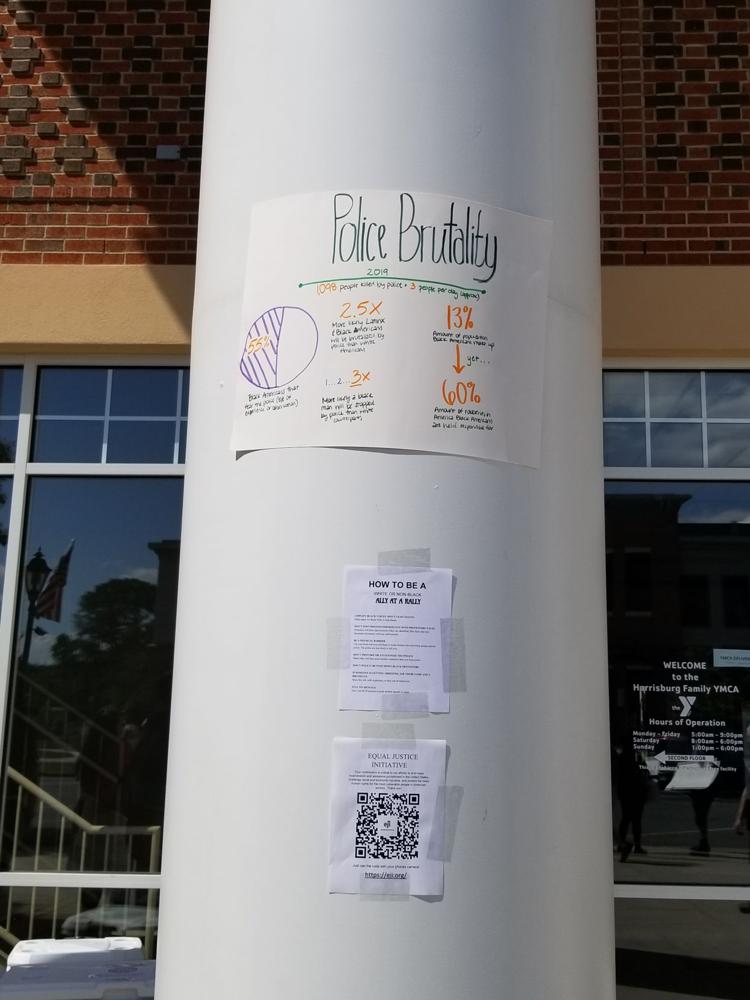 Curtis and Taylor also asked the audience to scan the QR codes that were taped to the pillars under the posters of information. The codes linked to the donation and information pages of the Black Lives Matter Movement and the Equal Justice Initiative.
When asked what they hoped people took from attending the protest today, Curtis and Taylor said they hoped people learned something new. They both said that in their schools, they were not taught a lot about the history of racism in the United States.
"We really see a lack of education. We touch on slavery but we don't really go into it. A lot of African-Americans have been killed and are still being killed, as we see in the news, and those things aren't being taught in school," said Taylor.
Both stated that they want school curriculum to go teach how racism has affected culture through the years.
"We learned about slavery and things like that, but we didn't really learn about how this trickled down into the way that we are treated and oppressed today," Curtis said.
Another key point of the protest was to address the differences between the All Lives Matter and the Black Lives Matter movement, they said.
"We are addressing the All Lives Matter movement and why that deflects away from the Black Lives Matter movement and how the Black Lives Matter movement focuses on black people because they are being killed by police officers," said Taylor. "The all lives matter movement doesn't really focus on that and deflects attention away from it."
During the protest Phillip Brown, a recent graduate of Hickory Ridge High School and the former student body president, addressed these differences.
"Change starts with us. Change stars now with what we are doing. Of course we stand for all lives," Brown said. "All lives matter. But right now people of color, black lives, are being oppressed and murdered. So right now, all lives don't matter until black lives matter."
The majority of the speakers at the protest were current or former high school students. For Taylor, she said that it is important for the voices of young people to be heard right now.
"I feel that is important that our youth are being heard during this time because we are the leaders of the future," she said. "We are going to be the law makers. We are going to be the legislators in the future, and it is really important that we are getting a step ahead. And even though we are youth and we can't actually go out and vote yet – some of us – we still need to be focusing on these issues because they are important."
Curtis said that she hopes her generation will be a group that goes out and educates themselves on topics and seeks out information instead of adopting the beliefs of those around them.
"A lot of times we inherit our parents' ideals and then we tend to just accept that as the truth and then we don't try to educate ourselves and learn more and change that," she said.
After the speakers had finished, the group lined up in the road and walked through the town center, escorted by the Cabarrus County Police Department. As the group passed homes in the area, people waved from their doors and some joined in.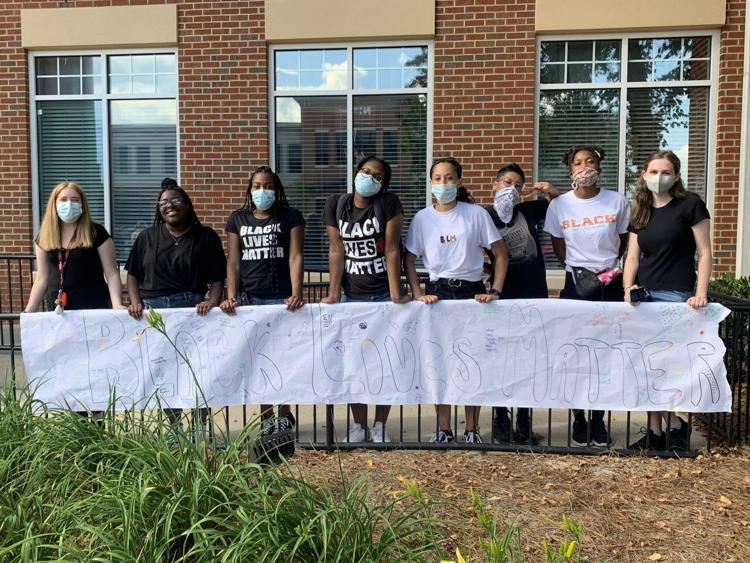 After the march was completed, they gathered behind town hall as Curtis thanked everyone for coming and asked people to line up to sign a banner for the event, if they wished.
Be the first to know
Get local news delivered to your inbox!