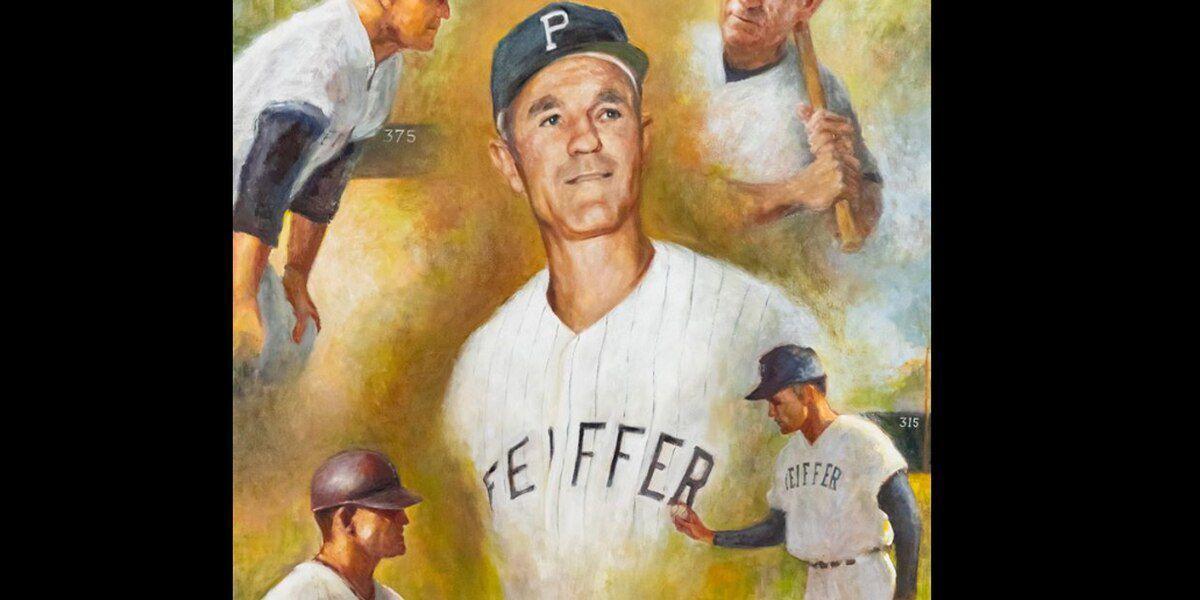 CABARRUS COUNTY — Writing an article on legendary Pfeiffer University baseball coach Joe Ferebee is a bit of an intimidating challenge. The man once received a letter from a scout asking to get a look at one of his players, and Ferebee responded, "You misspelled Pfeiffer, Misenheimer and Ferebee! That's three strikes! You are out! No schedule!"
So imagine the daunting task of writing a book about him.
But it's a challenge Ferebee's former players wanted to take on to honor the man who influenced their lives so greatly with the book "His Field, Our Dreams," which released in April. Don't think, though, that response to one scout's typos didn't weigh on their minds when they were writing their respective chapters.
"It did cross my mind," Gary Weart said with a laugh in a conference call Thursday.
Telling Joe Ferebee's story is a challenge. The man is a legend at both Pfeiffer University in Misenheimer — the baseball field is named after him after all — as well as in North Carolina American Legion Baseball, where he won four state championships, and at Salisbury High School, where he took home a state title in 1955.
This is a story that spans decades, hundreds of baseball players and beyond. Ferebee influenced far more than baseball players in his day, as he was also the athletics director at Pfeiffer and taught a class or two as well. So this wasn't really a story that could be told linearly.
So when Bob Gulledge first bounced the idea off his fellow former teammates, they decided the best way to tell Ferebee's story was to get first-hand accounts from the people he influenced. What they got is a story resembling something biblical.
Before risking sounding excessively blasphemous, here's an explanation.
For anyone who has read the Bible cover to cover, it is undeniable that what is being told is one continuous story; everything ties together. And while you can read a chapter here or a book there, the point is every bit of it points to one particular thing.
"His Field, Our Dreams" is a compilation of stories from former players, managers, broadcasters and others who got to know Ferebee at Pfeiffer, but every single story points to one thing: Coach Joe Ferebee was a man who wanted to make others better.
Tim Kirk played for Ferebee in high school before moving on to play at UNC Chapel Hill and eventually getting drafted by the Pittsburgh Pirates in 1986. In his chapter, he references Joe Ehrmann's book "Inside Out Coaching" and his portion on transactional and transformative coaches.
"Ehrmann describes a transformational coach as one who 'is dedicated to self-understanding and empathy, viewing sports as a virtuous and virtue-giving discipline," Kirk said.
He continued: "Unlike a transactional coach who uses his/her players mainly to help him/her win games and not much else, Coach Joe Ferebee operated in a different manner."
When Kirk went on to play at UNC Chapel Hill, he was no longer under the purview of Ferebee. But after struggling in a game against N.C. State, when he gave up a go-ahead homer in the eighth inning, Ferebee took the time to call Kirk up and reassure him that it was only one game and to forget about it.
In a game the next day against Davidson, Kirk came in with the bases loaded, two outs and a one-run lead. He worked his way out of the inning, and the Tar Heels came away with a win. It's efforts like that which set Ferebee apart, not only as a coach but also as a person.
"When you're playing as a 15-, 16-year-old you don't realize what impact a coach is having on you," Kirk said Thursday. "You know what impact he's having on you as a player, but when you leave you realize the impact he has on you as a person."
"His Field, Our Dreams" may read as one long story when read in one sitting, but the fact is each and every story in it has its own personal charm. These are men who played for Ferebee all the way back in the 1950s, and it's a true insight to a man who impacted so many in North Carolina.
And further, while every page is a testament to the kind of man Ferebee was, it also gives great insight to the woman behind the man, Joe's wife, Melba. The woman had never seen a baseball game before meeting Joe, but she turned into all of his teams' biggest cheerleader on game day.
While Joe Ferebee's story is one that impacted generations of baseball in North Carolina, it's a story that cannot be told without Melba.
"She obviously took an interest," Weart said. "I remember she was very, very hands-on in terms of the baseball and coming to the games and stopping by practice and getting to know the players, so it was pretty special."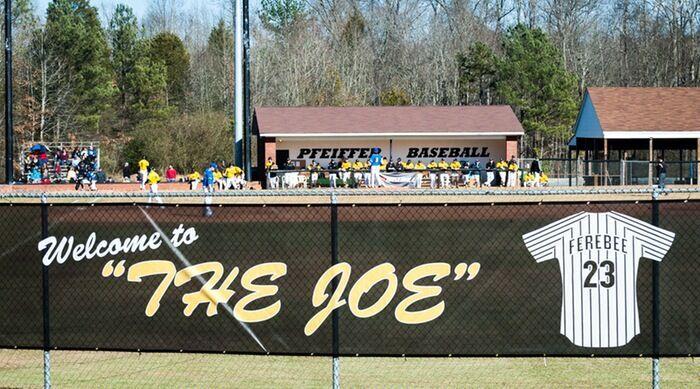 The stories about Melba in the book are almost as incredible as the ones of Joe. In August of 1966, the Maness family arrived on campus at Pfeiffer ready to start a new life. The problem was the house they believed would be ready for them was nonexistent. So the Maness family consisting of Charlotte, Horace, Charlotte's parents and their two children was stranded with seemingly no hope.
Then Melba stepped in. She greeted them, seeing they were clearly in a tight spot, and made sure to set them up with a site to live before their house would eventually be finished.
"Melba Ferebee (was) an angel to us at the time and always was until she died way too young," Charlotte says in her chapter.
She continued: "The memory of that day arriving there, Melba making it all right, stays with me until now."
If Joe Ferebee was a surrogate father to his players and students while he was at Pfeiffer, Melba was without a doubt their surrogate mother. But more than that, they were there for their Pfeiffer family through everything. Absolutely everything.
"If I remember one thing about Mrs. Ferebee is she was always kind of like your mother," Robin Swearingen, a Concord native and a 1979 graduate of Pfeiffer, said. "You go to school, you leave your parents, and (it's tough). (When I was at Pfeiffer), my dad fell off the roof, was in a coma for two weeks and died while I was there, and the next thing I knew they showed up in the funeral home, and that just really touched me.
"After that I always felt like they were my second parents."
More than a couple of people spoke about the Ferebees this way in "His Field, Our Dreams." Barely one story is told about Joe without Melba being right there beside him. Many of these stories have never been told before, giving much of this book a mythical feel.
Great classical stories of events such as the battles of Marathon and Thermopylae were passed down from generation to generation by word of mouth. There may have been a touch of hyperbole and poetry here and there, but that is what makes them legend.
One story not appearing in the book is of Ferebee taking a sling in the style of David and launching a baseball over the center field fence at Pfeiffer. This sounds like something out of the writings of Herodotus, but his players insist it happened.
Maybe this is a legend that eventually grows to Ferebee launching the ball over the fence out of his own hand or something even more hyperbolic. The point is the exploits of Ferebee and his teams at Pfeiffer will go down in history in North Carolina, and his players were happy to carry on his legacy in writing.
"I wonder if Coach recognized that he was our hero and that he and Melba were the true treasures of our Pfeiffer family," Stephania Cude, a Concord native who was a student at Pfeiffer in the late 1960s, said. "He just had such an impact, but I loved Melba equally and they made such a good team."