CONCORD – In the final pre-game moments of Cox Mill's boys basketball game with Jay M. Robinson, a pre-recorded message encouraging good sportsmanship and safety played over the gym's public address system and included some final words about spectators needing to leave the "stadium" in the event there was lightning.
Naturally, the recording was geared toward outdoor play, so it was an odd message to be heard in an indoor venue.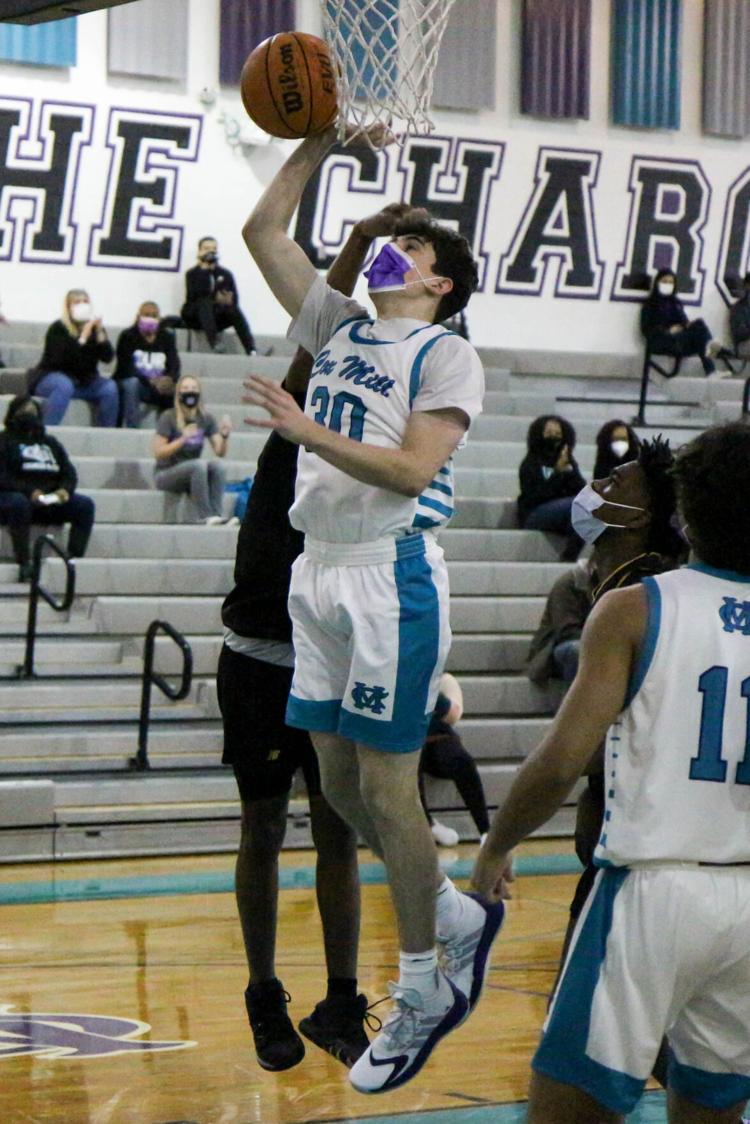 By the end of the first quarter, however, it was the visiting Bulldogs who were practically running for cover from the Chargers.
Cox Mill's frantic, lightning-quick pace led to an early double-digit lead and was the prelude to an easy 91-48 victory Friday.
Employing their patented pressure defense and disciplined offense, the Chargers led by 17 points after one quarter, by 24 at halftime, and a running-clock-inducing 40 points with about one minute remaining in the game.
Friday's result was even more impressive than Cox Mill's 84-61 win over Jay M. Robinson on Tuesday, which was both teams' season opener. The Chargers (2-0 overall, 2-0 South Piedmont 3A Conference), who have been the league's dominant team over the last several years, are playing with a lot of new faces but not as many as the Bulldogs (0-2, 0-2), who are young and have a brand-new starting lineup.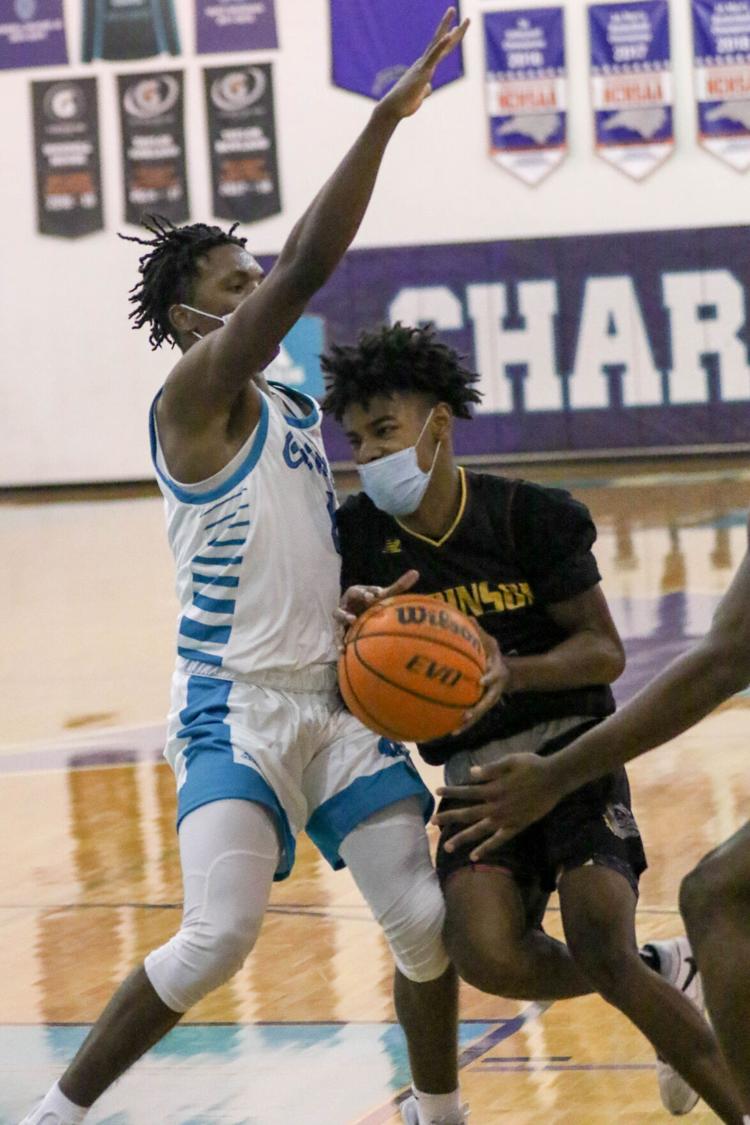 "I think (Jay M. Robinson's) Lavar Batts Sr. is one of the best coaches in the state," said Cox Mill's second-year coach Ty Johnson. "You don't want to play a Lavar Batts team twice in the same week. We got up big in the first quarter on Tuesday, then we had a lot of turnovers and let them back in.
"One thing for us tonight is we took care of the ball better. We valued the basketball a lot better in the second and third quarters, which is something we wanted to improve on tonight. When (the Bulldogs) pressed, we broke it really quick and got it across."
One of eight seniors on the team, Chris Hunter led Cox Mill with a solid overall game, scoring a game-high 16 points and adding eight assists, four steals, and three rebounds. He exemplified the Chargers' bottomless roster of patient, disciplined, hard-working, and emotionally reticent players.
Hunter's assist and Rasheed Baldwin's 3-pointer from the top of the key with 3 minutes, 50 seconds left in the first quarter completed an 8-0 run that allowed Cox Mill to break a 7-7 tie that existed only 62 seconds earlier.
Zikei Wheeler, one of Jay M. Robinson's three sophomore starters, broke his team's slide with a 3-pointer from the right wing, but the Chargers scored the final 12 points of the first period.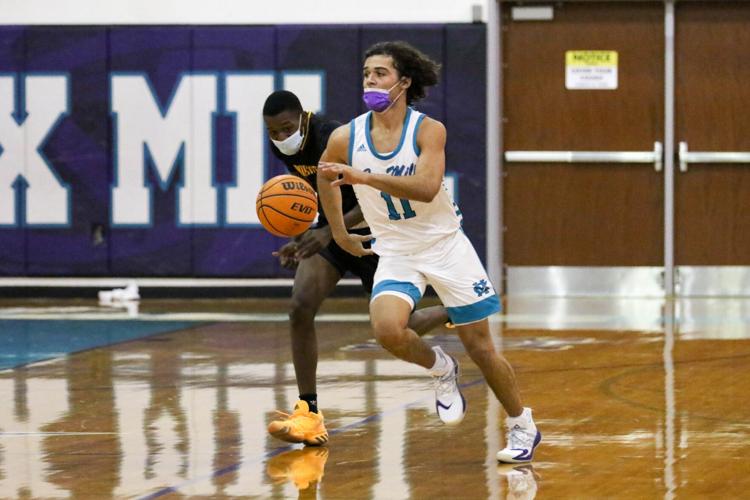 With 6.3 seconds remaining, Hunter inbounded the ball near midcourt by passing to John Anthony Baker in the right corner. Defended well, Baker returned the ball to Hunter, who dished it right back to his teammate in the same spot. This time, Baker had a better look at the basket and drained a 3 as time expired.
"(Cox Mill) played harder than us," said Batts, who acknowledged his team's fast start. "They played together."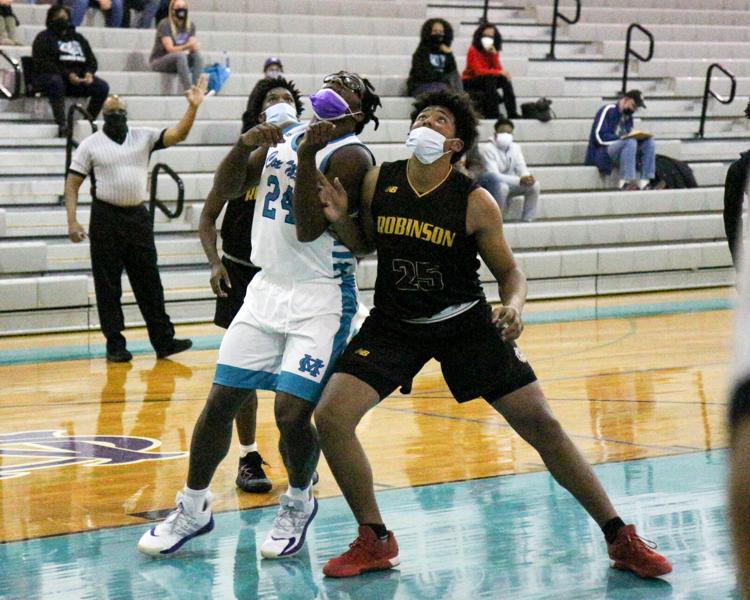 Leading Cox Mill in the second quarter was senior forward Jaylen Hamilton, who came off the bench to grab six of his game-high eight rebounds in the period. Jay M. Robinson closed the gap to 34-21 with 3:27 left, but the Chargers finished the first half on a 13-3 run for a 47-24 advantage.
Hunter's front-court steal and ensuing breakaway soft dunk was sandwiched between two nifty field goals by Zach Riddle (11 points, six rebounds) early in the third quarter. One of Riddle's buckets followed his own steal, and the other he flipped in from directly under the basket.
Nine Cox Mill players scored in the third quarter and 12 made the scorebook overall. But none of them were mop-up points. The Chargers' roster is layered very deeply.
"We play as a team," said Hunter. "We all play together. No one player is better than another. We all are equal."
Senior guard Jake Dameron was Jay M. Robinson's leading scorer by being one of five players tallying between eight and 10 points.
Cox Mill next plays games against Concord on Thursday (away) and next Saturday (home), while Jay M. Robinson battles A.L. Brown Thursday (away) and Friday (home).
Robinson          10     14     17      7 -- 48
Cox Mill   27     20     25     19 -- 91
JAY M. ROBINSON – Hughes 8, Wheeler 8, Richardson 9, Brooks 3, Jake Dameron 10, Jones 2, Hobbs 8
COX MILL – McClanahan 8, Chris Hunter 16, Myles Morgan 3, Marcus Morgan 2, Baldwin 9, John Anthony Baker 14, Harris 8, Goodwin 5, Nelson 7, Powell 4, Hamilton 4, Zach Riddle 11