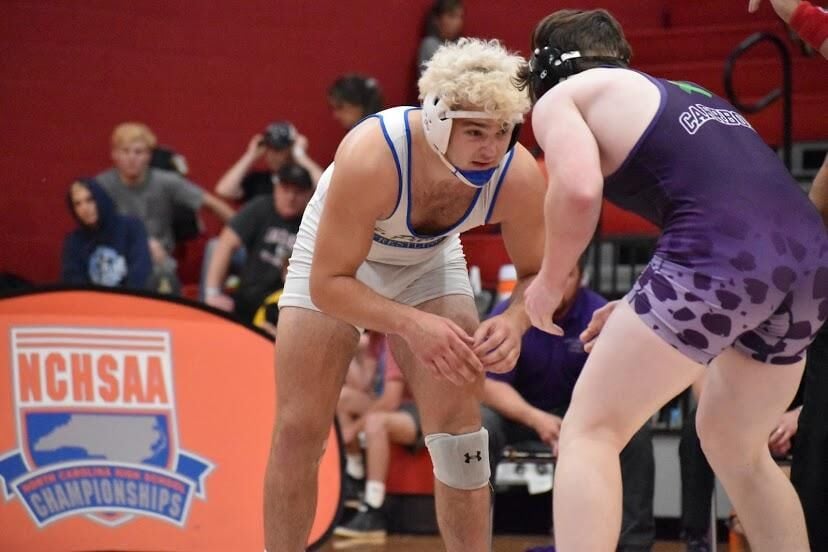 MOUNT PLEASANT – Heartbreak is one of the unfortunate by-products of sport. As fans, we just don't always get an intimate view of what it does to the athletes who experience it.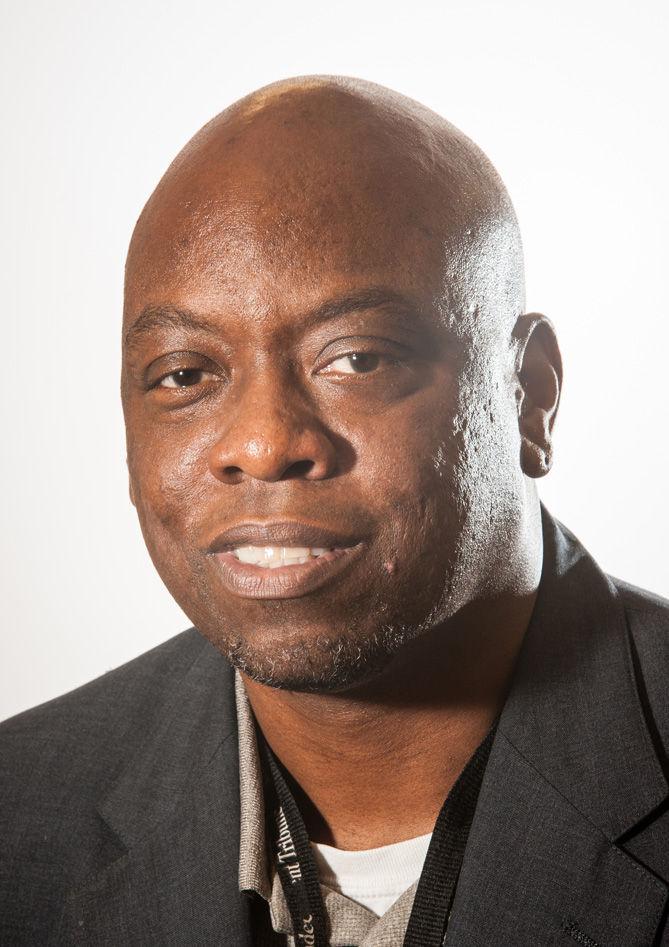 You watch the Super Bowl or the World Series every year, and there's always heartwarming video of the champions celebrating in their locker room, champagne spewing as begoggled athletes embrace and hoist up the trophy.
But what you don't usually see are the losing players in their locker room, often in tears. You don't get to see what life is like for the athlete who gave up the winning – or losing – play when he returns home and tries to put his emotions back together after coming thisclose to being a champion.
Some people in that situation, despite their promises to get it done next year, are never the same. Careers fall apart as they're never able to recover from that painful moment.
And then there are the Levi Kluttzes of the world.
Kluttz was only a senior wrestler at Mount Pleasant High this year, yes, but he had to deal with his own high-level adversity after coming up short last season.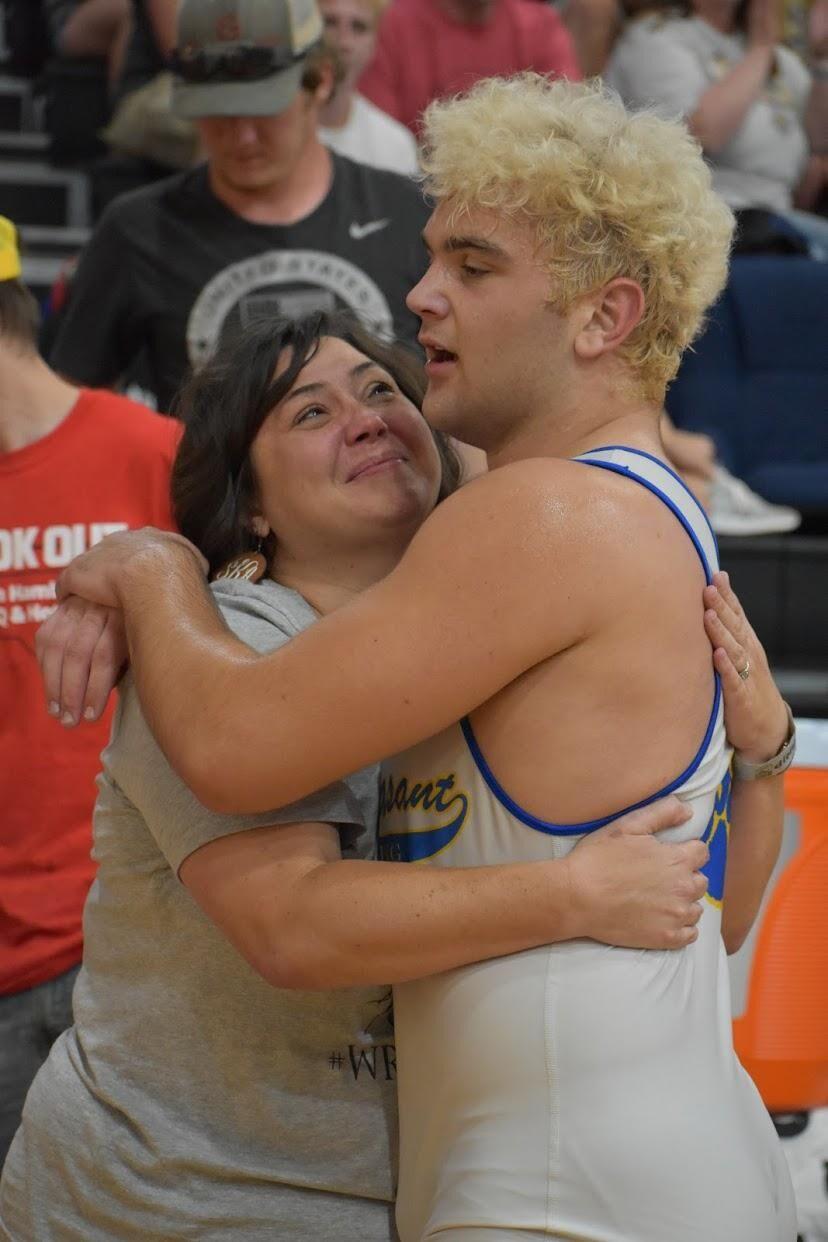 One of the toughest young athletes you'll ever see, he was emotionally wounded.
But 15 months later, Kluttz was able to get his redemption, finally being crowned as Class 2A's 195-pound state champion on June 26 at Trinity's Wheatmore High School.
"It's been crazy just waking up every day knowing that you fulfilled one of your lifelong dreams," Kluttz said of winning the title. "It's just everything you dream about when you're little."
But although Mount Pleasant is only 50 miles or so from Trinity, it certainly was one long and tough road for Kluttz to get there this year.
However, Kluttz's journey isn't just one of redemption; it's one of inspiration. A story of passion and will and discovery that he's much stronger – emotionally and physically – than he ever imagined,
Last season, Kluttz was one of the best high school wrestlers in North Carolina. Of his 52 matches, he only lost four, and one of those came in the final 195-pound match of the season.
That day, Kluttz was wrestling Newton-Conover's Shakarri Morrison for the state championship. Morrison himself was a monster on the mats, entering the finals with a 49-0 record.
The title match was everything people believed it would be, with both wrestlers battling to get an edge, The regulation three periods weren't enough to decide a champion, and neither was a 30-second overtime.
Finally, in the second overtime, Morrison managed to escape Kluttz's powerful grasp to score a point for the 3-2 win.
Kluttz's massive heart was suddenly the one that was vulnerable. It literally felt broken as he watched the referee raise Morrison's hand in triumph and then later had to stand beside him on the podium. In the No. 2 spot.
"Just being that close was almost the worst way to lose," Kluttz recalled. "Knowing it was on your fingertips and then taken out of it and then basically taunted at you for 15 months was probably the worst pain I've ever felt in my life."
Mount Pleasant coach Jarin Spradley, who was an assistant last year to the now-retired Greg Hinson, had a front-row view of Klutt's title defeat. As one of the men who'd helped prepare Kluttz for the moment, he was saddened.
And as a man, as one of Kluttz's advisors who poured into the teenager like he was one of his own kids, Spradley's heart hurt, too.
"It was hard to watch, it was hard to be with him after," Spradley said. "It broke him when he lost that match. I mean, he trained so hard."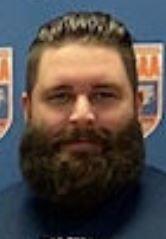 It only got worse when Kluttz returned to Mount Pleasant. What was usually a place of solace only reminded him of what he perceived as his greatest failure as folks tried to console him.
Hinson and Spradley gave him encouraging words. So did his family members and Mount Pleasant teammates, who knew exactly how good he was, and so did all his coaches with the Charlotte-based Darkhorse Wrestling Club.
Nothing could get Kluttz out of the doldrums at that point. There was just a feeling of emptiness that he could not shake.
"The days immediately after (last year's championship match) were probably some of the worst days of my life," Kluttz shared. "I couldn't do anything to take my mind off of it. The day after the championship, I went to practice at Darkhorse, thinking, 'This will be something good to get my mind off it.' But getting there and wrestling just made it worse. It eased my mind not being able to just sit around and think about it, but it also made it worse because I'm only in there to get better to win one thing, and that's the one thing that just got taken from me.
"The support from everybody at Mount Pleasant and everybody at Darkhorse was really good, and that helped me a lot," added Kluttz. "But the days were hard."
Complicating matters was the fact that, about a month later, the COVID-19 pandemic was in full force. Sports, especially contact sports like wrestling, came to a halt. Kluttz could train, but he could not actually get on the mat and wrestle.
The only real match logged in his memory was … that one.
Thankfully, Kluttz had coaches willing to go the extra mile.
"I've got good coaches at Darkhorse and Mount Pleasant who really helped me to not dwell on it because it's really hard not to just sit around and feel sorry for yourself," Kluttz said.
One day last summer, Darkhorse coach and Jay M. Robinson graduate Luke Glunt had a talk with Kluttz.
"(Glunt) really put it into perspective for me about how you can't change the past and that there's only one thing to do, and that's get a win this year to make up for it," Kluttz said.
It certainly wasn't going to be a simple task, but Glunt's words resonated with Kluttz.
His journey back had begun.
Kluttz had been a key player on the Mount Pleasant football team during his junior year as a linebacker, leading the Tigers in forced fumbles (three) and ranking third in tackles (40). But as his senior year approached, he decided to forgo the gridiron. He wanted that wrestling title.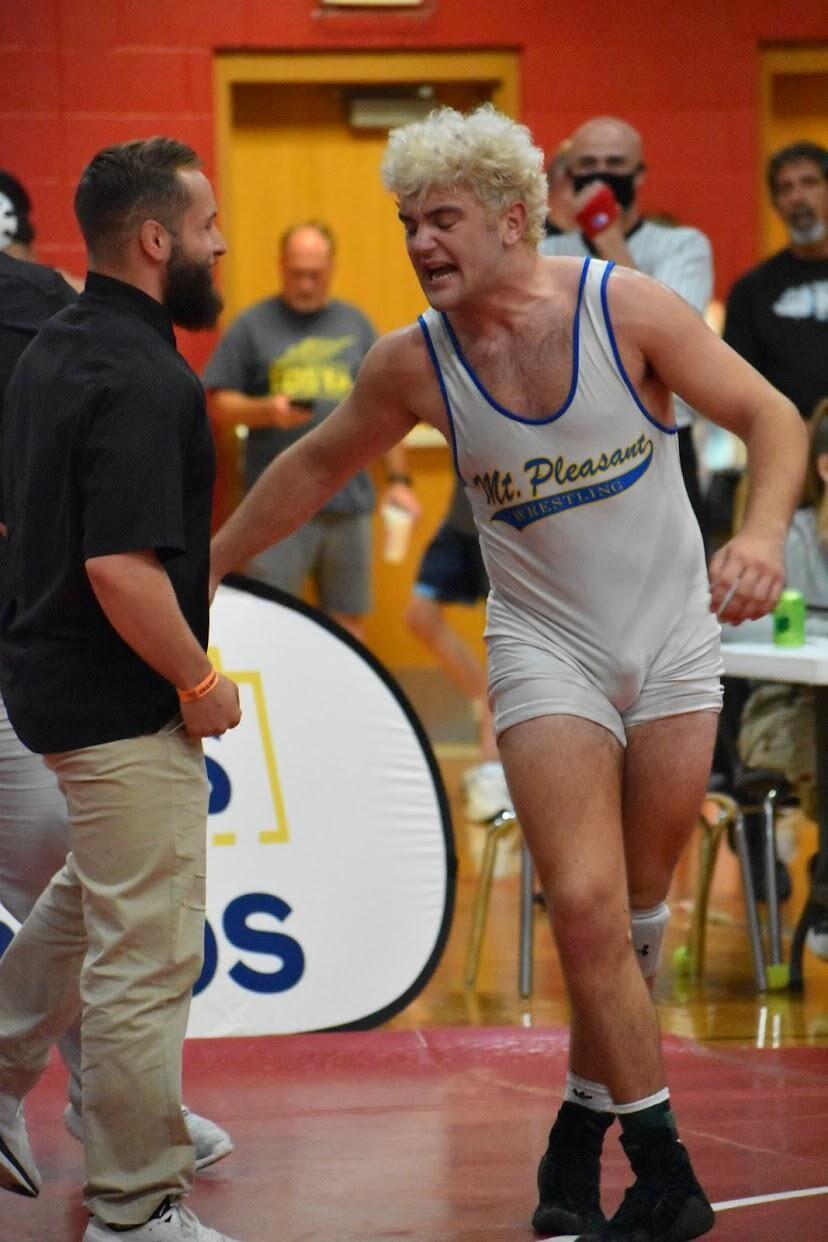 He had a singular focus, and noting was getting in the way of that.
"He didn't sign up to play football this year so he could train more (for wrestling)," said Spradley, who's also an assistant coach for the Mount Pleasant football team. "Man, he was on a mission this year. He set a goal and busted his butt. There were many days he'd leave my practices at the high school and then drive over to Charlotte to Darkhorse.
"He's one of these guys who committed everything to do better. He put it on the line last year and came up a point short. It was a battle, and he left there that night, and he said, 'I will win a state championship next year.' He was determined."
When the 2021 season began this spring after COVID forced the N.C. High School Athletic Association to alter its schedule, Kluttz was ready. He'd already put the championship loss in his rearview mirror, and he was doing the best wrestling of his life.
During the regular season, he even had another meeting with Morrison on the mat. It was time to face his demons head-on. Morrison had since changed schools (to Lake Norman High) and moved up a weight class (to 220).
"He bulked up," Spradley recalled. "We weighed him in heavy, but he bumped up to wrestle (Morrison) anyway because he wanted that match. That was the whole reason I booked the match against Lake Norman, was for (Kluttz) to wrestle (Morrison)."
For the second straight time, the two wrestled an epic match. But again, Morrison came out on top, this time 10-9.
"It came down to the wire," Spradley said. "He lost that match, but he left it all out there. He really did,"
But as an example of how much progress Kluttz had made over the past several months, losing to Morrison this time didn't take his spirit. Instead, he was more inspired.
If he could take a now-Class 4A wrestler to the limit, while being grossly undersized himself, what would he be capable of in his normal 195-pound weight class at the 2A level?
All he'd need to do is stay on his journey.
Nobody else would touch Kluttz the rest of the season.
He powered his way through the Rocky River 2A/3A Conference, and he laid the smackdown at the 2A Midwest Regional tournament.
He'd always been good, but now he was really starting to look like the dominating wrestler his coaches said he would be at this year's state tournament.
"I remember me and (Glunt) were wrestling sometime last summer, and he was telling me, 'I'm going to be disappointed if you don't bonus your way through the tournament.'" Kluttz recalled, referring to get extra points for pinning his opponents. "It just kind of stuck with me. I was like, 'He really believes that I'm that much better than everybody else in the state.'
"It couldn't have been five months after that (Mount Pleasant assistant coach) Jake Balmas was telling me, 'Levi, you're going to bonus your way through the tournament. Nobody here can touch you.'"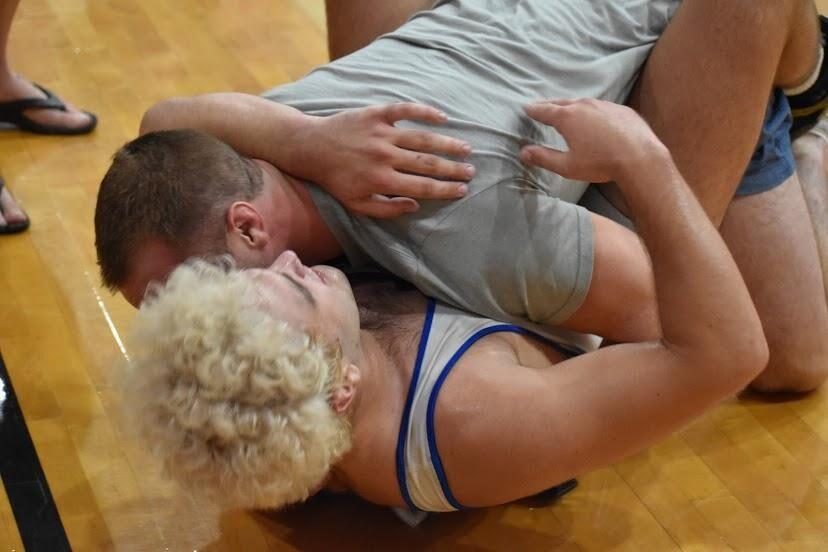 Glunt wrestled at Belmont Abbey and the University of Mount Olive, while Balmas recently wrapped up a career at Queens University of Charlotte. Both men knew good wrestling when they went up against it, so it was one heck of an endorsement for Kluttz. He took it to heart.
"Just them preaching that to me made me go out there with all the confidence in the world," Kluttz said. "If two college athletes thought I was going to do that, who am I to tell them that I'm not going to?"
All the while, the one thing on Kluttz's mind was the trip to Trinity to compete for that elusive state title. That 15-month wait had been torture sometimes.
"I feel like it made it bittersweet," Kluttz said. "It makes you wait and makes you want it so much more, but it's also a lot tougher because you're sitting around watching the football team win the (conference) championship or watching the basketball team do well. You're like, 'When is our time? It's got to be our time soon.'"
When the calendar finally flipped to June 26, Kluttz was ready. He would be joined at the state meet by five of his teammates – Trent Almond (106 pounds), David McEachern (120), Dalton Miller (160), Kyler Pickard (170) and Chase Crayton (220).
Despite the relatively short drive, Kluttz's mom, Shanon, and Crayton's mom, Tara, had gotten hotel rooms in the Trinity area so the boys could get a good night's rest before their matches.
Kluttz was something to behold.
He opened the state meet by pinning his opponent in just 51 seconds. His second-round match was only a little longer, as he won by a pin in 1 minute, 45 seconds. And it was the same result in the semifinals: a pin in 3:24.
All that was left was the title match against Carrboro's Jason Jelic, who, like Kluttz, had only lost once this season.
But nothing was stopping the Kluttz train on this day, as he pinned Jelic in 3:40.
When the referee slapped the mat to signify the pin, Kluttz ran and jumped into the embrace of Spradley and Balmas. He remembered the words he uttered to the two Mount Pleasant coaches: "We made it. We did it. Finally."
Then, it was a mad dash over to his coaches from Darkhorse: Adam Cox, Jimmy Avola and Glunt. Again, perhaps as more of a reminder to himself, Kluttz said to his mentors, "We did it. All the practices have paid off.
"I thought about all the days I didn't want to be there," Kluttz said. "The hard practices or the times when they pushed us but we really didn't want to do it. It all paid off."
There's redemption, and then there's leaving no doubt that things ended the right way this time. Kluttz had been downright masterful in his dominance. There wouldn't be any close call this time around.
Pinning your opponent in wrestling is the perhaps the greatest way to let him know that he never really had a chance.
Against the best of the best?
For the state championship?
There wasn't a better, more convincing way for Kluttz's journey to end.
After coming so close last year but falling just short, I asked Kluttz if he was satisfied with the way his high school career ended.
"You can talk to every kid who's ever wrestled in high school, and the one thing they want to do is be a state champ," Kluttz said. "And I got mine. But I don't like to use the word 'satisfied' because I'm wrestling at Coker University for the next four years, and 'satisfied' just makes me feel like I'm done trying.
"But I do feel like it was a dream fulfilled."