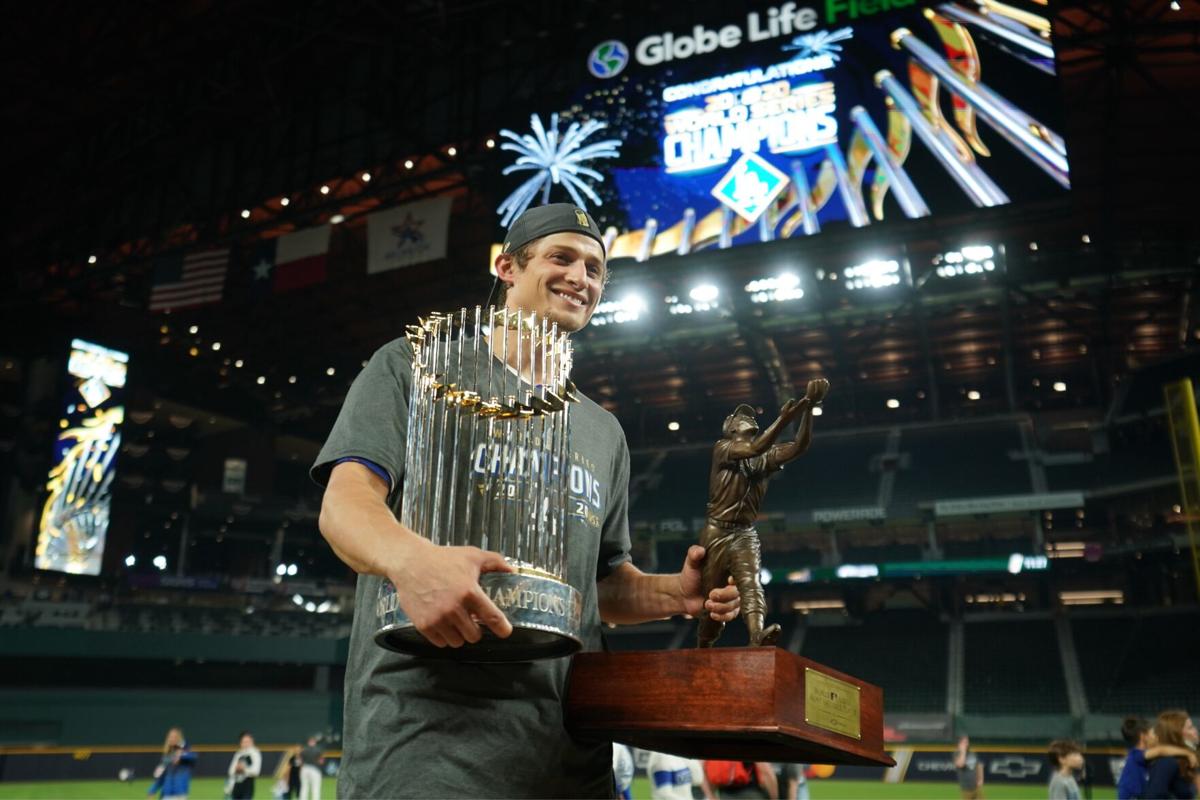 CONCORD – There he stood.
With cameras from every reputable sports network – and many not-so reputable networks – tuned tightly on him.
Corey Seager, the newly minted World Series champion who got his start right here on baseball fields in Cabarrus County – tiny Kannapolis, to be specific – was the focal point of the sports universe.
The nation was watching. Heck, the world was watching.
But most of all, Cabarrus County was watching.
And, boy, what a sight it was.
For Seager, the kid who worked himself into becoming a first-round Major League Baseball Draft pick barely eight years ago.
For his mom and dad, Jeff and Jody, who beamed down with pride from the upper reaches of Globe Life Field.
For his big brothers, Kyle and Justin, who themselves know what it's like to be chosen by a big-league organization.
And, yes, for you, the residents of Cabarrus County, who've cheered for Corey Seager from the moment he left Northwest Cabarrus High School as a quiet kid and began his ascent to greatness with the world-famous Los Angeles Dodgers.
On Tuesday night, it all came to a crescendo. Seager's Dodgers triumphed over the Tampa Bay Rays in six games and claimed the 2020 World Series title.
If that weren't enough, Seager was the signature player in the Series, quite honestly, playing arguably the best baseball of his life and being justly rewarded for it.
Before the night was done, barely a week after winning the National League Championship Series Most Valuable Player Award, Seager was being crowned as the MVP of the World Series. No debating.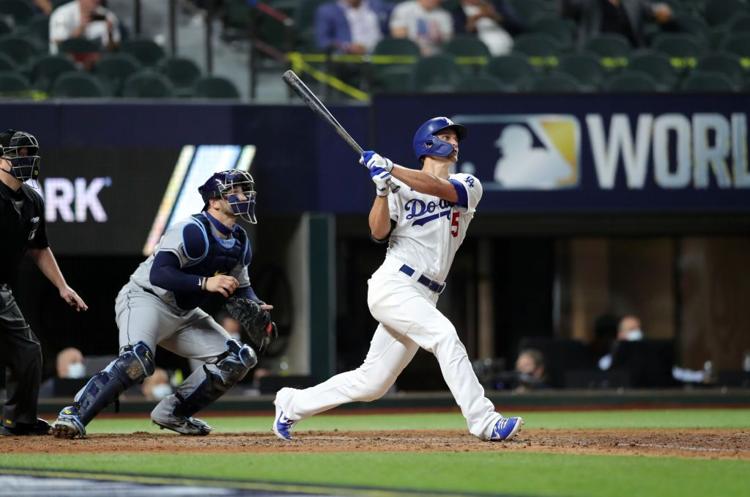 And for all the appropriate romanticizing about how Dodgers Hall-of-Fame pitcher Clayton Kershaw rewrote his postseason history and how dynamic Los Angeles right fielder Mookie Betts was, it was the kid from Cabarrus County who wound up being spotlighted in the outfield in the Arlington, Texas, stadium as he was handed one of the most esteemed trophies in all of sports.
As he accepted his latest hardware, Seager held up the trophy and delivered the scream heard 'round Cabarrus.
"Wooooooooooo!" he said as the cameras zoomed closer in on him.
It was an out-of-character public exultation by the normally stoic Seager, unless you know him. And I don't. I wasn't working here during his Northwest Cabarrus days, and I've only gotten to know more about him after several interviews with his parents.
All I truly know about Seager is how workmanlike he is, how much of a marvel he is as a 6-foot-4 shortstop, and how he can unleash that beautiful left-handed swing of his and send a baseball from here to Salisbury in seconds.
But when it was all over Tuesday night, it was good to see a different, more relaxed side of Seager as he celebrated his individual and team accomplishments.
"Man, this was just awesome," he screamed into the FOX TV cameras. "What this team's accomplished this year throughout the regular season, grinding through every series – we got down 3-1 (to Atlanta in the National League Championship Series and came all the way back. The resilience, the effort, the energy, the everything that this team's done this year, man, it's just fun to be a part of it."
He wasn't just a part of it. In many ways, Seager was the main event.
In the six World Series games, Seager batted .400 with two homers, five RBIs and six walks.
His numbers for the postseason as a whole? Eight home runs, 20 RBIs and 20 runs. He became just the eighth player to win an LCS MVP and a World Series MVP in the same postseason, with the last being another North Carolina product, Lenoir's Madison Bumgarner (2014).
Who's the last person you personally know – or even knew someone who knew them – who ever achieved that?
Of course, what also makes Seager's story so inspiring is the tough road he had to travel to get to that moment on Tuesday.
Yes, he was the 18th overall pick in the draft. Yes, he won National League Rookie of the Year in 2016 and darned near pulled off Player of the Year, too. Yes, he's now a multi-millionaire. And, yes, he's got those dreamy blue eyes and perfect hair while living on Hollywood's doorstep.
But it hasn't exactly been easy for Seager, either. He's had to endure always-scary Tommy John surgery and hip surgery during his career. At one point, he wondered if he would return to anything resembling his old self, once the game's No. 1 minor league prospect.
But there he was Tuesday, smiling widely in the moment with his home county of the edge of its seat, with the baseball fanatics wondering what he was going to say after a stellar postseason performance that gave him his own personal space in the game's record books.
Then, if that weren't enough, he was handed the keys to a shiny new 2021 Chevy Tahoe as an extra reward to go with his trophy and soaring popularity.
"What do you think of your new ride?" he was asked.
Seager had already decided what he would do with the sweet SUV. It was going to his fiancé, Mady, whom he's marrying at the end of the year.
"That was actually what she wanted for a wedding present, so there you go!" he said with a laugh.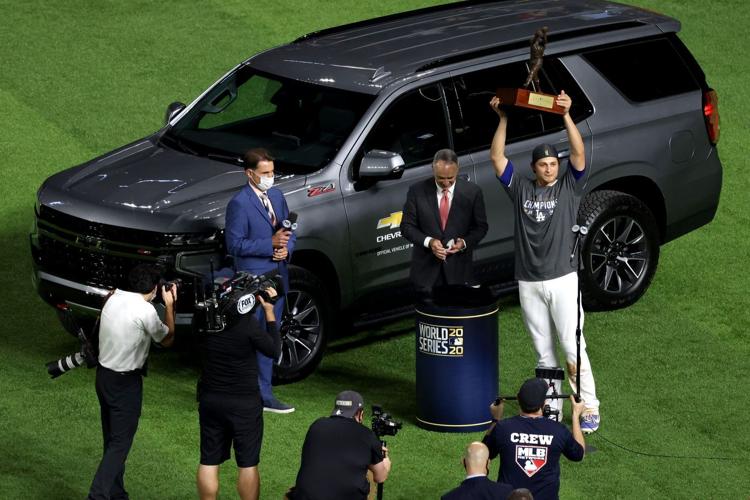 Hometown heroes come in all shapes and sizes, and this county has plenty of them. Too many to name, actually, whether they're men and women who did their thing in the 1950s or just last week.
But there's something extra special when you're playing in a sporting event that virtually everyone watches -- whether they're from Cabarrus County or Nutbush, Tennessee -- and you come out being the one player that everyone says is the best.
Talk about making your county proud.
Seager wound up having one of the most memorable postseasons in baseball history. Some of the game's legendary figures who watched him play over the past month sang his praises on TV and radio, and it will certainly go on as the 2020 World Series in a bubble is recalled.
But even in the moment of his greatest accomplishment, Seager also reflected on his journey after his surgeries.
"To be able to come back and put all the work in and grind through and just get back on the field and get strong again and help your team win, it's special," he told the FOX crew after the game. "But this isn't just me. There are a lot of guys who deserve this. Kersh now goes down as the best to ever pitch.
"You spend a lot of time on the (training) table thinking about if you're going to be able to move again, so to be in this moment is just super gratifying. It's exciting. You almost get teary-eyed thinking about where you came from and what you've done and all the people in your life who helped you get here."
FOX baseball analyst Alex Rodriguez, another famous 6-4 shortstop, put Seager in the proper perspective after the game.
"When you test your character, you put in the work, he has the hit discipline and the humility," Rodriguez said on FOX's postgame studio show. "This is a special team, that's a special shortstop."
And even though Seager's become a bona fide American sports hero 3,000 miles away, he's still yours, Cabarrus County.