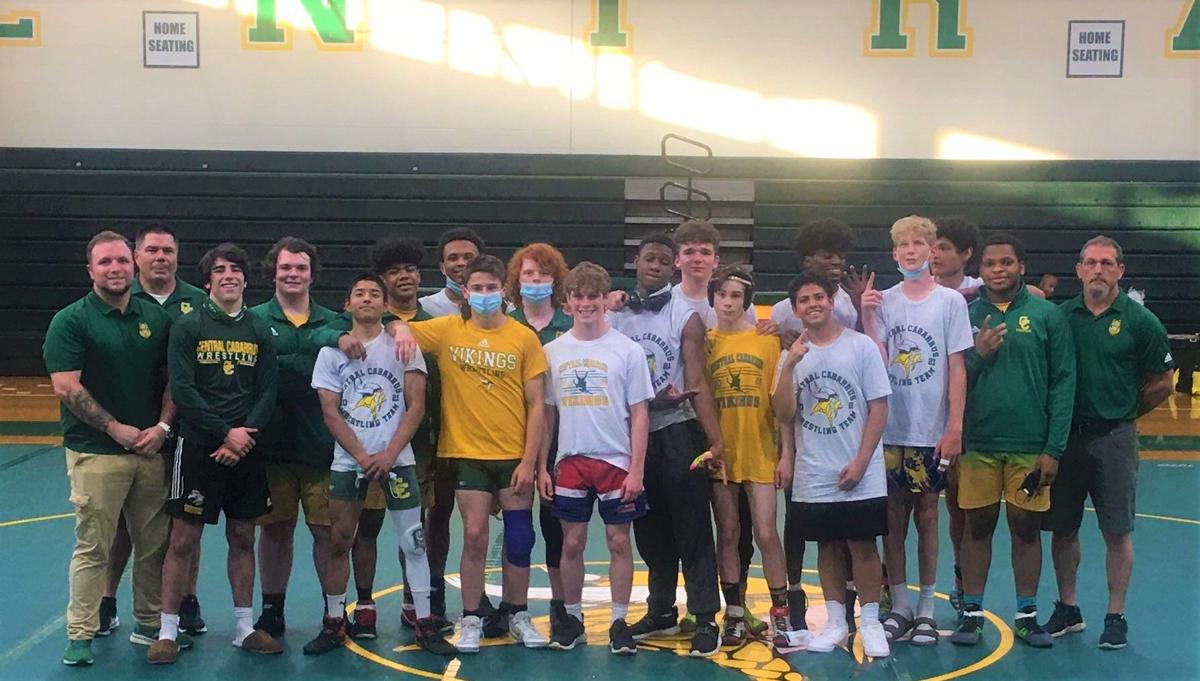 CONCORD – In some ways, the first practice of the season looked a lot like a middle-school dance for the Central Cabarrus wrestling team.
On that April day, the auxiliary gym that serves as the Vikings' wrestling room was extremely divided, with the older members of the team on one side and the newest on the other not knowing quite what to say or do.
Fortunately, there were no really awkward moments, like when two teachers try to get things going by taking to the floor and executing their 80's dance moves, hoping the kids will follow.
Instead, this ice was broken organically, with the younger Central Cabarrus wrestlers simply going out and proving themselves to the elder Vikings, using good, old-fashioned sweat equity and just plain want-to on the mat.
By the end of that first practice, a bond was built. They talked, they patted each other on the back, they barked support as they went through rigorous workouts. And it wasn't long before there were plans for post-practice get-togethers being uttered.
It was, as seventh-year Vikings coach Ed Masterton says, chemistry.
And 17 different times this season, the Vikings went out and proved just how strong that chemistry was.
Central Cabarrus not only won the South Piedmont 3A Conference title this season, but it punctuated things emphatically by going undefeated with a sterling 17-0 record.
What's more, it marked the third year in a row that the Vikings have ended the year as the SPC champion.
Not bad for a group that really didn't know each other when the season kicked off.
"By the end of the day, it was almost seamless and you could just see how well they all got along," Masterton said of that initial practice. "And I think that's so important. The chemistry is just so good with this team. There's so much fun off the mat, and then they work so hard when they're on it.
"I think by the end of the day, when they all went at it and (the older wrestles) saw how hard the young kids worked and all, just from there, they knew that they could count on them, and they became such good friends off the mat. They get along so well when you see them, and it's a lot of fun to be a part of."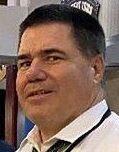 This, Masterton says, is why the Vikings are SPC champs, three times running.
This is why they pulled off one of the best wrestling seasons in school history.
A place in school history
The 2021 COVID-impacted season could actually be THE best wrestling campaign in school history. Team and school officials have tried to research it to see the last time Central had a perfect wrestling record, but they could only get results dating back to 2000.
"We just know it's been at least 20 years," Masterton explained.
It matters, but then again, it doesn't really matter. This team has created its own special place in Central wrestling lore.
Of the 17 wrestlers on the squad, four are seniors – Noah Craig, Pierce Keller, Luke Masterton and Cam Wilson. And the Vikings' roster is full of talent, old and young.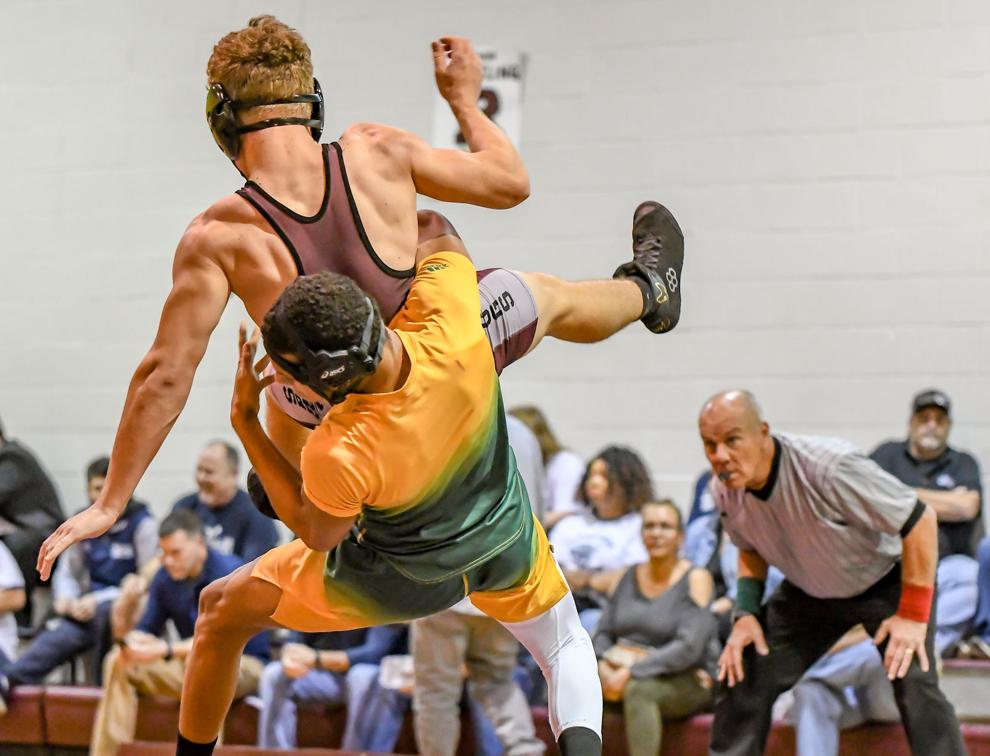 Luke Masterton, who is Ed Masterton's son, is one of the best 152-pounders in the state in Class 3A, sporting a perfect 15-0 record.
Then there's junior Marcus Jackson, who was the state champion last year at 106 pounds but has since beefed up to compete at 132 this season. Jackson has won 16 of his 17 individual matches despite vaulting four weight classes.
Even with Jackson vacating the 106-pound slot, the Vikings haven't lost much there, as junior Calbert Garibo Martinez has posted a 15-2 mark.
Sophomore Jackson Baglio has been a force at 120 pounds, going 14-1, and classmate Michael Forney is 13-2 at 170.
They haven't had too difficult a time adjusting to wrestling in high school for a traditionally strong program.
Freshman Charleston Baglio (also at 106) is 11-2. And there are many other ninth-graders who have been extremely competitive at some of the sport's most demanding weight classes for rookies:  Jonah Happel (138) is 13-3, Jacob Schultz (195) is 13-4, and Jazeo Jamie (182) is 12-4.
Another double-digit winner for Central is sophomore Tyriq Freeman, who is 12-5 at 145 pounds.
It's easy to see why 1) Central's dual-team record was so good this season and 2) the elder Vikings knew they could have something special on their hands after only one practice.
"I think one of our biggest keys is we have such a blend of experience and youth, and it's come together so well," Ed Masterton said. "We've got some kids who have been around a long time and have some experience, and we've got just a great group of ninth-graders who have come in and really done well for us. They've really sparked us and got us going."
 A different kind of season
There aren't many sad parts to this story, but if there are a few, it's that these Vikings didn't get to try to improve on their perfection by competing in a conference tournament or pursuing a traditional dual-team state title.
COVID wiped away all that, as the season had to be shortened, meaning the SPC tournament couldn't be held, and there will be no dual-team state tournaments, per the N.C. High School Athletic Association.
"Honestly, it stinks," Luke Masterton said. "I feel like we could have done it. I feel like we had the best team in the state. I believe it."
"I really do think we could've won the state title," Jackson said. "I mean, we were able to beat every team in our conference by 30 or 40 points."
But another part of what has made this close team so successful has been the ability of Ed Masterton and his assistant, Gary Butler, to keep their wrestlers focused. The coaches placed specific goals in front of the athletes and told them to only keep their gaze on those, one at a time.
The rest, the coaches said, would take care of itself.
"We, like everybody, were disappointed there was no tournament but understood the reasoning," Ed Masterton said. "So we're fine with it. We talked to our kids early on and said, 'Let's control the things we can control. And the things we can't, let's not worry about it. Let's just focus on the things we can do, and these are the things we do have '
"Our first goal was to be conference champ during the regular season; we accomplished that. Our next goal was to be undefeated; we accomplished that. I said, 'Those are things we can control,' and our next step is being set for regionals and the state tournament. We can be state champs."
That's right, even though there will be no dual-team state tournament, state champions will be determined by the total team scores when the individual state tournament is held on June 26.
But first, there's regionals.
Central will be competing in the 3A Midwest Regional at Monroe Piedmont High on June 15.
Ed Masterton said he feels confident that many Vikings could reach the individual state meet, improving the team's chances of emerging at the top.
"Within our regional, they'll take the top 16 wrestlers in each weight class," he explained, "and then from there they will wrestle a tournament, and the top four will advance to state."
Plus, there'll be at least a few Vikings who have realistic chances of winning individual state titles.
Luke Masterton means business
With his unblemished record, Luke Masterton is one of the main ones in the running for a 3A title.
This year, he said, has been a dream season for him personally. He was good last year, going 47-12 at 138 pounds, but he didn't necessarily see being undefeated through the regular season for his senior year, especially with COVID looming.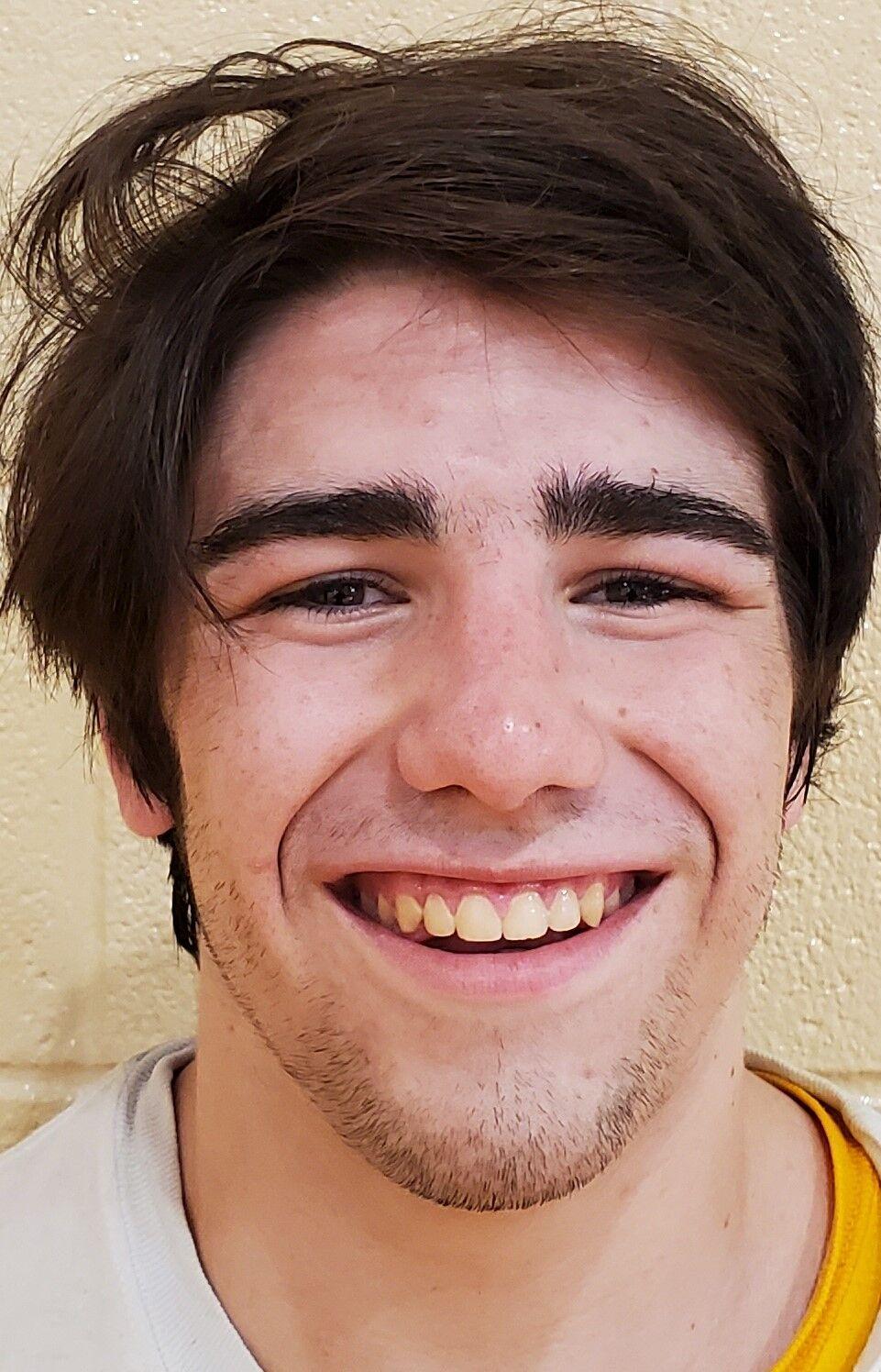 But there is indeed truth to the term "hard work pays off." The younger Masterton lived that, even though he admits to getting sidetracked for a short spell before getting back on course.
"The key to (being 15-0) was just working in the offseason," he said. "Like during this quarantine, there's a big difference in the kids who didn't do anything and the kids who did something, because they can actually wrestle a period while the other kids are gassed.
"I wrestled, rode my bike and got in shape. My weight got a little bit out of control, but I started dieting near the end. I wrestled in here with Coach Butler but also with AAU clubs like Darkhorse."
Added Luke Masterton, who has committed to wrestle at Averett University in Virginia, "I could tell the difference. This year, I'm head-over-heels better than I was last year. I feel much better."
For Jackson, being a reigning state champion has helped his confidence immensely when he's taken the mat this season. His smile widens as he talks about winning the 106-pound title last year.
But Jackson has gone through a bit of physical transformation since then.
When his arms were raised in the Greensboro Coliseum at the end of the season last year, he stood about 5 foot 5. Now, he's a sturdy 5-11 and 130-plus pounds, and he's still one of the best around.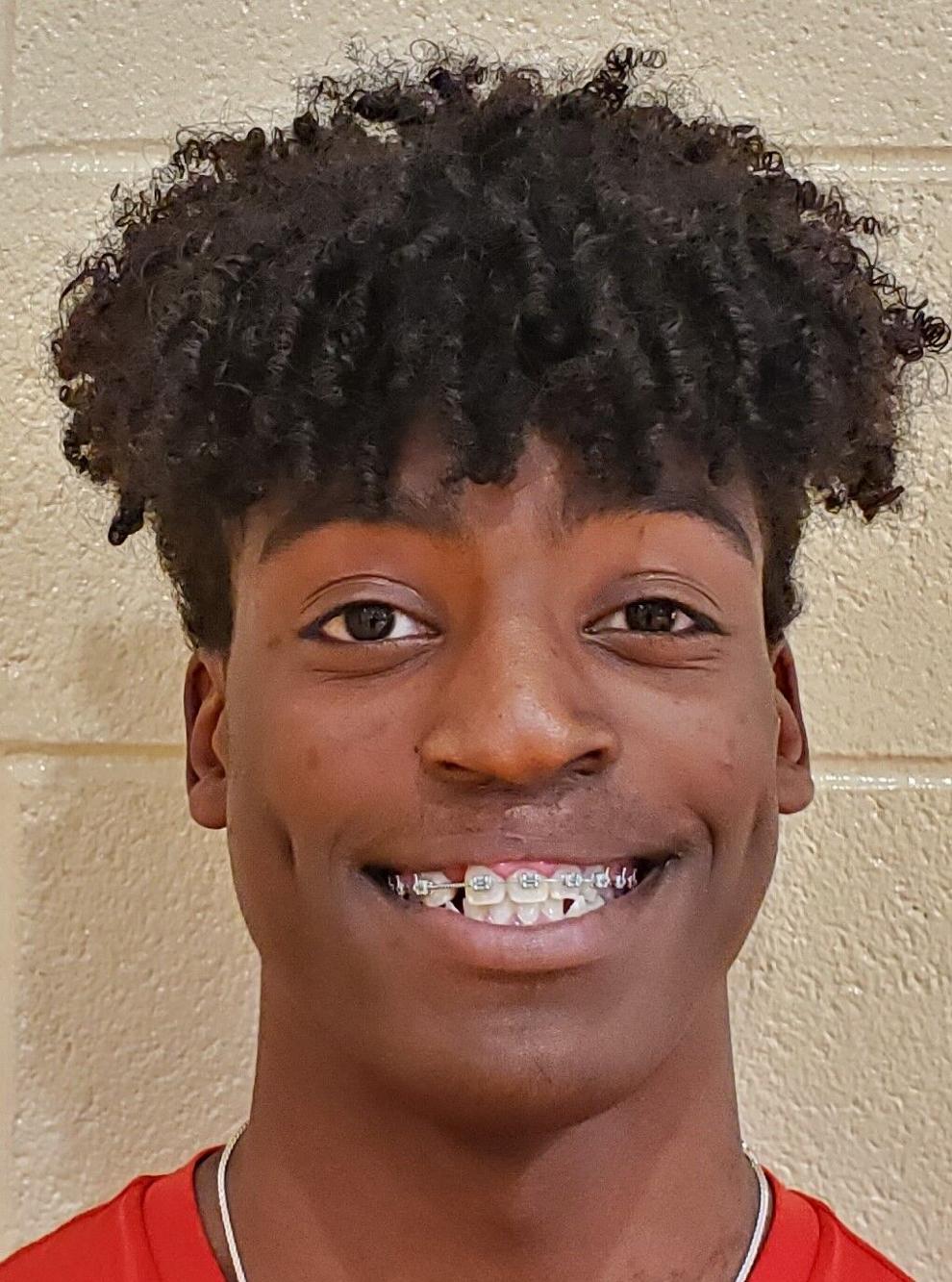 His only loss this season was to Piedmont's Tripp Collins, who he'll have a good chance of seeing again at the regional competition.
"I just didn't wrestle my match," Jackson said while taking full responsibility for the defeat. "I could've had better conditioning, that's one thing, and I didn't do well on my attacks. It was just a bad day for me. Hopefully, I'll get another chance to wrestle him at regionals."
Then there could be a change if Jackson qualifies for the individual state tournament. Jackson said there's a strong possibility he will drop down to 126 pounds for the state tournament.
For as badly as he wants to win another individual state title, Jackson said he'll expend a whole lot of energy cheering for the Vikings to bring home the team title, even if it can't happen in the traditional fashion of winning a state dual-team championship.
As he learned that first day of practice, this team is just much too special.
"As we got to wrestle, we got a lot closer as a team," Jackson recalled. "The chemistry is great between us. You could tell how hard these guys were working, and we all got excited about what we could have."
Is this the best wrestling team in Central Cabarrus history?
Again, we aren't sure what team records were prior to 2000, and there probably are some older Central Cabarrus grads who would make a case for the grapplers of their respective generations.
All Ed Masterton knows is that he loves his team, it was the only perfect squad in the SPC this year, and these Vikings will always have a special place in his heart.
Does anything else matter?
"This is one of the best teams we've had, by far," the coach said. "I really think one of the reasons this is one of our best teams is we've had other teams with really talented wrestlers on it, but I think we just have such a good chemistry.
"The kids have really bonded and are really close, so when we come to practice, they really push each other. They really go hard all the times at it, and I just think it all goes back to the chemistry they have off the mat, how much fun they are to be around, and how well they get along together."
And Ed Masterton didn't even have to break dance with Gary Butler to get things going.