As Kimberly Reyes works from her home in Concord, she isn't just going through her normal day of meetings, emails and paperwork.
She is juggling getting her four children ready for school, and one non-school-age child, feeding them and making sure they all get their schoolwork done.
Parents are no longer just working from home during the COVID-19 pandemic. They are stay-at-home moms and dads, career people and teacher aides.
That is life for a parent in a global pandemic. The stress no longer just surrounds keeping your children healthy, but it's also making sure they remain good, attentive students. It's a challenge many have to deal with across North Carolina as a number of schools remain under fully remote learning plans in Gov. Roy Cooper's Plan C.
But it's a challenge they are willing to take on to make sure their children get the education they need.
"I'm not going to complain; everyone is going through this," Reyes said. "Some have it a little worse than others, so I'm just going to go ahead and do what I can to help the teachers out as best I can because, obviously, they're on a computer screen now, they're not in person. So we, as parents, have got to step in and do our job as parents."
A different experience
Students and parents can only get so much of an idea of how school is going after two weeks, but teachers and families have expressed how much better things have run this second time around of online learning.
When schools shut down due to the COVID-19 pandemic in March for two weeks, and then for the rest of the school year a little more than a month later, the decision wasn't exactly met with open arms.
"I panicked," said Yazmin Millan, a parent of two students at Central Cabarrus High School.
Parents had to scramble to make sure their children had proper internet connections, devices and adequate learning environments for them to continue their education.
They also had to figure out how they would work from home themselves, and if they couldn't work from home, how they would get childcare set up if it wasn't before.
Many of those issues remain, but everyone seems more prepared to learn from home this school year. Parents also sound more ready to balance their own work lives with the academic schedules of their children.
"I'm still hoping that they can return to normal, but for the time being during this crazy COVID season, this is not as bad as I thought it would be," Millan said. "And I think that they can adjust, and I think that it's going to benefit them at the end.
"It's not going to do them any harm. I think they'll have more opportunities to engage in school, and we're finding more ways to engage as a family and help each other through this whole process, so that's been a plus for us."
Similarly to Millan, Reyes' family has adjusted as well. When school shut down in March, Reyes set her entire school-age family up at the kitchen table to make sure she could do her own work while making sure her children had access as well.
Things have changed a lot this semester after she took the summer to designate an entire room to school so all her children have their own desks set up so they can access all their content.
Reyes also now gets notifications throughout the day informing her of new assignments her children have as well as ones they have coming up.
It's not learning on campus, but the organization is much more efficient this time around for both the school and inside her home. And while her phone is constantly buzzing, there was a bit of a pleasant surprise that came with her children not going to school every day.
"I love this the way it is because I don't get paper. I hate paper," she said with a laugh. "I would get so much paper, and I was like, 'Oh, my gosh, I'm getting this times three; I can't do this,' and so my phone is always buzzing, but I don't mind it."
This time it counts
How parents are setting up their children to learn at home in Cabarrus County Schools is especially important for this academic year because grades now count.
When schools shut down in March, Gov. Roy Cooper mandated that grades could not go down during the shutdown because of the state's inability to guarantee Wi-Fi access and safe learning environments. That is not the case for this academic year, as there was the expectation that schools would provide students who need it with Wi-Fi and devices, and parents made sure their children were set up as they should be.
Teachers seem more confident about assigning grades this year, and parents like Reyes and Millan say they are comfortable with the grading process.
"I think it's going really well," Reyes said. "I think the teachers are really great and patient in listening to the students and so forth, because I listen in. I think it's going well; I can't complain."
Reyes does have to monitor her children a little more closely than Millan. Her children are all sixth grade and younger, so she stays as updated as she can to make sure things are going well.
Millan's children are both in high school, so they are a little more self-sufficient. This doesn't change the concern of parents whose children are older about the education they are getting and how well they are learning, but Millan has a bit of a different situation than Reyes'.
In her experience though through these first two weeks of school, Millan's children are getting up on time, in class when they need to be, and seem to be learning effectively and efficiently.
Knowing grades count when students are in that environment is a more comfortable scenario for a parent.
"I feel that my kids are now at a point where they're able to take control of their grade, which is wonderful for them to learn, in that it really falls on them," she said. "It's their responsibility to make sure they're turning in their work on time, that they're doing what they're supposed to, and that they're connecting to their classes.
"If they don't, then it's going to fall on them, and it's going to affect them, and I do want them to learn those things, because that's just how life is."
Back to school
If schools remain fully shut down and remote in Cabarrus County Schools for the rest of the semester, odds are good that parents like Reyes and Millan could make it work.
That's not to say that's what they are going to have to do. CCS put a survey on its Facebook page Tuesday for parents about a potential return to the academic year under Plan B, which would allow partial on-campus learning.
Under current CDC guidelines, school districts can go back to on-campus learning when the percent of individuals in a community tested for COVID-19 comes back under 5% positive over a two-week period.
CCS would like to see it below 5% for at least two cycles before making the decision to bring students back to campus.
Cabarrus County saw a 4.98% infection rate during the week of Aug. 15, but saw it rise to 5.98% for the week of Aug. 22 (these numbers have been fluid as some tests are added to the numbers in subsequent weeks).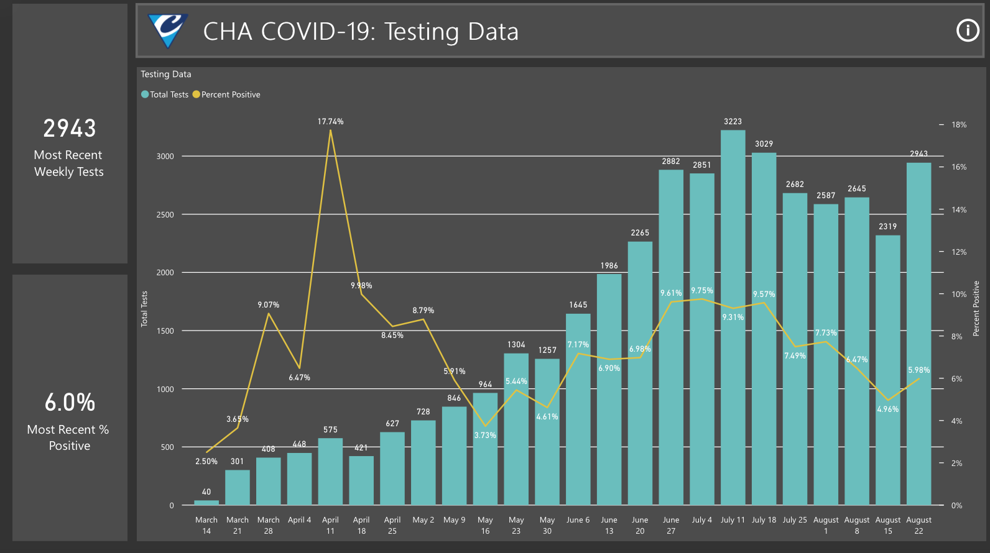 Under these guidelines, whether Cabarrus County comes back in two weeks or two months, the infection will remain in the community. These are risks parents will have to weigh. In Kannapolis City Schools, where it was decided they would come back under Plan B rather than Plan C like Cabarrus County Schools, families were given the choice to come back under Plan B or Plan C. Sixty-three percent of respondents chose to come back under Plan B.
CCS families may be given the same choice. For Reyes, who has a family of seven, with five children and a husband who currently does not work from home, she may not be willing to send her children back to a campus.
"At the end of the day, I want my kids to have that social interaction, but I want to ensure their safety and other people's safety as well," she said. "So, for me, if my child has to stay home the remainder of the school year to make sure we continue to flatten that curve, and ensure the safety of others, then I have to figure out a way to sacrifice to make sure that (everyone) is safe.
"All it takes is one person that is ill that doesn't know it to get other people sick, and for me, if one of my kids is in contact with a person, then we run the risk of the whole household getting sick, and that's high-traffic when you think about it."
Millan only has two children, and she works from home herself. She might not have quite the risk of exposure that Reyes would, but the possibility of contracting the virus, and the fear of that scenario, is present.
She wants her children to return to school, but she's not sure how logical that could be in the immediate future.
"I think it would be wise for us to follow the directions that we've been given by the CDC; they're professionals on it," she said. "I know that we have a lot of questions, but I don't want to be one to take a risk that would end up affecting my kids or affecting other children.
"And I know that when I'm home, I know that I'm taking the precautions that I need to take for my family and my kids, but I know that there may be other homes that are not, and I don't want to put my children in that risk.
"I want things to get back to normal like they were before, but that might not be a reality right now."
In time
From the date of the first confirmed case of COVID-19 in Cabarrus County on March 16, schools have been shut down.
In that time, the county has seen 3,285 cases and 57 deaths. More than 380 cases are currently active.
But the numbers are getting better. There were more than 500 active cases in Cabarrus County less than a month ago, with an infection rate of 9.57% as recently as the week of July 18.
These are numbers being actively monitored by the Cabarrus County Board of Education, which will meet Tuesday, Sept. 8, for a work session.
The BOE will soon have a decision to make if the numbers continue to trend in a positive direction.
For now, parents and students will continue to work from home and make the most out of a tough situation. Parents like Millan and Reyes will continue to do what they can to help their children while working from home themselves.
"It's just temporary; it's not going to last forever," Millan said. "We've got to make it the best that we can right now."