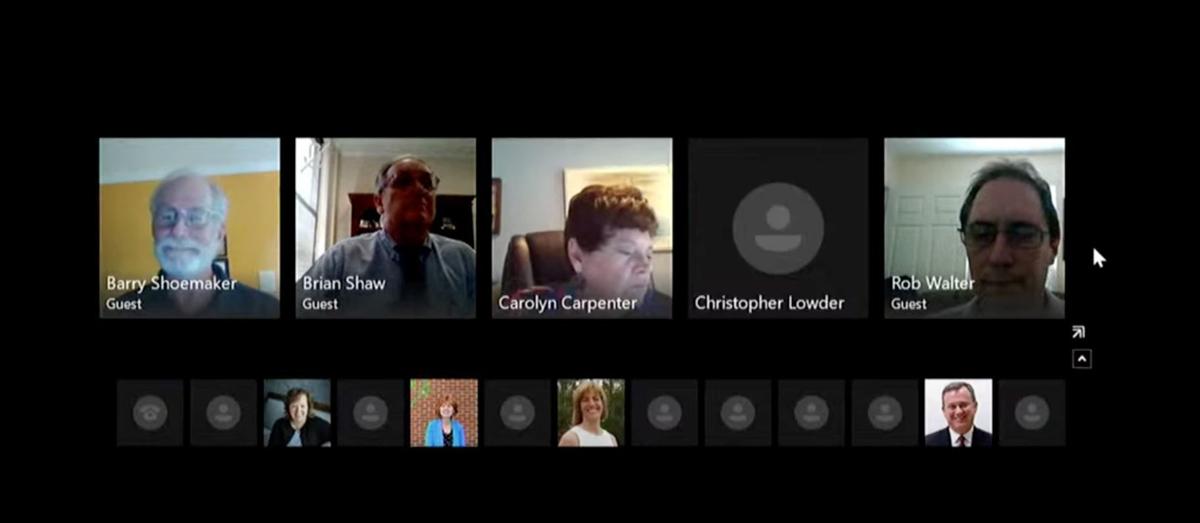 With year-round schools slated to start next month in the county, officials with Cabarrus County Schools are doing all they can to figure out exactly what to do going forward despite constantly changing guidance from the state.
Gov. Roy Cooper announced Wednesday that Phase 2 was extended an additional three weeks, to July 17, and masks are now required in public as of 5 p.m. Friday due to the concerning uptick in positive COVID-19 cases across North Carolina.
This had an unintended ripple effect, which put year-round schools, such as Wolf Meadow Elementary in Cabarrus County, in a minor state of limbo. The administration has not done much to ease the uncertainty either, as Superintendent Chris Lowder detailed the conflicting guidance the district has gotten within the last week at Thursday's Board of Education meeting.
"The governor said (Wednesday) everybody starts wearing a mask in public starting (Friday), but then the qualifier was that if you're 11 or under you don't have to wear a mask, which would obviously have implications for school," Lowder said. "We also have heard in the last week that only eight students would be allowed to ride per bus, which is almost 10 percent of what we have on a maximum now, but we were also told this week … no, we're going to let that run with 24 students on a bus.
"Within the last 48 hours, we've heard: masks, no (masks). So if we follow what we know now, kids don't have to wear a mask, but if they're going to ride a bus, they do have to wear a mask if 24 are going to be on there.
"That doesn't mean this is anybody's fault, we're just saying all of that information floating around, we've got to have enough time to get that digested and make a plan."
Lowder said a concern now in the state is schools that are year-round, such as Wolf Meadow, will not be year-round this year because of the current phase North Carolina is in.
Year-round schools would have to be up and ready to go within three to four weeks if they wanted to run on their normal schedule.
"We're certainly doing everything we can to analyze our plans and Wolf Meadows', but (we) obviously have some concerns with starting up a school still in Phase 2, and the rules changing so quickly every day," Lowder said.
"So as soon as we know what those plans are, obviously when the governor releases it Wednesday, then we're going to start trying to release our plans, but we don't want to say, 'Oh, we're going to do X,' and then have to change it because the plan changed."
Cooper will speak with schools July 1 and inform them what phase they will be in moving forward.
There are three possibilities, according to Lowder:
A. Everybody comes to school like normal.
B. Some students come to school and some work remotely. (Maximum 50 percent of students on campus at one time)
C. No one comes to school and everything is remote.
"We are trying to comply with those and figure out the plans, but to be quite honest, they change quite a bit," Lowder said.
As of right now — and this has not changed as of yet — athletic teams for high school fall sports and bands will be allowed to return to campus for voluntary workouts beginning July 6.
"All workouts will be conducted keeping the health and safety of our student athletes and staff in mind and in compliance with the North Carolina High School Athletic Association's (NCHSAA) Reopening of Sports/Activities Summer Guidelines and guidance from the Cabarrus Health Alliance," the district wrote in a June 8 news release.
However, since that was announced, things have changed. The state had just entered Phase 2 and was a couple of weeks into slowly reopening June 8, but COVID-19 cases have spiked across North Carolina and the nation over the last three weeks, forcing many states to re-evaluate their plans.
CCS will know more about what to do July 1 when speaking to Cooper, but for now, the district is in a wait-and-see mode.
"Right now what we do know is the face masks came in, and Phase 2 is extended through July 17," Lowder said. "And we know that the governor will tell us which one of those three phases on Wednesday.
"As soon as we have that decision, then we'll roll out our plan as soon as possible."
Be the first to know
Get local news delivered to your inbox!