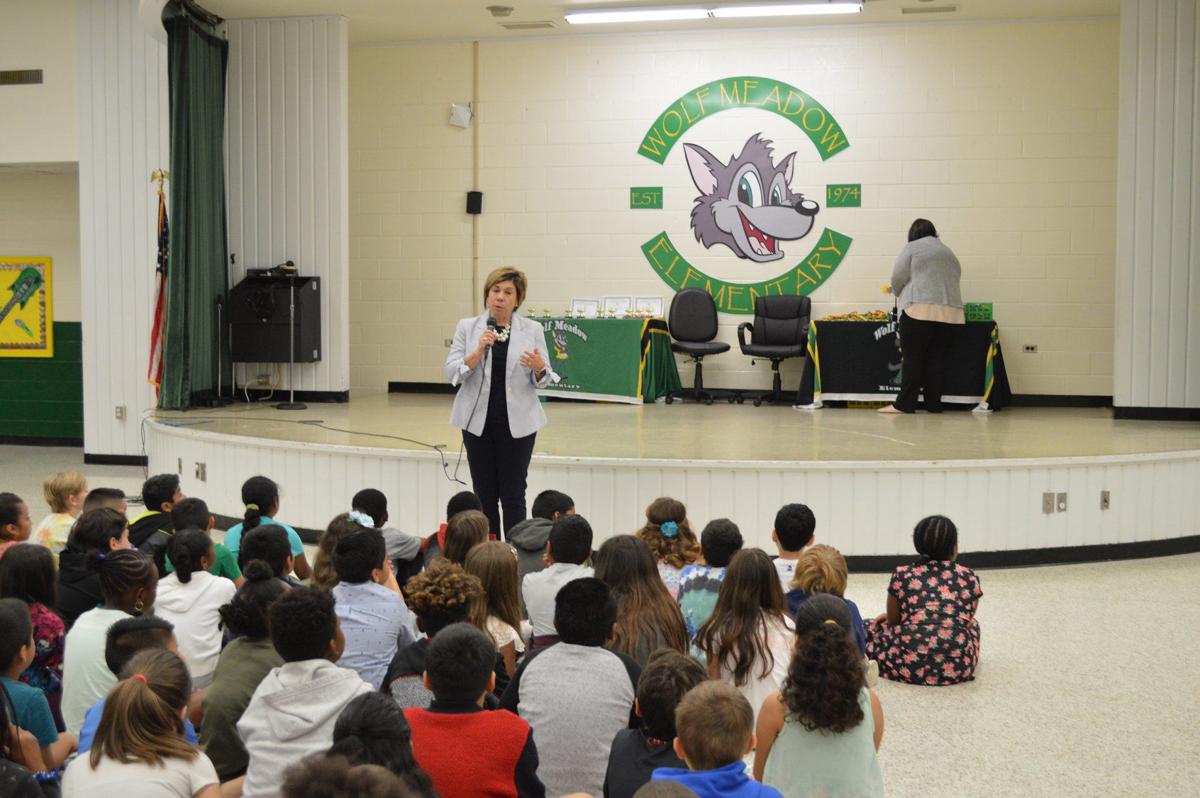 The school district and Wolf Meadow Elementary School made a decision this week to work off the regular calendar and start school in August rather than Wolf Meadow's originally planned start date of July 21.
Cabarrus County Schools announced in a news release Monday that Wolf Meadow would not work on the balanced calendar but rather on the traditional one for the 2020-21 school year.
"The decision to change the school's calendar was made as CCS continues to follow the data related to COVID-19," the release said. "The new start date for the school aligns with Cabarrus County Schools traditional academic year calendar and potentially provides additional face-to-face instructional days for WMES students who may not have been available to begin school on the original start date."
The plan for Wolf Meadow is to go to the traditional calendar for one year and move back to the balanced calendar in 2021-22.
Gov. Roy Cooper did not announce a plan for reopening schools in his news conference last week and asked year-round schools such as Wolf Meadow to plan to start remote learning when opening in July.
"We ask that those schools conduct remote learning until the decision is made for in-person learning," he said. "Our goal remains getting children back in classroom for in-person instruction that's safe for students and their teachers."
Cabarrus County Schools and Wolf Meadow Elementary wanted to do all they could to get the students in for in-person learning, and they believed the best decision was to go ahead and push back the start of the school year to August.
This was a decision made solely by the district without guidance from the state, but it was done in full conjunction with Wolf Meadow Elementary.
"We knew that for Wolf Meadow (opening remotely in July) meant that if we came back on July 21 and we started remotely … then there was potential that on Aug. 17, or even a little bit past that, that everyone else in the county or the state could return in a Plan B or a Plan A, which would allow 100 percent or 50 percent of your population to be on campus," said Principal Jennifer Brinson. "If that happened, and then we were on our balanced calendar and went home for intersession in September when there was a potential to see students face to face in September, we just knew that wouldn't be what was best.
"That could end up potentially putting Wolf Meadow students out of school all those days that you were remote learning and then three more weeks during intersession, and so, to take the risk that we could potentially see our kids face to face less if we postponed, we just weren't willing to roll the dice and do that."
Brinson was named North Carolina's Southwest Principal of the Year in January. She puts serious emphasis on in-person learning and developing the child both socially and emotionally along with educationally.
Having students on campus and seeing those children every day is essential to what they do at Wolf Meadow, and Brinson wanted students to have every chance they could get to be at school.
"Potentially having more opportunities to (touch base with children face to face) by moving to the traditional calendar was the biggest deciding factor for us," she said. "Being able to check in with students and make sure all of their needs are being met and being able to connect with them, and if there are other needs that they have, being able to connect them with the people or the agencies that can support children and support families, all of those things are really difficult to do in a virtual environment.
"But having that opportunity to meet with them face to face, even if it ends up being a couple times or once or twice a week, you have a better opportunity to really connect with kids."
Wolf Meadow also has a large portion of students who are learning English as a second language.
With the recent environment across the state and nation focusing on equity across all races, both socially and educationally, challenges can be presented for not only helping a student become more proficient in a second language, but also succeed academically in other subjects, especially in a remote learning setting.
The potential to see those students in person more often helped aid the decision to change to the regular calendar in an effort to be more equitable to those students.
"COVID-19 itself has disproportionally impacted the Black community and the Latino communities, they're disproportionately affected by it, and there's other factors to consider with that, so everything that we do, we have to consider trying to make equitable for all of our students and all of our populations," Brinson said.
"We had to consider all of those when deciding how best to serve all of our students in those communities, so that's a big consideration, and we continue to look at ways that we can ensure our students in all of our communities — whether we're in school or whether it's virtually — have access to their teachers virtually, have access to devices, have access to internet, have the ability to access the learning online.
"As a school district and as a school, we've had to work really closely with families to bridge that language barrier or bridge the other barriers to ensure that the families can get what they need to make sure our students have access to them."
Cooper has not made an announcement on the reopening of schools in North Carolina yet, so no school in the state knows if it will be opening to 100 percent capacity, 50 percent capacity or opening with fully remote learning.
"We are not issuing a statewide directive today on how schools should be open in the fall. But we will soon," Cooper said at his July 1 press conference. "We want to get our students back in the classroom, and we want to make sure we get this right."
Brinson hopes Wolf Meadow will be able to see its children in person as much as possible this year, but she said there are still a lot of unknowns heading into the school year, even after pushing back its start time to August.
"There's just so many factors that go into making sure kids in a school building are safe, and I think that's important to note and I think that's really important for people to consider," she said. "When sometimes the situation is frustrating and sometimes it's challenging to think about — 'Why can't we just all go back to school?' you know? — I really hope, and want people to know that, all of the things that we're doing and all of the precautions we're taking are ultimately for the safety of our children and our staff and our whole community.
"And I hope we can have some grace and understanding that everyone is doing everything they can to keep people safe, and I hope people remember that when it becomes challenging."
Be the first to know
Get local news delivered to your inbox!