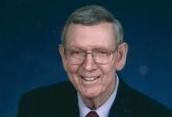 A few weeks ago, I dreamed about being in a meeting with a number of pastors. This dream seemed to have two parts, where I woke up and went back to sleep, continuing the same scene. Except for one man, the participants were dressed in business casual (open-collar shirt and slacks). This other gentleman wore shorts and a T-shirt. He was trying hard to get the group's attention with little success.
All I remember is the visitor did not give his name, only saying, "I am from the First Hermeneutics Church and would like for you to join us." He did not explain what he meant, but as I thought about the dream, it dawned on me that he was advocating that we needed to return to the proper teaching of the Bible. My reasoning has to do with the word "hermeneutics," which Webster's Dictionary defines as "to interpret, especially the biblical text."
I was somewhat confused why anyone would question me and my associates about proper Bible interpretation. I am well aware that God's children definitely need to be preaching the Gospel that God has given in the Bible.
After further contemplation, I have determined that because I have been praying, God will take the current pandemic to awaken the Christians around the world to the need for a great revival of his people. And for the last month, our pastor at River Rock at Odell Church has led a joint Bible study and prayer meeting, emphasizing the need for prayer asking God to once again revitalize his church as he has done at previous times in the past.
Our pastor's primary text has been the words of God recorded by King Solomon: "If my people who are called by my name will humble themselves and pray and seek my face and turn from their wicked ways, then will I hear from heaven and will forgive their sin and will heal their land." (2 Chr. 7:14, NKJV)
I have no doubt that Christians are God's chosen people and need to follow this prescription for healing our land. The verse has every element for revival, but renewal must start in the hearts of each believer who longs for true revival.
God has already given us His marching orders in the Great Commission where Jesus said, "All authority has been given to me in heaven and on earth. Go therefore and make disciples of all the nations, baptizing them in the name of the Father and of the Son and of the Holy Spirit, teaching them to observe all things that I have commanded you; and lo, I am with you always, even to the end of the age" (Matt. 28:18a-20, NKJV).
.In the commission Jesus made it clear to His people that we are to carry His Word as we go. This means our mission field starts right where we are now to wherever He leads us. Every Christian is anointed missionaries on the day we accepted Jesus Christ as our Savior. We are to start telling people what Jesus has done for us and what the Bible says about becoming Disciples of Christ. "So then faith comes by hearing, and hearing by the word of God" (Rom. 10:17, NKJV)
Be the first to know
Get local news delivered to your inbox!