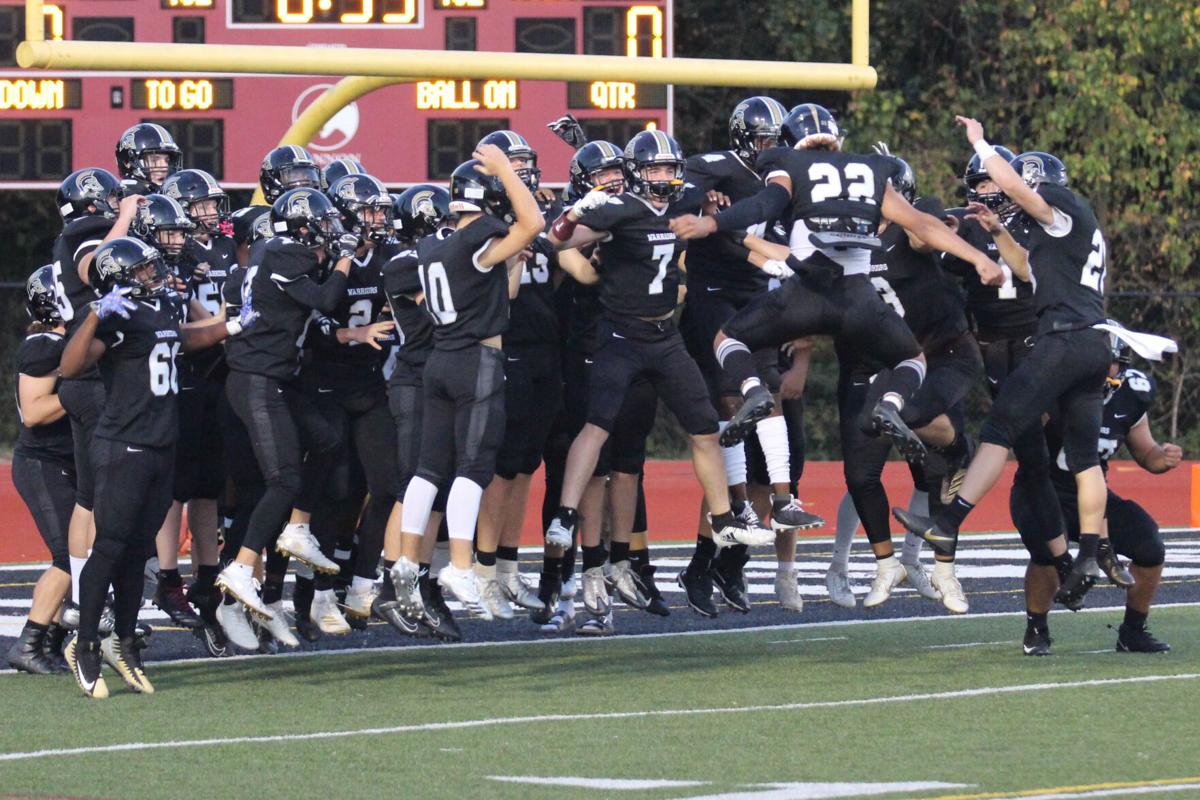 CONCORD – Jamie Bolton knew his team was young and inexperienced.
Ever since he'd become the Cabarrus Warriors' head football coach in March and begun holding weekly Zoom meetings with players through June, he'd known.
When the Warriors started doing on-campus conditioning drills at Cannon School in July, the fact that mostly freshmen and sophomores showed up was another sign.
But the greatest indicator of just how inexperienced these Warriors are was made crystal clear to the coach at a practice early this week. Bolton gathered his players around him, had them take a collective knee, and he took a poll.
"If you've ever scored a varsity touchdown in your entire life, raise your hand," Bolton instructed.
He chuckled, remembering his shock at the time.
"Only one kid raised his hand," Bolton recalled.
It was senior Michael Dickens, a tight end/linebacker on this year's team who played quarterback for the Warriors last season, when they won just two games, none in conference.
Few of the players had even sniffed a varsity field on a Friday night, and just the single Warrior had reached paydirt.
That, however, hasn't kept the 32-year-old Bolton from having some youthful exuberance of his own about his new team.
The Warriors, a team compiled of players from Cannon School and Concord Academy, open the season tonight at Cannon's Randy Marion Field against North Raleigh Christian. Kickoff is at 6 p.m.
Of the 36 players on the Cabarrus roster, 10 are sophomores and seven are freshmen. But even with half his squad being underclassmen, Bolton isn't fretting heading into tonight.
"It's going to be exciting seeing this young group get after it," Bolton said. "We just want to focus on getting better every game because we know the future's bright for us."
Bolton arrives as a head-coaching neophyte after several years as an offensive assistant at York Comprehensive High School in South Carolina, one of the Palmetto State's hotbeds for top-level prep football.
While Bolton was coaching in front of packed houses most Friday nights with York, the Warriors, who came in last in N.C. Independent Schools Athletic Association's Piedmont Conference, struggled to fill out their roster. Consequently, high-level football was hard for them to achieve under then-head coach Brad Hoover.
Hoover, the former Carolina Panthers fullback, retired in January, and in came Bolton. One of the new coach's first orders of business was to re-recruit the players from Cannon School and Concord Academy. He wanted them to know they were wanted – and needed.
"When I first got the job, I called every single player on the roster last year and guys in the school that some of our strength and conditioning staff thought would be interested in playing football," said Bolton, whose official job is Director of Football at Cannon School, and the person in that role also is designated as the Cabarrus Warriors head coach.
Since the Warriors allow middle schoolers to participate on the junior varsity team, Bolton reached out to rising seventh through 12th-graders at both schools.
Some players had already made up their minds to transfer, but some also liked what they heard from the new coach and decided to give him a try. Soon after, Bolton began having weekly Zoom meetings with players, based on their position groups.
Football was the reason they were gathered together virtually, but it wasn't the dominant theme. Bolton had a greater goal in mind. If this part worked out, the football would begin to take care of itself.
"The first two months were nothing but culture and making sure our guys knew what we wanted to build here, and that's to compete for championships and be known statewide for class and toughness," Bolton recalled. "That's what we believe in, and that's what I really wanted to drive home before I ever spoke any kind of word of football or offensive and defensive schemes.
"I think that's the biggest thing in trying to establish yourself as a new coach on a new team, and that's to make the kids know what they're expected to do and the standards we want to hold them to. And that went well. It's kind of paid dividends in some of our roster."
Added Bolton, "The kids who've stuck around have done so well, and right now, I couldn't be happier with our team chemistry and camaraderie and the total buy-in from our players and our entirely new coaching staff. We only had one returning varsity coach and one returning JV coach."
Although many of the players in the program are young and inexperienced, Bolton said, that doesn't mean they don't belong. The coach said he saw a look in their eyes that made him know they wouldn't back down from the challenge when the Friday Nights lit up on a varsity field.
Tonight against North Raleigh, there will be three sophomores starting alongside six freshmen. But most of them are from a JV program that went 7-1 last season, so they're accustomed to success.
"I've been very impressed with our younger guys," Bolton said. "We have a few key seniors returning, but I'm really impressed with this group of freshmen and sophomores. These freshmen, they don't look like freshmen, they don't move like freshmen; they move like young varsity players.
"They're very smart, and they really care about what we're doing and why we're trying to do it. And our coaching staff has done a fantastic job of teaching these things to our kids.
I couldn't be happier with where we're at, in terms of how we want to practice and what we want to get out of practice. I'm just kind of interested in seeing how we're going to react on Friday."
A different kind of season
One thing that will be new for the Warriors, veterans and rookies alike, will be the fact that they'll be playing in an empty stadium. Because of coronavirus concerns, the NCISAA is not permitting fans, not even parents, to sporting events right now.
Bolton empathizes with his players. Even his wife, Ashley, and young daughter, Cooper, won't be at Randy Marion Field tonight. But he said he also knows his players are resilient and will be focused on the task at hand: beating North Raleigh, which finished 3-6 a year ago.
"I think (no fans in the stadium) does take away, probably, from the total experience from a high school kid," Bolton acknowledged. "I can remember playing and loving seeing a lot of fans in the stadium and seeing my parents after the game. Even as a coach, seeing my wife and kid after the game. Now you're not going to have that experience, that community kind of vibe.
"But our athletic administration is doing everything they can to allow all the parents to see the game," he added. "All the games will be live streamed so parents can watch on TV. And that's not just for football but all of the sports. I think that's a great thing."
So tonight, Bolton makes his coaching debut as the head of a program. He'll lead what essentially will be a brand-new Warriors squad onto the Randy Marion Field artificial turf and begin the next step of what he hopes will be a positive change in culture.
He knows fans, even if they're watching the game at home, are waiting to see what the team will be – and what he will be.
How much is he looking forward to his debut?
"It's funny, but I haven't really thought about it," he said earlier this week. "I'm going into this thing, and I knew that taking a head-coaching job at this point of my career was going to be different for me. But with all the things that have to be done, I haven't really had time to sit back and think about, 'This is my first game Friday night.'
"But as I think about it now, I'm really excited. I'm excited for our players, I'm excited for our coaches, and I'm excited for our school that we're able to play football in the fall. To be a part of that is real exciting. I just feel really blessed. I'm just really grateful for the opportunity to play Friday, and I think our kids are, too."
And maybe, just maybe, a few more hands will be raised the next time Bolton asks his players if they've ever scored a varsity touchdown.
Be the first to know
Get local news delivered to your inbox!