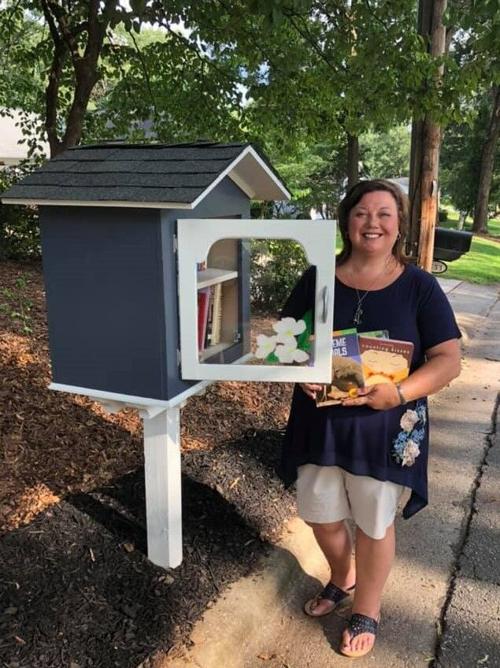 CONCORD — A local children's author has launched the "Dogwood House" Little Free Library to celebrate the launch of her first early chapter book.
Maria Bostian — a public education and information officer for Kannapolis Fire Department — has previously produced two children's picture books on safety. Her newest book, "Fraidy Brady and the First Field Trip" is the first early chapter book she has written. And she wanted a way to celebrate it, even with social-distancing guidelines.
When she and her husband moved into their home several years ago, they wanted to put up a Little Free Library outside of their house as a way to give back to the community, she said. It seemed like the best way to celebrate.
"We knew the book was coming out in August, and we knew we weren't going to be able to do a traditional book signing," she said. "So we had our birthday event, and we were brainstorming what to do. Since we hadn't put together the library yet, it seemed like the perfect way to celebrate and get the community involved."
The library is at Dogwood Street Southeast in Concord. Her husband built the little library in about two weeks, and they installed it Aug. 20, the day of the book's launch. The library is registered with littlefreelibrary.org and will soon be featured on its map, Bostian said.
She had hoped that her new early chapter book would be ready for kids to read before they headed out on their own school trips.
"It was supposed to come out at the first of the school year when kids would start taking their first school trips, but they aren't doing that this year. But they still can with Fraidy Brady," she said.
Bostian, who has worked for Kannapolis Fire for about 13 years and previously worked for the Concord Fire Department, was recently presented the 2020 Fire and Life Safety Educator of the Year Award from the National Fire Protection Association for her work with NFPA's Learn Not to Burn preschool program and its Remembering When program for older adults.
It was through her preschool work that Bostian found the need to write about public safety for children. She liked to open her presentations by reading a story, she said, but finding an accurately represented story on safety was difficult.
"When I wrote my first picture book, I was looking for something that I couldn't find," Bostian said. "I have found a lot of books that do not work. I found a lot of story books that had firefighters holding the net for people to jump out on or firefighters riding on the back of the fire truck. Some of the published works, I read it and cringe because the person behind it doesn't know the business behind what they just wrote."
She decided that the best thing to do was to write one herself — that was how she began writing her first picture book, she said. Before it was published, she would tell the story to preschoolers during presentations while using stuffed animals that had been donated to the department.
Her new book, "Fraidy Brady and the First Field Trip," focuses on stranger safety and awareness, Bostian said. The main character, Brady, is nicknamed "Fraidy Brady" by kids in school who tease him about being timid and on guard.
"In this book, his class is taking their first school trip of the year to the history museum, and he doesn't want to go because of the crowd," Bostian said.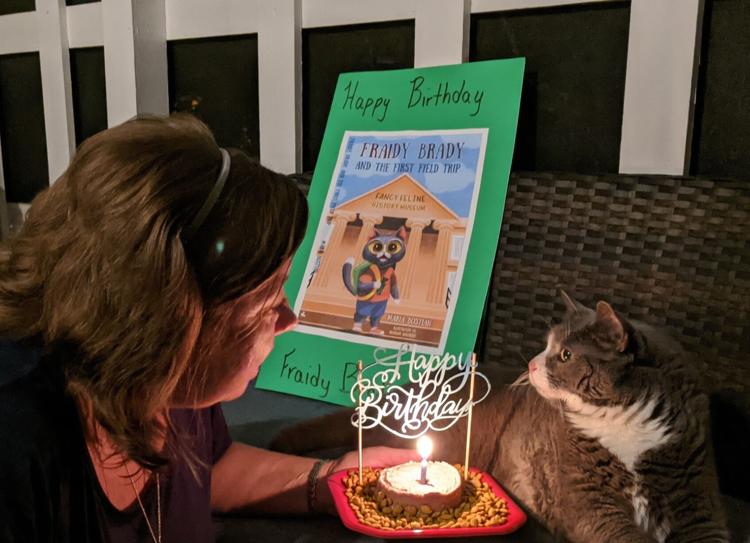 Brady learns about stranger safety and feels more confident, and he ultimately helps put on a stranger safety event with his classmates, she said.
It was important that her work accurately reflect the practices and vocabulary of public safety officials, Bostian said. That way, readers would already be familiar with safety terms and the actions taken by public safety workers.
"When I do my work, I make sure it is vetted," she said.
She has colleagues and other public safety officials read through her work and look at the images. Her husband, a retired firefighter, helped her cultivate the images in her first picture book to make sure the firefighter's actions were depicted as close to field procedures as possible.
That was something her publisher, Emerald House Group, loved about her books. While at a children's book writing conference, Bostian met an editor with Emerald House who suggested that — after making a few changes — she submit her work to the publisher.
Emerald House Group predominantly publishes Christian books, Bostian said, while her writing dealt only with safety. But the editor encouraged her to submit it anyway.
"I said that it doesn't have any of the Bible or Bible story characters in it. But she said it was just good, clean and important material," Bostian said.
Brady's adventures in safety will continue as a series. Bostian's second Brady book, "Fraidy Brady Visits the Fire Station," will be released Sept. 29.
Be the first to know
Get local news delivered to your inbox!