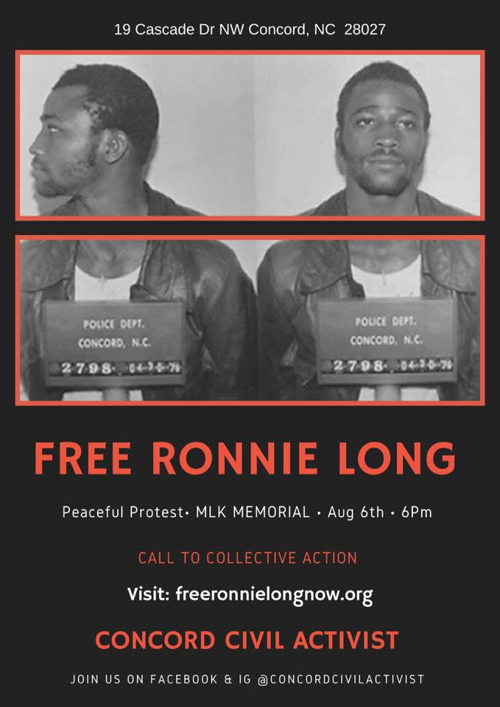 Two local groups are holding Ronnie Long support protests in Concord this week to bring awareness to the 44-year-old case.
Concord Civil Activists, an organization recently formed in response to the death of George Floyd, held a protest Thursday from 6-8 p.m. at the Dr. Martin Luther King Jr. memorial on Cabarrus Avenue.
The organization has held weekly protests in Concord in support of the Black Lives Matter movement, calling for change.
Brit Evans, a member of CCA, said she hoped the protest would bring awareness to the case and call people to action.
"We want people to reach out to Governor Cooper or go on to the Change.org petition to get him released," she said.
Long, now 64, was convicted of rape in 1976 by an all-white jury, but he has maintained his innocence before and after his conviction. Long was sentenced to 80 years in prison.
There have been several developments in Long's case. Several pieces of evidence have come to light that could have weakened the prosecution's case, but that evidence was never disclosed to Long's attorneys during discovery in the original trial. Some evidence was also proved to have gone missing. That evidence is the basis of Long's appeal to reopen his case. Jamie Lau, Long's current attorney and supervising attorney for the Duke Law Wrongful Convictions Clinic, presented the case for reopening to the Fourth Circuit Court of Appeals in May.
The 15 judges who heard the case are expected to give a decision soon on whether they will grant Long a new trial.
While there are many people in Concord who remember Long's case, some residents aren't aware of it, Evans said.
"We had some in our group, they knew about that situation. A lot of us like me didn't know about it. That's why we wanted to bring awareness to it," she said.
At the time of Long's arrest, racial tensions in Concord ran high. After Long was arrested, protests and demonstrations were organized in support of him. The National Guard was called in and residents were given a curfew. When Long was convicted, riots broke out.
A member of the community who is hosting the second protest for Ronnie Long is Bishop Roland Jordan of All Peoples Church of God & Jesus Christ, a man who has supported Long for years. He, along with other pastors in the area, will open a demonstration this morning, Aug. 7, at Long's house on Melrose Street at 7 a.m. The demonstration will be an all-day event, spreading across Concord and Kannapolis.
Be the first to know
Get local news delivered to your inbox!