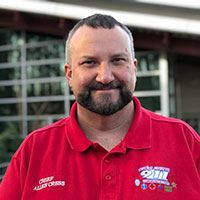 Rowan County announced the appointment of Allen Cress as interim Emergency Services chief after the departure of Chris Soliz.
Rowan officials express well-wishes to Soliz in his future employment endeavors.
A 26-year employee of Rowan County, Cress has spent the past five years as Rowan County's 911 chief. He first started work in public service in 1982, when he joined the Rockwell Rural Fire Department as a volunteer while a student at East Rowan High School. He served 20 years as chief of the fire department and still serves as a firefighter and advanced EMT.
Cress holds N.C. instructor certifications in Fire and EMS and international 911 instruction. He also holds a certification in county administration from the University of North Carolina at Chapel Hill. Cress is the vice president of the N.C. Chapter of the National Emergency Number Association, an organization that advocates for the 911 industry in N.C. He said he looks forward to continuing his relationship with the entire public safety community of Rowan County and the residents it serves.
Be the first to know
Get local news delivered to your inbox!