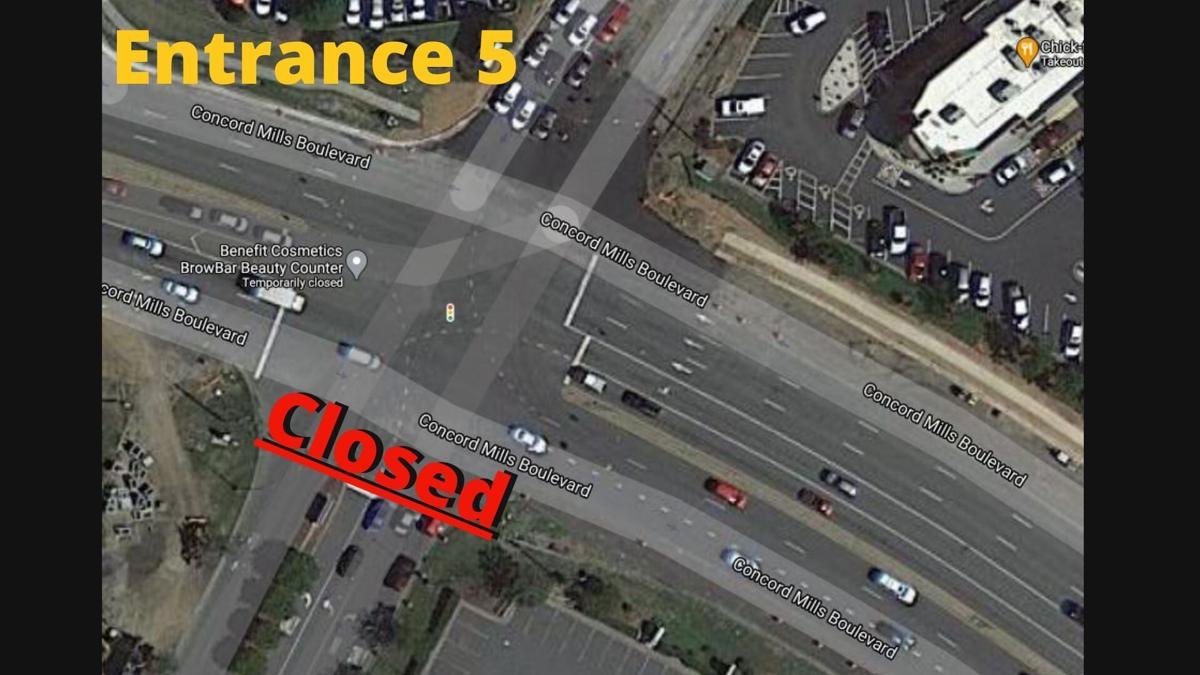 The holidays are upon us, and traffic at Concord Mills Mall is about to get hectic. The Concord Police Department, Concord Transportation Department, and Concord Mills Mall management have put together a holiday traffic plan to make shopping trips smoother.
The traffic plan will be in place for Saturdays in December, which is the heaviest traffic day in the area. Concord police and transportation departments are asking people who do not plan to shop on those days to avoid the area and seek alternative routes.
Officials are also reminding those who do go out to shop at the mall to wear a mask, maintain a social distance and to practice proper hand hygiene.
With the flyover bridge still under construction, the No. 5 entrance to the mall near Interstate 85 will be closed. Drivers will not be able to enter or exit from the No. 5 entrance.
But three other entrances will be open:
• Entrance 4 across from Bexley Apartments.
• Entrance 3 across from Thunder Road.
• Carolina Lilly Lane near Derita Road.
Drivers will be able to enter through all three entrances to the mall. But Concord police officers will only allow exiting traffic through entrances 3 and 4 to turn right.
Concord police officers will be at Carolina Lilly Lane to direct exiting traffic both left and right from the mall.
To avoid gridlock in the mall parking lot, the Concord Police Department plans to block entering traffic at all three open entrances, entrances 3, 4 and Carolina Lilly Lane, until traffic thins. The entrances will then be reopened.
The Concord Transportation Department plans to monitor and adjust transportation signals to keep traffic flowing during those peak days. Signs and message boards will guide drivers coming off of I-85 through mall traffic.
Concord police are also alerting shops to vehicle break-ins. The police department put a notice on social media Nov. 20 to alert shoppers to a string of linked vehicle break-ins, noting one instance where a vehicle was broken into after the driver left a bank.
Police are asking residents to stay aware as they shop and to take all valuables from their vehicle or hide them before exiting, said Capt. Vashon Clark. Residents should also be aware of their surroundings after withdrawing cash, placing it in a purse or wallet.
"We are always stressing that citizens should lock their doors and secure their valuables. This is an ongoing issue that we need help from workers and shoppers to beware of, and we continue to put this information on Twitter and Facebook," Clark said in a statement to the Independent Tribune. "We plan to increase manpower levels in the area, along with Simon Properties to help deter crime, but we cannot do it without the citizens' help that visit the area."
During the Thanksgiving holiday last week, there were two incidents at Concord Mills Mall.
The mall closed Saturday, Nov. 29, after a disturbance. A group of teens, ranging in ages from 13 to 16, were attempting to enter into verbal and physical altercations, Clark said.
Police dispersed the group, and no physical altercations were reported or viewed.
Another group of people began a verbal altercation Nov. 25 that resulted in a gun being flashed, but not fired. Two men were arrested after fleeing from police and providing false names. No arrest was made in relation to the gun due to a lack of witness identification.
Police said there will be more police and mall security deployed as traffic and malls shoppers increase this month.