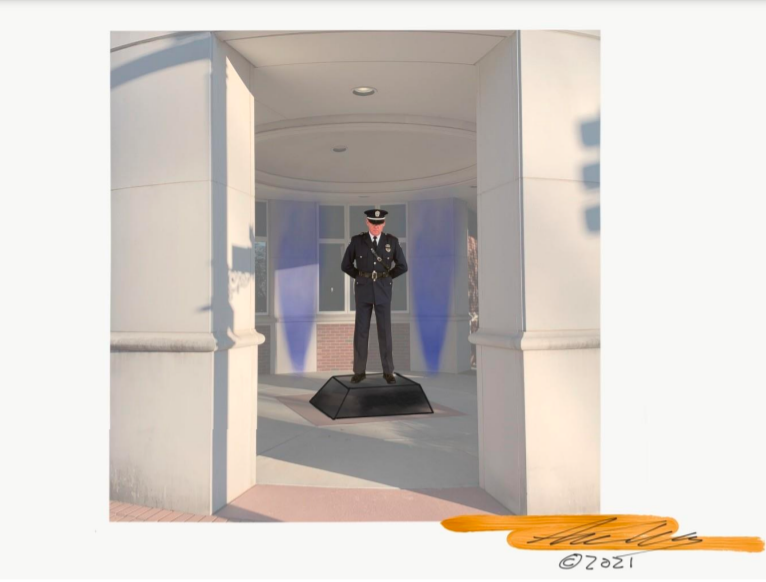 The Concord Police Department plans to place a Fallen Officer Memorial outside the department.
The Concord City Council approved the use of city funds for the project at its meeting last week.
Police Chief Gary Gacek went over the plans for the memorial with the council at its work session.
The department plans to commission bronze sculpture artist and firefighter Austin Weishel for the memorial.
Weishel completed one of Colorado's Fire Academies at 18 and was later certified in First Aid, CPR and Emergency Medical Technician (EMT), Wild Land firefighting, HAZMAT and others. At age 19, he received his first commission to create a life-size fireman for the Windsor-Severance Fire Department.
He has created several other sculptures and memorials, including one in Washington, D.C., which the Washington Post named the most popular monument in 2014.
Gacek said the department wants Weishel to make a life-size sculpture of a Concord police officer for the memorial. There will be a plaque on the back with a dedication to all of CPD's fallen officers.
The plans for this memorial come just months after CPD lost Officer Jason Shuping in the line of duty. In December, Shuping was shot near a Sonic in the Concord Mills area after he and his partner, Officer Kaleb Robinson, responded to a call about a vehicle crash.
A Concord police officer and a suspect were shot and killed Wednesday evening in the Concord…
As Shuping, Robinson and an Alcohol Law Enforcement agent approached a suspect on foot, the man began shooting at them. Both Robinson and Shuping were shot, but Shuping did not survive.
The only other CPD officer to die in the line of duty was William J. Kearns in 1899.
In total, there have been seven law enforcement officers to lose their lives in the line of duty in Cabarrus County.
Council member John Sweat made the motion to approve funding for the memorial.
"I hate that we have to build anything like this at all," Sweat said. "I hope we don't have another senseless, violent act against one of our officers where this happens to occur again, ever again. We are looking forward to the rendition and the proper installment of this memorial. It is a very somber thing we have to do, but I think it is very fitting."