CONCORD — One person was found dead after a standoff between law enforcement agencies and a shooter in a Discount Tire in Concord.
The victim has been identified as Terrence Cabilin Wallace, 27, of China Grove, the Concord Police Department released in a statement Monday, Nov. 16. 
Concord Police Department Deputy Chief Jimmy Hughes stated that Concord Police responded to a call at 11:22 a.m. Saturday, Nov. 14, regarding a verbal dispute at the tire store off Dickens Place (Copperfield Boulevard area off I-85).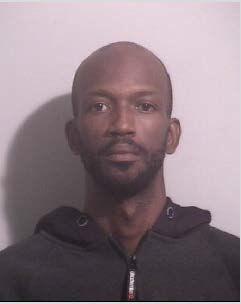 Once on scene, police found that several employees had left the building but were told one employee remained inside. 
Employees reported seeing a man enter the store with a weapon, firing off a few shots. 
Officers established communication with the suspect and began negotiations. Those negotiations ended at 3:32 p.m. and the suspect was taken into custody without incident. 
No officers were injured during the event.
Hughes stated that the suspect's motivation was unclear.
Due to a medical event unrelated to the standoff, the suspect was transported to a hospital by Cabarrus County EMS. The suspect was alert and responsive before being transported.
Jeremy Monty Spann, 39, of Lynchburg, S.C., was charged with one count of murder and one count of possession of a firearm by a convicted felon. He was placed in the Cabarrus County Jail with a $2 million bond.
After the suspect, Spann, was in custody, police found an employee, Wallace, deceased inside of Discount Tire from a gunshot wound. Hughes stated that it appeared the employee had been dead for some time. 
Wallace was shot during an altercation with Spann, Concord Police revealed in its Monday statement. 
Police were aware that Wallace was inside of the building during the standoff but were unsure of the person's status. 
"Initially when we responded, we had the information about one employee there, but we did not know what the status of that employee was at the time," Hughes stated. 
Officials delayed releasing the victim's identity in order to notify the family.
During the standoff, the Charlotte Mecklenburg Police Department were brought on scene in order to assist local agencies. 
"Typically, we do not have these types of events occur in Concord," Hughes said. 
Concord Police, Kannapolis Police, SWAT, Charlotte Mecklenburg Police, Kannapolis Fire Department and Cabarrus County EMS were on scene.
A representative from Discount Tire Greg Miller released a statement: 
"It is with a heavy heart we share that on Saturday, November 14, a shooting occurred in our Discount Tire store in Concord, North Carolina, resulting in the loss of one of our Discount Tire family members. The suspect has been arrested and charged.  
"Words cannot express the loss we are feeling. The entire Discount Tire family mourns this loss as we all work through this together. Our thoughts and prayers go out to the family and friends of our beloved Discount Tire family member.
"There remains an ongoing investigation with the local police department and surrounding agencies. We are indebted to their service, response and support. As this is an ongoing investigation, please contact the Concord Police Department at 704-786-9155 for more information."