KANNAPOLIS — "How can we do better for all of our students?" Cara Wolford asked.
Wolford, the Curriculum and Professional Development Coordinator for Kannapolis City Schools, is just like many educators with KCS who have asked this question over the last few years.
According to the Southern Coalition for Social Justice, North Carolina — like many other states — can struggle to have all students in grades 3-8 score "career and college ready" on final exams. White students are 2.1 times more likely to reach that mark than black students in the state, according to the report, which is exactly on par with North Carolina as a whole.
So how can schools do better for all of their students? It's not a simple answer but it's one many within KCS are doing their best to find. For Wolford, it's about examining what she could do to best reach every child in her district.
"I asked myself, 'What is inequitable about our curriculum?'" she said. "And one thing that stood out to me was the texts that we use in class.
"So, I did an audit, basically, of the most commonly read texts in kindergarten through 12th grade and ELA class. Most of them have white characters; most of them are written by white authors."
Wolford's audit came back with some pretty clear realities — there isn't a lot of equity in the district's literature. In total, 81.48 percent of books read by students in KCS were written by white authors and 71 featured white characters.
At the high school level, 79 percent were written by white authors while 76 percent featured white characters. (Note: The audit was conducted on books 'most commonly read' and is just a broad examination of what is being used.)
"From a system perspective looking at our curriculum documents, that's not good enough," Wolford said. "We know individual teachers and teams are making thoughtful decisions about text, but when you zoom out and consider the whole, we can do better for all students."
While they don't need to scrap their curriculum entirely, the evidence suggests KCS needs to look at what they are using more critically.
"It's important to note that this isn't about removing all the previous or classic texts and replacing them," Wolford said. "It is about diversifying what we use and using what we have with a more critical lens, and if we do conclude that we are using a text that we shouldn't use anymore that we take the opportunity to use something more culturally relevant."
Dr. Jessica Grant, the Director of Student Services and Secondary Education at Kannapolis City Schools, was a pivotal why Wolford and other administrators at KCS began asking these types of questions. Grant's work on this project goes back to 2018 when she was sent to a two-day seminar by the Racial Equity Institute, an organization that develops "tools to challenge patters of power and grow equity," according to its website."
"It's all about historical and structural racism, how did we get here?" Grant said. "And there's a whole lot of emotion in that. You sit in a circle with 40 people over two days and you confront some of the hard truths and narratives you've never had to confront before. There is so much to unpack, so much to unlearn, so many systems to dismantle.
"I left feeling a sense of urgency, maybe a sense of frustration that I didn't know some of the things that we covered over those two days but also just this passion to do something, like 'OK, I've got all of this information, now what can we do?'"
What Grant later did was partner with Racial Equity Cabarrus (R.E.C.), Cabarrus County Schools and Atrium Health to extend the conversation by hosting R.E.I. workshops in Kannapolis and sending KCS staff members to seminars in the area. By the time the workshop in May concludes, 142 KCS staff members will have gone through the seminar while countless more in the area will have experienced it as well.
As all of that has been taking place, Wolford and Grant have been working tirelessly on aiding equity in the district's curriculum. During that time, they connected with Dr. Tehia Glass at UNC Charlotte, who specializes in "helping teachers build their sense of efficacy around teaching diverse students."
Black children make up 27.6 percent of all students in Kannapolis City Schools while 68.4 percent are minorities, according to the Southern Coalition for Social Justice. Glass is a former elementary school teacher who has seen how relatable content in a school's curriculum can help a child progress academically.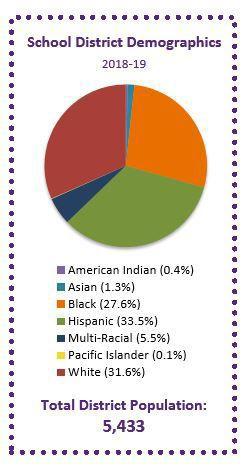 "It's the affirmation and validation that who they are is real," Dr. Glass said. "I see more confidence when kids are in classrooms and they know that their teacher has a skill set to bring their culture and their heritage and their race into the classroom.
"Often times conversations about race and children are taboo. 'Shh, don't talk about that, we don't talk about that in public,' but kids are far more open to having conversations about race and differences and similarities than we give them credit for."
Glass said research shows that children who relate to texts can perform better.
"If they enjoy school more and they see the relevance and the utility in school then they apply themselves a little differently in the terms of the academics," she said. "So thereby you see an increase and uptick in academic performance."
Glass saw this exact circumstance play out in a classroom in Kannapolis.
"One of the teachers (from Woodrow Wilson Elementary) started this work in the summer and one of their first projects, they read Esperanza Rising," Glass said. "(The teacher) was saying that for kids who wouldn't talk in class, wouldn't really open up, who were just kind of OK readers, they just knew that it was something they had to do, they were reading chapters ahead. 'Oh my gosh, are we going to read Esperanza Rising today? I'm ready to talk about it, what debates are we going to have?' They were just excited because the story itself resonated with them to where they could see themselves in the story."
The work is far from over. This is a process for Kannapolis City Schools and Cabarrus County as a whole. Racial Equity Cabarrus didn't even have an official group in 2017 but now is running seminars across the area frequently. They hosted a two-day seminar in early March, and as mentioned before, have two scheduled in the coming months.
They have done extensive work with Dr. Grant in Kannapolis and commend the work the district has done.
"Kannapolis City Schools is being very intentional about bringing Dr. Glass back, 'Let's think about equity for our students. We're not going to bring the whites down; we're going to bring everybody up, OK?'" Chuck Collier of Racial Equity Cabarrus said. "We're going to make it more equitable. And what's the difference between equity and equality? So it might be that…to make it equitable, if you're starting off on a third-grade reading level in sixth grade, you're going to need a lot more work to get up to the sixth-grade level, right? So it's not equal, but you've got to work toward equitable, so it will take more resources to get to equitable, it'll take a whole lot more education of the teachers."
(Editor's note: This is the first of several stories we will be publishing on efforts to bring more racial equity to the area. This is just a piece of a much bigger pie and where we began before discovering a much, much bigger story here in Cabarrus County.)
Be the first to know
Get local news delivered to your inbox!