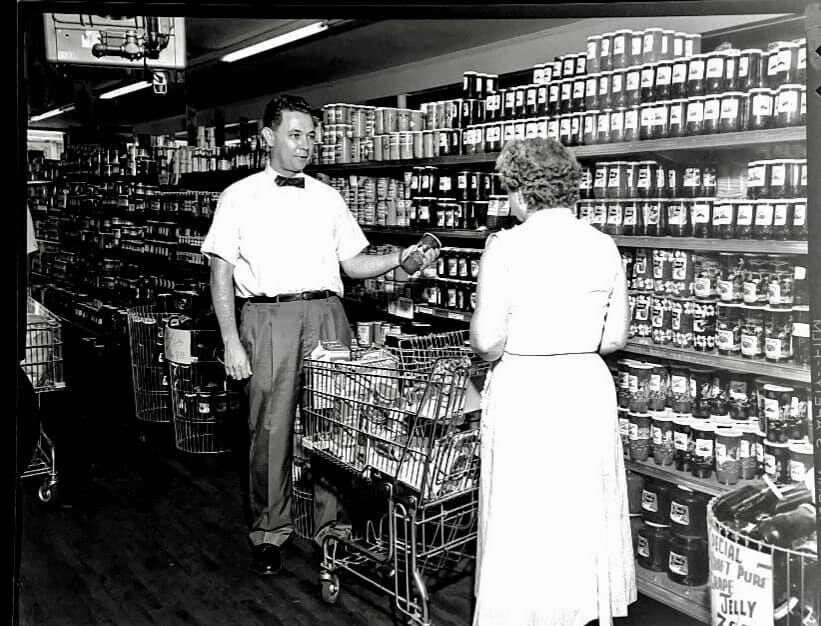 We continue to delight in the old photos found at the former Lawson Bonds-Oxford Studio, and as they are shared, we're getting more and more information about the people and businesses of Cabarrus' past.
Several weeks ago, we ran a photo on A2's Morning Brew showing Dover's Super Market on Cabarrus Avenue from 1959. It drew a lot of comments.
No. 1
Grocery store pioneer. The man in that photo was Leonard J. Dover, the 44-year-old owner of Dover's Super Market. Audy Dover, Leonard's son, recognized his dad. He didn't recognize the well-dressed woman in the photo.
Audy ran the store for many years. He gave us some details. The store opened in1913 and closed in 1998.
"Everyday standards were high in those days," Audy said about his father's era and the era of independent grocery stores. "The well-stocked shelves were his pet peeve. They were always blocked to the back of the shelf and rotated when restocked. The shelves were constantly restocked when a half-case could be put out. Each item was also polished, hand price-marked and placed label out on the shelf."
The butcher shop was known for precision-cut aged beef, along with ice-packed chickens, fresh pork and fish straight from the coast.
Cabarrus Food Center, Stop and Shop, and Dover's were the major food stores in the Concord area at the time, Audy said. "We were all friends and loved to outdo each other. Good years."
No. 2
A lesson learned the first day on the job. Dwight Tarlton saw the photo and shared a story with us. His brother, Donald Tarlton, was the produce manager and got Dwight his first job as a checkout-buggy-delivery boy. He was 13 years old and the year was 1965.
"My first day on the job was to carry out groceries to the customers' cars. Unbeknownst to me, my very first customer was Leonard's mother. Apparently she was supposed to report back to Leonard on how my interactions were with her," Dwight said.
"As I was carrying her full buggy out to their Electra 225 Buick … I back-ended her with the nose of the cart."
She turned around and scolded Dwight for following her too closely, and he responded by saying she should walk faster.
"Not too good of a response. She proceeded to escort me back in to talk to Leonard, and at that moment, I realized I had been talking to his mother," Dwight recalled.
Leonard requested that he apologize to her, which he immediately did, and retained his job, which paid 50 cents an hour.
"In the months following, I found myself delivering groceries all over the community in the grocery carts up and down Brown Street, Green Street and White Street. The tips made it all worthwhile. My biggest tip ever was $1. Oh, how times have changed. You see, we did not have basements and internet in those days," Dwight recalled.
Great memories. Dwight Tarlton now lives on his sailboat in Luperon, Dominican Republic.
Working at Dover's was also Richard Troutman's first job, and he shared a bit more with us.
Leonard Dover's father, Aud Dover, started the business.
"When Cannon Mills Plant No. 10 was in full swing, Dover's Super Market did a very profitable business. My first job was working (at Dover's)," Troutman said.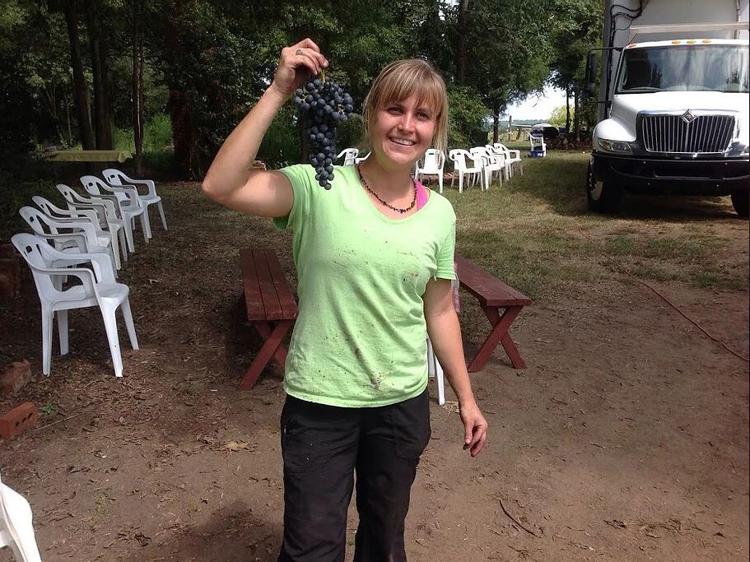 No. 3
Continuing the Dover tradition. Troutman reminded us that Leonard and his wife, Lutie, lived in the house on the right-hand side of the southbound Concord Parkway at the Coddle Creek Bridge.
Today you will recognize Dover's Vineyards on the farmland surrounding the home place. Audy's daughter, Elizabeth, started the vineyard. The website for the business is www.thefarmatdovervineyards.com. A quote from Elizabeth highlighted on the website said: "Hey Mom and Dad — Do y'all want to start a vineyard with me? We should use Grandma's land!"
They did, and it has been successful. Some day, they want to put a boutique hotel on the property. I believe it will happen.
No. 4
Be careful driving. Crews are the process of switching lanes on Concord Parkway in front of Carolina Mall and Atrium Health Cabarrus. It is confusing, and there is nothing dividing the north and southbound lanes. (For whatever reason, NCDOT insists on saying the work is in the westbound lanes.)
My wife, Kim, saw someone come out of the mall/hospital drive and turn into the construction area in front of Starbucks/the mall instead of the northbound lane. Fortunately the driver caught the mistake and backtracked before hitting any of the workers.
What is the slogan at some construction sites? "Let them live; let them work," or something like that.
The markings on the pavement are hard to see and confusing. Please be careful in this area. Another problem is unexpected left turns. With the median temporarily gone, some drivers are turning left wherever they want. They've got to get those hamburgers, tacos and other fast food as quickly as they can. Please, be careful.
No. 5
Election stress continues. In case you have been in a cave for the past few months: This is an election year. On the national and state levels, it has been pretty disgusting — affairs, illegal campaign contributions, outright lies and behavior that no one should tolerate. Today, (Friday, Oct. 9), is the last day to register to vote.
We're getting reports of voters not getting their absentee ballots. I know the staff at the Board of Elections is working hard to get those in the mail. Right now it looks like the blame lies at the feet of the U.S. Postal Service.
I hate to criticize the post office but, honestly, that seems to be where the problem is. It took 14 days for my absentee ballot to arrive at my house after being mailed by the Board of Elections. I will personally hand deliver my completed ballot to the board.
Our mail ran at 9:15 p.m. one day. That's crazy. What's going on with the post office?
Don't forget that early, in-person voting begins Oct. 15.