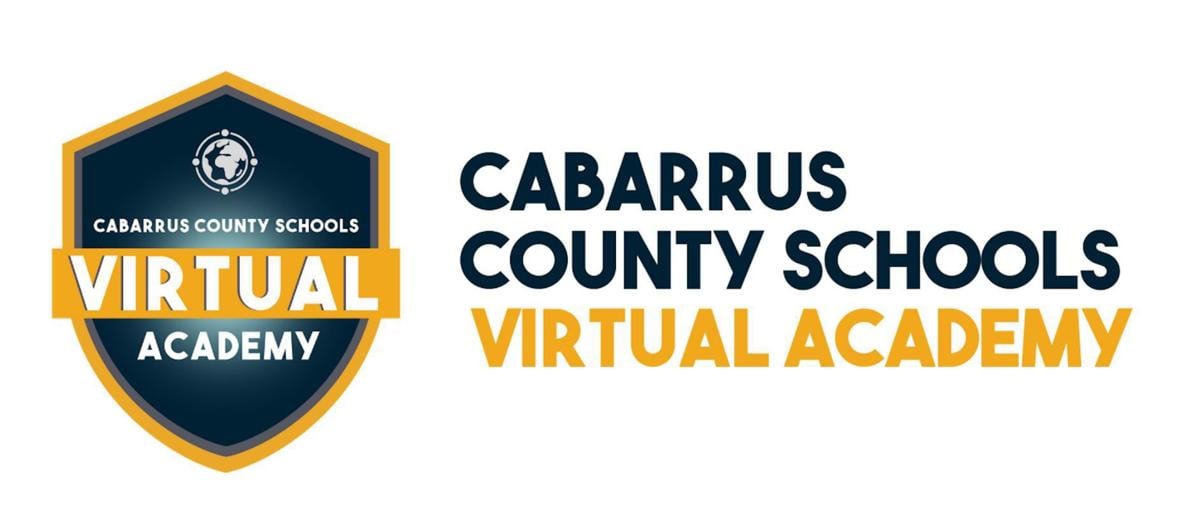 Cabarrus County Schools was expecting a large number of applications for its new Virtual Academy when enrollment opened online Tuesday.
Rowan-Salisbury Schools began offering a similar program in recent years and saw more than 300 applicants in the first four days, according to CCS Virtual Academy Principal Kenneth Simeone, but the turnout might be even greater in Cabarrus County considering the circumstances surrounding the school's opening.
The Virtual Academy was supposed to open for the 2021-22 school year, but due to shutdown of schools as educational buildings in March, the opening of the Academy was pushed up to the 2020-21 school year.
It has been a whirlwind of a process for Simeone and Program Choice Coordinator Alyn Szymanski, but they are more than prepared for applications to start coming in.
"The pace has been very quick," Szymanski said. "Traditionally we try to put a little bit more time in our planning process, so this accelerated just the need for more research and getting to know other people's programs and seeing what works and what doesn't very quickly.
"So that has definitely been one big component, but it's also been really interesting because we have so much demand right now for the program."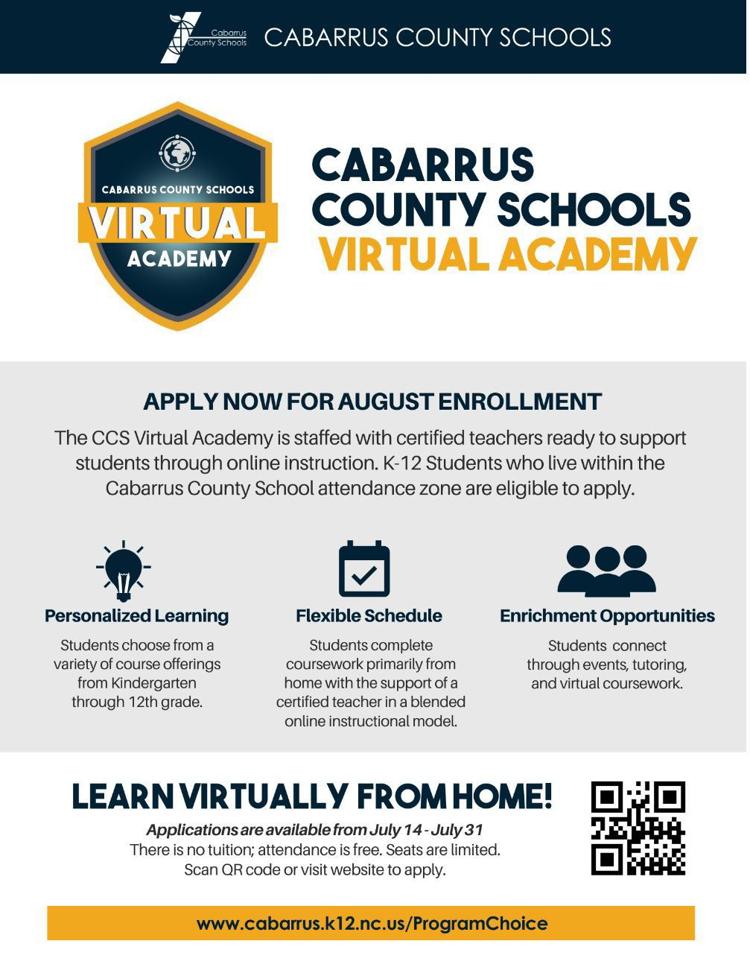 They are expecting a large number of applications for the Academy — Simeone said he has been answering some 20 to 25 emails a day for more information — but as of now, there is not a cap on the number of students.
The initial plan was to serve 300 students before the COVID-19 outbreak. They expect to get more applications than that now, and there will be some discussion on how to do that once they know where they stand.
"Once we can figure out enrollments, I'll go back to Dr. (Crystal) Hill, and I'll talk to her about what staffing would look like if we exceed that 300," Simeone said. "So, let's say we get 3,000 applicants — how do we serve those students?
"Now, we can't serve all of them, that would be like combining two of our high schools together, so it would then become a randomized lottery, so we're shooting for probably around 750 to 1,000, but if we have to exceed that, then we exceed that."
So what does the Virtual Academy offer, and who does it serve in a normal atmosphere not affected by COVID-19?
The Cabarrus County Schools Virtual Academy is a virtual school environment that offers online learning for students. Students participate in blended coursework, mixing online courses with face-to-face sessions guided by certified kindergarten through 12th-grade teachers. The goal of the Academy is to provide flexibility, personalized learning and enrichment for students.
While having a virtual campus is great for the current environment, which requires social distancing and limited large gatherings, the school is also good for students who have other activities outside of school who may be better served by remote learning options.
For instance, athletes who spend time on the road playing tennis competitively or students who race on NASCAR's developmental circuits and travel a good part of the year but still want to get the education provided by Cabarrus County Schools, could find the Academy a perfect option for them.
"The flexibility is really important," Simeone said.
They wanted to give that option to students who needed it, so they made sure to find the best way to do it by learning from other schools in the state that have already tried it out.
"One of the big ones is in Wake County. They have a huge one, it's their flexible academy, so they allow kids to come on and off campus as they will, and then they're able to not be in school for 7½ hours a day and have the flexibility to complete their assignments as they need to," Simeone said. "That's kind of what we're aiming for as well is to give kids the flexibility.
"So if the traditional school day isn't for you, then this is a definite fit for you."
Simeone has spent his entire career in Cabarrus County Schools. He came from Connecticut on a track scholarship to UNC Charlotte and began student teaching for CCS. He taught for several years before moving to an administrative role and now is the principal at the Virtual Academy.
While this was a job he was looking forward to, he got thrust into it a little faster than expected when officials pushed up the opening to this academic year. That has done nothing to stop his excitement for the opportunity he and his colleagues have to do something special with the new program.
"We want this to be a very specific program of choice that in the short term people are like, 'Oh, this is a great idea for me,' but then in the long term say, 'I want to stay in this. I don't want to leave this because my child is getting such a great education here, just as they would in a traditional school,'" he said. "Now they have the flexibility to do those things or those pursuits, or maybe if they were homeschooled in the past, they have the ability to come back into Cabarrus County and be a part of our educational system.
"It's one of the best in the state of North Carolina. We pride ourselves on having strong curriculum and strong content for our kids, and if we can long-term make this an option for our kids, that's my end goal."
For elementary students, coursework will be thematic and focused on exploration of concepts and inquiry-based learning. Parents of students in the elementary model will be provided with an instructional kit to facilitate learning with support from a licensed teacher.
Students in grades six through 12 will participate in blended coursework, where some learning is synchronous and some is completed independently. Ten to 15 hours a week of synchronous instruction is anticipated for secondary students, with additional time being offered based on student performance.
Students will have a selection of elective options to choose from offered by a certified North Carolina teacher. High school students will also have the opportunity to enroll in Career and College Promise and AP courses.
The Academy will have a virtual parent session Thursday to answer questions.
"That will be one way to quickly answer a lot of questions, so we anticipate answering a lot of emails and helping people understand if it's a good fit for their student," Szymanski said. "We are excited to receive all of them."
Registration for the Virtual Academy closes July 31. School will start in August.
"This is an opportunity for people to do something different, and what our goal is is to provide something different, so that it is a choice," Simeone said. "Cabarrus County is known for our choices. You can see on our Program Choice website that we just have tons of things for kids and we want to open this up as an additional opportunity so that they can find something that makes them successful."
Be the first to know
Get local news delivered to your inbox!