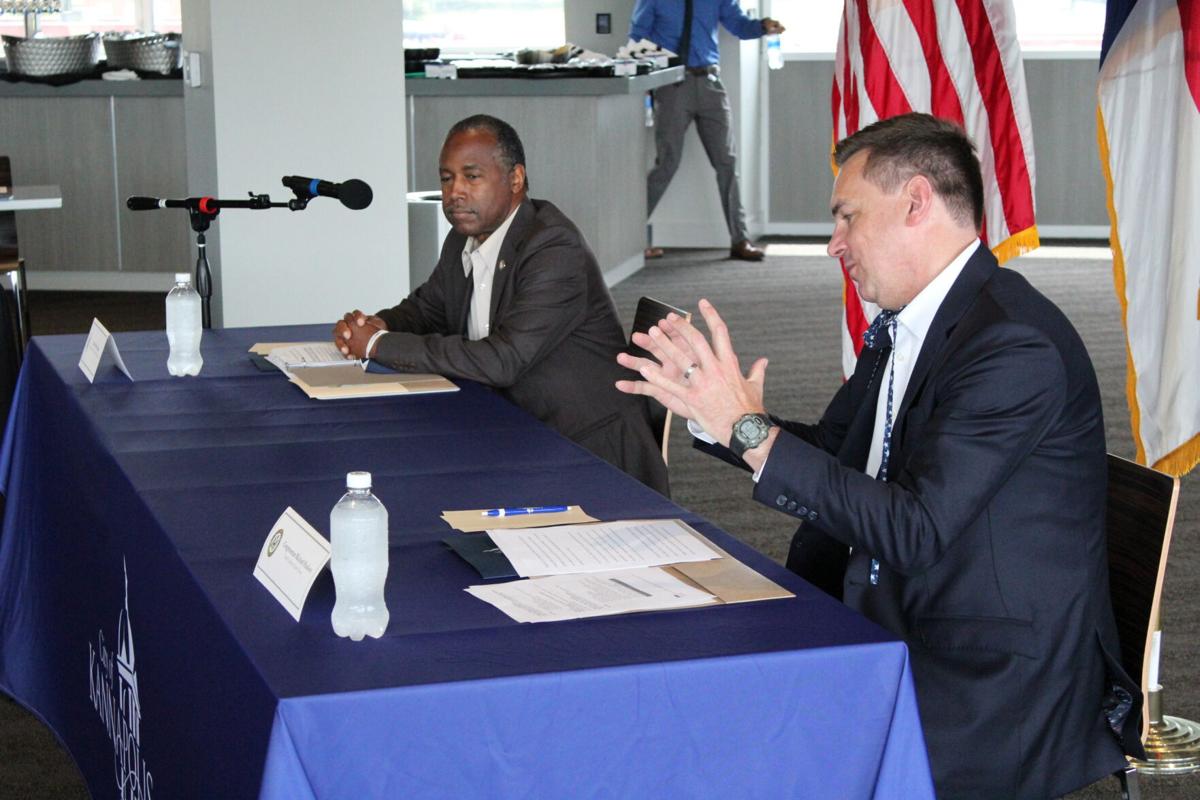 KANNAPOLIS — The Federal Housing Administration announced Thursday it is extending the foreclosure and eviction moratorium through Dec. 31.
This is the third extension of the nation's eviction and foreclosure moratorium that has been put into place due to shutdowns because of the COVID-19 pandemic.
The unemployment rate at the beginning of August stood at 10.2% (or around 31 million), according to the U.S. Bureau of Labor Statistics.
U.S. Department of Housing and Urban Development Secretary Ben Carson was in Kannapolis and Cabarrus County on Thursday for a roundtable discussion and tour of a Habitat for Humanity Cabarrus County construction site.
"President Trump is taking unprecedented measures to ensure American homeowners have the resources and support they need to get back to financial stability during the economic recovery," Carson said. "Because homeownership is the largest wealth builder for the majority of the nation's families, providing relief from foreclosure and eviction to those who are in jeopardy of losing their hard-earned wealth, through no fault of their own, is a priority."
Richard Hudson, the U.S. Representative for North Carolina's 8th Congressional District, also was in Cabarrus County to discuss affordable housing.
He commented on the extension of the moratorium.
"It takes a little bit of pressure off of the people in our community while Congress continues to figure a path forward," Hudson said.
During the roundtable discussion, Cooperative Christian Ministry Executive Director Ed Hosack said that as many as eight children come home from school every day in Cabarrus County to find out their family has been evicted.
That is every year, not just during a global pandemic.
Stimulus discussions
Hudson will return to Washington, D.C., in the coming weeks for more discussions about providing aid to the residents of Cabarrus County, such as possible stimulus packages that could include an extension of unemployment benefits, which was discussed by Congress before Trump's order and after the original $600 extended unemployment expired.
Congress reached a stalemate on a stimulus package before going home in early August. Members will return to Washington after Labor Day.
"Unfortunately, Nancy Pelosi is not interested in sitting down and talking right now," Hudson said. "She's asking for $3 trillion in new spending, a lot of it in areas where initial money that we've spent has not been spent yet — in fact, only 25% of the money we've already appropriated to deal with the COVID-19 shutdown (to states) has actually been spent."
According to an interim report from the Treasury's Office of the Inspector General (which was updated Aug. 24), just $34.2 billion has been spent so far — 25% of the $139 billion sent to states and local governments. 
"And, by the way," Hudson said, "all of this money is borrowed. All of this money is borrowed, so my 5-year-old son and his children are going to be paying this off or living a lower standard of living because of it.
"So making these decisions about spending more money … this is real money, and we are borrowing against our future, and so we have to be very careful. So we're not just going to let Nancy Pelosi spend $3 trillion on bailing out cities that have pension problems, spending them on a whole bunch of things that have nothing to do with COVID."