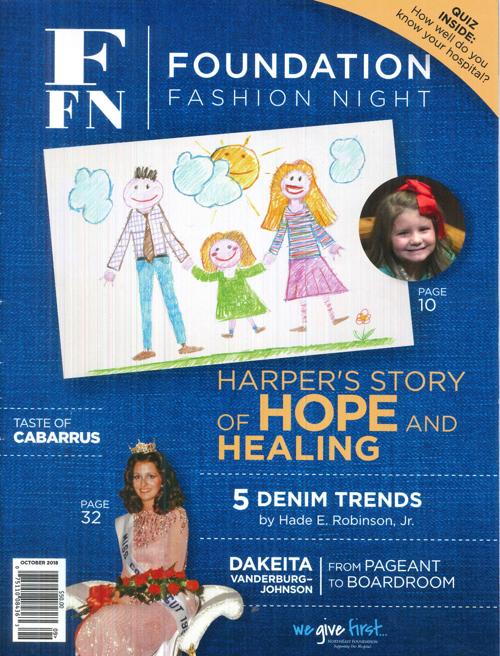 The biggest perk in working for a newspaper is all the wonderful people you meet. I met a bunch of folks this week backstage at the NorthEast Foundation Fashion Night.
VIP  Harper Arrowood. The 9-year-old stole the show. Harper shared her story with those in attendance Tuesday at City Club at Gibson Mill. I'm not sure there was dry eye in the place.
"…my hopes, dreams and prayers came true," is how Harper described her story.
Harper was physically, mentally and emotionally abused by her birth parents for the first six years of her life. Her teacher at school recognized the signs and got a team involved that included the Department of Social Services, the Children's Advocacy Center at NorthEast, the Cabarrus Sheriff's Office and the District Attorney's Office.
"January 28, 2016 I was able to meet my forever Momma and Daddy," Harper wrote in the fashion show program.
Before the final walk down the runway Tuesday, Cabarrus Country Club General Manager Brad Bourret and I got a chance to speak to Harper backstage. We congratulated her on giving such a good speech on stage. Her reply was quick and gracious.
"I have good parents who raised me right."
I can't begin to describe her wonderful smile.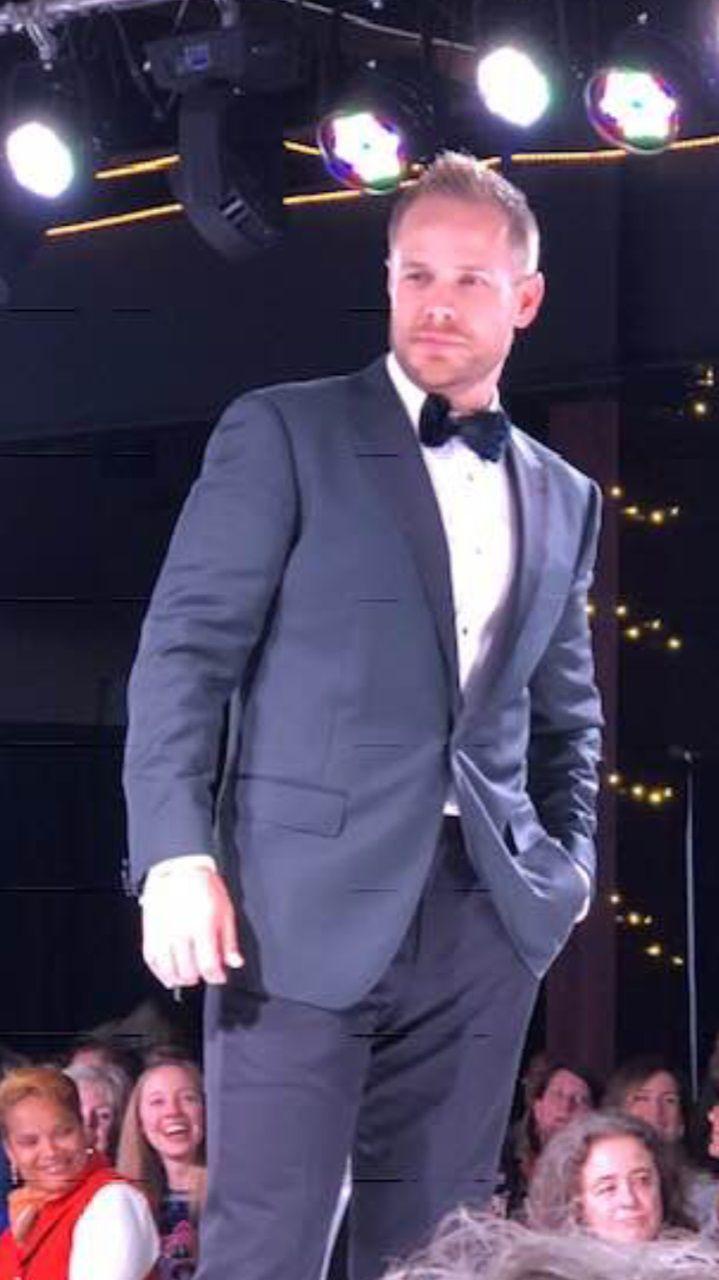 The annual fashion show raised more than $91,000 and adds to the total of $50.3 million the NorthEast Foundation has raised to benefit areas of the hospital such as the Children's Advocacy Center. The foundation is celebrating 25 years of service.
Thanks to all the volunteers, staff and businesses who make the fundraiser such a success each year. It was fun to play model and dress up for the evening.
What are you going to be for Halloween? The newsroom usually dresses up for Halloween with a coordinated effort, but we haven't come up with anything yet this year.
Last year, we were Winnie the Pooh characters and the year before we dressed up like Power Rangers.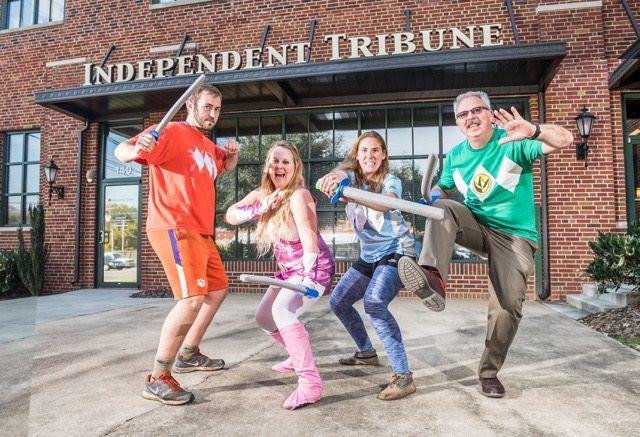 There are always some creative ideas. I liked the one from "American Housewife" Wednesday night on WSOC-TV. The little girl thought she was too old to trick-or-treat, then changed her mind. She was sad because she thought it was too late to come up with a costume.
Her dad went to the car and got his NPR travel mug and handed to it to her. "Your NPR travel mug?"
"You're a cup holder," was his reply.
This is your newspaper. In some ways the changing newspaper landscape can be good for our community. We're much more dependent on reader and community contributions.
Today's paper is a great example. On the church pages today, we have a column by the Rev. Andy Langford, who recently retired from Central United Methodist Church. Langford writes about Poplar Tent Presbyterian Church and of course mentions the big barbecue that is coming up next Thursday (Nov. 1).
It is part of a series he is writing on our communities of faith in Cabarrus County. It's good stuff and I think most of you will enjoy the history as well as the present day information.
There are other opportunities for you to contribute. If your church or group isn't sending in their event notices, get on your folks in charge of publicity. Email the announcements to Jennie Stamey jstamey@independenttribune.com.
Today's editorial page features letters to the editor and a locally-drawn cartoon by Cary Gluf. Cary occasionally drops us a cartoon. I encourage any other would-be cartoonists to send us their efforts too.
Look for more letters to the editor in Sunday's paper. With the election on Nov. 6, we are swamped with letters but keep sending them and we'll find a way to get them included.
Mailbag from last week's Friday Five.  Several people responded to the comments about our editorial pages and cartoons. All were positive, though we disagree on some things. Things can be accomplished when we have honest, civil discussions and disagreements.
"I just wanted to thank you for your honesty in your Friday Five commentary. As a conservative, I wish there were more conservative cartoonists and more conservatives writing letters to the Editor.
"Having a left leaning Editor doesn't mean conservatives shouldn't write in - on the contrary; they should write twice as much in hopes that half the time they may have their opinions heard.
"Thank you for continuing the tradition of the Congressman's corner.
Rep. Hudson is doing a very good job despite opposition. His support of the Tax Cuts and Jobs Act "benefits average tax payers across the country including local North Carolina residents in NC06 who will have almost $1,000 extra every year and over $25,000 over ten years for an average family of four! (Research at www.taxesandjobs.com)."
This response was provided by Melody Clarke.
Thanks Melody and to all the others who called or emailed.
Stop running the red lights. People continue to run the red light on Union Cemetery Road at Cabarrus Avenue. I still don't understand why they do it here more than anywhere else.
I was driving back home from the fashion show Tuesday and a car ran that light. The guy in the truck beside me held up and missed the car but eventually somebody is going to get seriously hurt at this intersection.
Has anybody else noticed how short the green phase is on westbound Poplar Tent Road at George Liles Parkway? Three vehicles are about all that can get through the intersection before it turns yellow.
NCDOT needs to take a look at that signal. The short light there is causing some people to blast through during the "orange" phase. It's not safe.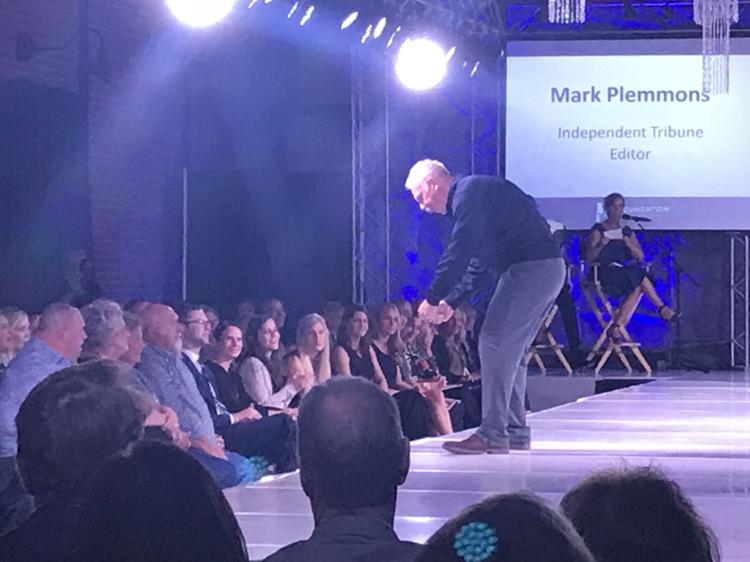 If you have a Friday Five, pictures from the fashion show, intersection/traffic complaints or other information you would like to share, send it to mplemmons@independenttribune.com.
Be the first to know
Get local news delivered to your inbox!