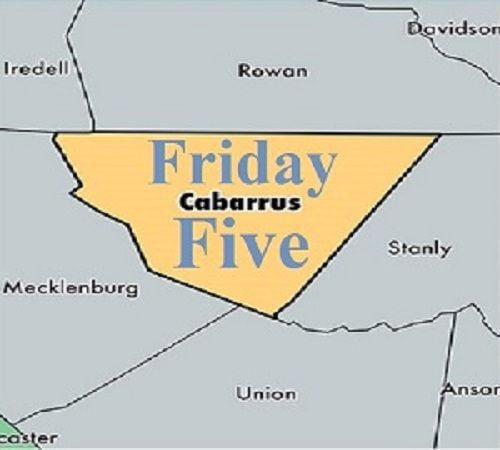 Enough! Enough violence against the oppressed! I'm angry. I'm sad. I don't know what to do.
No. 1
We don't understand. The problems that led to the death of George Floyd are still there. Ahmaud Arbery, David McAtee, Breonna Taylor — we can list name after name of people who have died because of hate and prejudice or the lingering effects of hatred.
What I do know is the Independent Tribune can be a voice for the oppressed. We can tell their stories. We can try to shine a light on situations where help is needed.
No. 2
One Cabarrus. In the coming weeks, you will see a logo or tagline on stories or columns we feel deal with these issues. This is not just police brutality. It is societal abuse and ignorance. Our team is leaning toward "One Cabarrus" as the theme or slogan. The aim is to add extra emphasis.
The problems our society faces can't be solved overnight. Things will calm down in a few days or weeks. Our aim is to keep the spotlight on the problems so that we don't forget. If we do, it won't be long until someone else dies, and the cycle continues.
Believe me, many people will forget. It's easy to go on with your life if you are not affected directly. Who remembers Trayvon Martin, 17, in Sanford, Florida, back in 2012? He went to the convenience store wearing a hoodie. He never made it home because George Zimmerman gunned him down.
Zimmerman was acquitted. Now Zimmerman is suing Trayvon's family over a book. Where's the justice? How many more people must die before we say "Enough"?
No. 3
Heroes needed. Every time a police officer commits a crime like choking George Floyd to death, it makes it harder on the police officers who are good and honorable people. Every time someone guns down a police officer, it makes it harder.
A couple of years ago, former Concord police Chief Merle Hamilton spoke at Cabarrus Law Day. He said it is harder and harder to get good people to become police officers. He's right. The pay is not great. Sometimes the rewards are hard to see. And the abuse the honorable officers face after the incidents like this is great.
My hope is good men and women will step up and become officers, just like many joined the military after 9/11.
No. 4
The starfish approach. Most of you know the story of the person throwing starfish back into the ocean. The beach is covered with them, and a person comes along, saying you can't possibly make a difference. The first person continues to throw them back into the water, "Made a difference for that one."
Be the person who makes a difference for that one. We must no longer be afraid when we cross paths. That is a start. Don't call 911 when a black man walks down the street. Greet him with a smile.
No. 5
Big things, too. A host of big things can be done. Make sure that no child goes hungry. Make sure they have the health care needed when they are young. This goes for every child, regardless of race.
Vote. Make sure that whatever person we send to Raleigh, Washington or town hall is someone looking out for our community — not looking for personal gain or some big corporation's interest. The status quo is not acceptable.
Eliminate roadblocks for employment. There has been a movement to remove the criminal conviction box from employment applications. People need second chances. Have you ever made a mistake?
Did you ever think that person smoking pot might not have health insurance or able to get prescriptions or counseling? We've got to stop filling our prisons and jails with people who are self-medicating.
Education must be affordable. It doesn't matter if it college or vocational training; there must be affordable opportunities.
Sometimes we may seem to be preaching at you or to make you think we are better than you. That's not our intention. We have to do better. Maybe "We, Cabarrus" would be better.
No. 5A
Gone for a couple of weeks. As you know, the newspaper business has been impacted by COVID-19 like other businesses. The financial wizards who run our company say we have to take two weeks off without pay. They haven't fired me yet — giving you a heads-up there won't be a Friday Five the next two weeks.
Last year when they hit me with the "furlough," some of you thought I had been fired. It was probably the passive-aggressive Facebook post I made about planning for the future. I'll probably do some planning the next couple of weeks, too.
What can you do to make your community better? One Cabarrus. Join us.
If you have a Friday Five, story suggestion or something I can rant about, email mplemmons@independenttribune.com. I won't be able to see it for a couple of weeks, but I'm pretty easy to find if you need me in the meantime.
Be the first to know
Get local news delivered to your inbox!