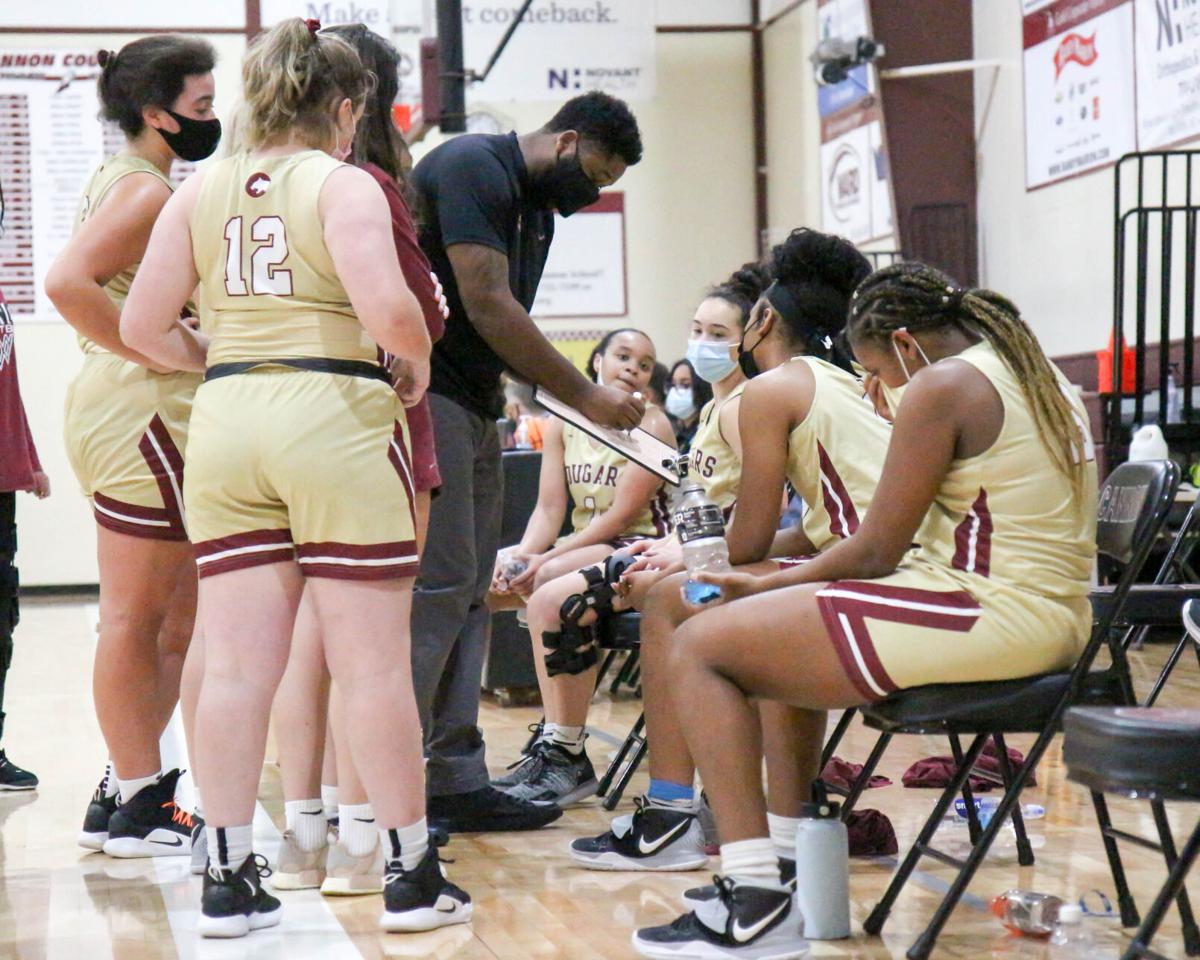 CONCORD – Early in the fourth quarter, it was anybody's game, anybody's semifinal.
In fact, to the chagrin of the Cannon Cougars, the pendulum of momentum had swung in the the Greensboro Day girls basketball team's direction.
The game had been halted momentarily as an official gave Cannon School a bench warning for contesting a call so passionately, and seconds later, Bengals guard A'Shawna Robinson came down and swished a 3-pointer to pull her team within a point.
Then the Cougars made their point: They were intent on going to the championship game.
With McDonald's All-American Reigan Richardson at the controls, the Cougars proceeded to go on a 15-0 surge for nearly the next five minutes and finished with a 58-40 victory that thrust them into the NCISAA 4A finals.
It is believed to be the first time the Cannon girls basketball team has reached the N.C. Independent Schools Athletic Association championship game.
Seconds after they had secured their fate, the Cougars' emotions overflowed.
"Maaaan, it's nothing but pure excitement!" said Cannon coach Kelvin Drakeford. "This is my fourth year, and I just told our girls to continue to trust the process. Obviously, having somebody like Reigan has made it a little bit easier, but it's exciting.
We expected it, but it's still surreal that we're going (to the championship game)."
The Cougars, seeded No. 1 in the West Region, will play host to East Region No. 1 North Raleigh Christian on Saturday at 1 p.m. at Boswell Gym.
Tuesday was a magical day for Richardson, who has signed with the University of Georgia. Earlier in the day, she learned that she'd earned a spot on the 2021 McDonald's All-American Team, an honor bestowed upon only 24 girls basketball players in the nation.
Then, in the evening, Richardson scored her 2,000th career point, showing dominance throughout the contest and finishing with 32 on the night while leading the Chargers to the state title game.
"It's crazy," said Richardson, who became the first Cabarrus County girls player to make the McDonald's All-American Game.
"In the three years that I've been here, we've been getting closer and closer, and this was the year we knew we were going to get in."
But Greensboro Day made the Cougars fight for it. The Bengals (16-6) went hard to the basket, led by Je'Bria Fullwood's 12 points, and often forced Cannon into mistakes.
Although the Bengals trailed by seven points at halftime and were down six midway through the third quarter, they scraped back. And when Robinson knocked down her 3 immediately following the Cannon bench warning, Greensboro Day seemed poised to make it a fight to the finish.
That's when Cannon found new life.
The Cougars' run began in earnest after Richardson hit one of the two free throws to nudge their lead to 40-38 with 6 minutes, 39 seconds remaining. Immediately after, Cannon employed its full-court press, and Richardson dove to grab a loose ball from the floor, she popped the ball over to fellow senior Sydney Wood, who was open behind the 3-point line. Wood fired away, and the ball swished through to make it a five-point advantage.
"I saw the basket, and I knew I was open," Wood recalled. "We needed a big shot in that moment, so I just pulled it, and fortunately it went in."
By then, Cannon's bench was in full scream mode with applause and support, and the entire scene – including the Cougars' offensive and defensive execution – seemed to rattle the Bengals.
Meanwhile, Richardson handled the ball out top on every Cannon possession and either found open teammates for points or scored them herself. During the decisive 15-0 run the Cougars got points from Richardson, Wood, Zoe Edwards and Seini Hicks,
"I think I saw a couple holes in their defense that we could exploit, and I just let Reigan go to work," Drakeford explained. "And then, everybody else made shots. Zoe made a big shot, Sydney made a big, huge 3 for us.  
"But overall, everybody just decided, 'It's time for us to go to a state championship game.'"
Conversely, as Cannon was heating up, Greensboro Day struggled. After Robinson's 3 with 6:55 showing, the Bengals missed eight straight shots and repeatedly committed turnovers. They didn't score another basket until Liz Wyrick's layup with 2:10 remaining. It was their final basket of the game, and they were trailing by 14 points.
"(Cannon) started speeding us up with a little more pressure, and we sped ourselves up trying to get the ball," said Greensboro Day coach Chris Brewington. "I think we had four turnovers in a row there, and Reigan Richardson took advantage of those. Before you know it, we were down by 10, and we started having to press more.
"We've had a problem all year closing out games and finishing," Brewington added, "but we've just got to take care of the basketball. That, and trying to stop Reigan, was our main goal. And still …"
For the Cougars, the state championship game has been a long time coming. Last season, in a jump from a recent history of struggles, they reached the state quarterfinals before succumbing to eventual champion – and fellow conference member – Providence Day.
This season, Cannon romped to the Charlotte Independent Schools Athletic Association title and now have broken new ground by making the NCISAA finals.
As a veteran on the team, Wood explained exactly what this means to her. She's been on the Cannon varsity since her freshman season – when the Cougars won only four games. So she knows just how far the program has come.
"It feels awesome," Wood said. "I feel like we've worked super hard for this moment. In the past four years, we've come a really long way, and it just feels special to make it to the state championship, especially during our senior year since there are eight seniors on the team.
"It's just a really awesome opportunity to show what we have, and it really is a good representation of who we are as a team and the work we've put in."
As the Cougars stood on their home court shortly after their semifinal win, they still didn't know which opponent they would face in the championship: North Raleigh Christian or Providence Day.
When asked which she'd rather play, Richardson unleashed a smile that could be seen beneath the blue mask she wore for COVID protection.
"It doesn't matter at all," she said. "Whoever we play, we're going to go get."
Greensboro Day        8     11     14       7 – 40
Cannon                       11     15     11     21 – 58
GREENSBORO DAY – Jones 8, Liz Wyrick 8, Caroline Wyrick 6, Je'Bria Fullwood 12