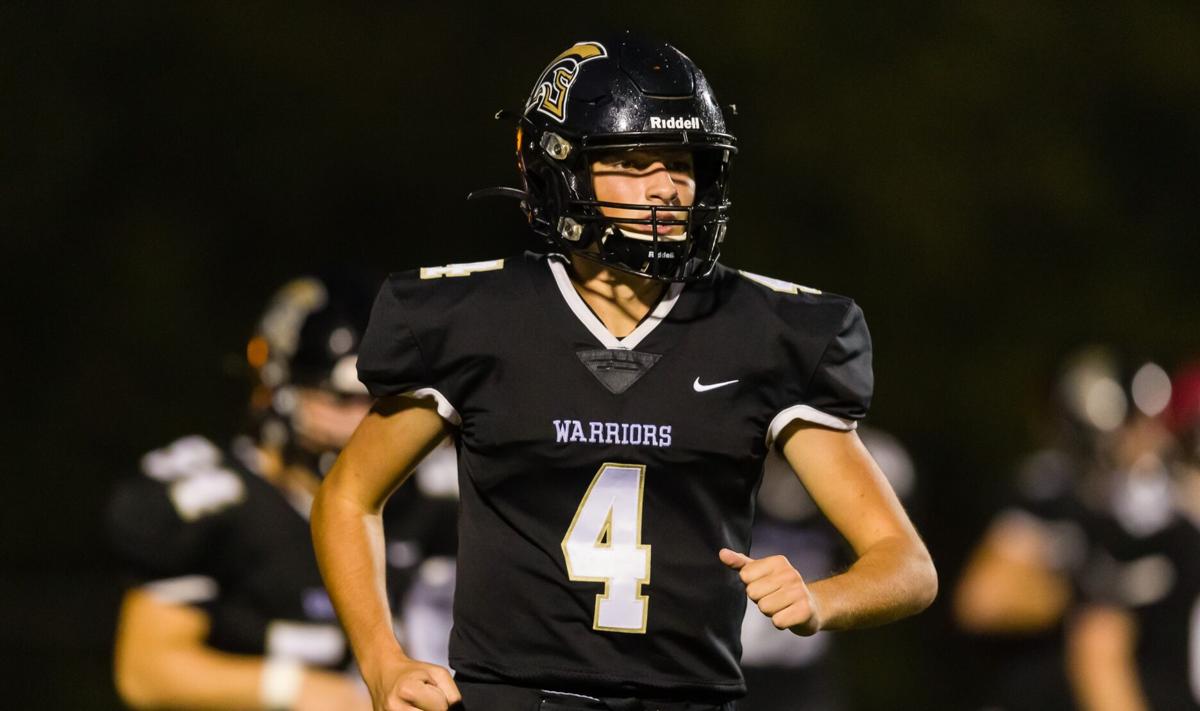 CONCORD – As narratives for backstories of high school quarterbacks starting their first varsity games go, there was very little that foreshadowed the type of complete game that Tyler Green would play last Friday.
His team, the Cabarrus Warriors, was kicking off only its second season, and last year's 2-8 record didn't warrant any promise. The team's young head coach, Jamie Bolton, was brand new to the program and working his first game as the leader of a program as well.
Following the most non-traditional span of spring and summer workouts, limited in quantity and quality by coronavirus restrictions, Bolton named Green the starting quarterback only a few weeks ago. And Green is only a freshman.
But none of those questions and concerns made much of a difference Friday as Cabarrus hosted North Raleigh Christian Academy at Cannon School, which along with Concord Academy comprises the Warriors. Green's arm strength, poise, and overall statistics, looked much more like those of a seasoned upperclassmen as Cabarrus won, 21-14.
Leading a quartet of freshman skill position starters – including running back Will Jones and receivers Max Riley and Gavin Powell – Green threw for 239 yards by completing 19 of 33 attempts. He did not throw an interception, and a 63-yard catch-and-run touchdown reception by Michael Dickens late in the third quarter was the game's decisive points.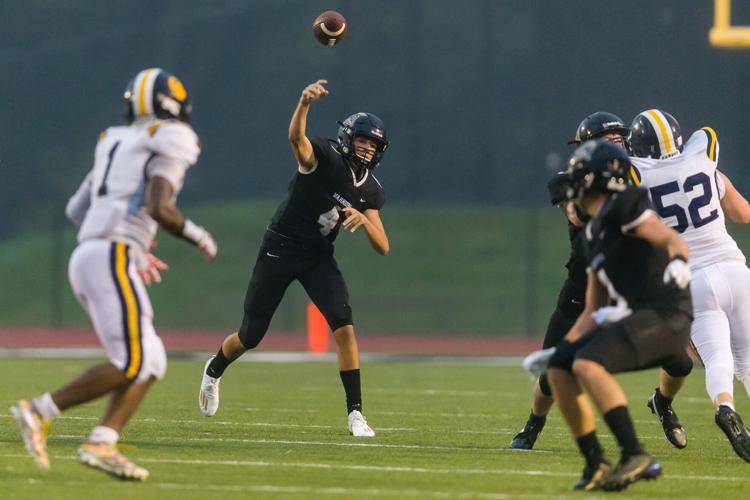 "Tyler did an excellent job for us tonight of getting us in the right position and making plays for us when plays weren't there," said Bolton. "And that's something you can't teach. When a play breaks down, a quarterback can have a V-gap escape or a D-gap escape and find an open guy, that's special.
"For a 14-, 15-year-old kid to go out there and do that against a team with 16 seniors with that kind of poise, he's going to be special for us as we go through. So we're excited."
Dickens was the quarterback last year but agrees that Bolton did the right thing by naming Green the starter for this season. And Green is just as complimentary of Dickens, his senior tight end, whose willingness to be a good teammate was evident when he asked Bolton to put him in a different position that would most help the team.
At 6 feet 3 and 155 pounds, Green has some good size for a freshman. Also making you forget how old he is was his play on the Warriors' first possession against the Knights.
Green completed four of six pass attempts for 31 yards, and Jones' 34-yard blast around the left side took Cabarrus all the way to the North Raleigh 4-yard line. Todd Pelino's 21-yard field goal brought the Warriors to within 7-3.
Green owned up to his only glaring mistake of the game, taking responsibility for a botched snap in the second quarter that was recovered by the Knights at their own 1-yard line. It kept the Warriors from scoring again in the first half.
The only time Green was sacked, an 8-yard loss on a third down in the third quarter that took the ball back to North Raleigh's 36, had a silver lining. Pelino's punt was downed at the 2-yard line, and Cabarrus defensive end Waylan Petiote recorded a safety on the next play by making a tackle in the end zone.
That jolted the Warriors' offense, and Green led them on two third-quarter touchdown drives. The first, which ended with Jones' 11-yard scoring run, was highlighted by Zack Kellman's over-the-shoulder, 35-yard reception perfectly thrown by Green to the left sideline.
"I saw one-on-one coverage," said Green. "It was first-and-5. I saw a matchup. I made a throw, and (Kellman) caught it. The (offensive) line did a good job on that play. They gave me enough time to set my feet so I could throw downfield. I can't give enough credit to those guys."
On the next possession, Dickens reeled in Green's dart over the middle and raced 63 yards to the end zone to give Cabarrus an 18-7 lead.
It was Green's late-game poise that pronounced his maturity. On the same drive between the third and fourth quarters, his decision-making in the pocket was prodigious.
On a second down play, Green avoided a heavy rush by bearing down on the line of scrimmage, only to pull up and complete a short pass play for a first down. He later extended the drive on a third-down play when he scrambled for a 17-yard gain.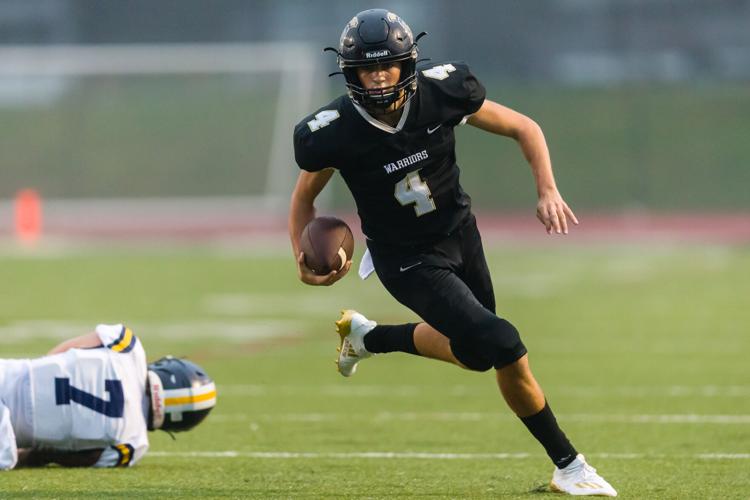 On the next third down, Green intentionally threw a pass away to dodge a sack, leaving Pelino in field-goal range so he could nail a 38-yarder, which gave the Warriors their final points and an insurmountable lead.
 "Offensively, we knew they were bigger than us up front, so we knew we had to do something on the back end," said Bolton. "They run a 4-2 front, six guys in the box, so it was tough for us to get things going. So we kind of opened it up in the passing game, attacking the seam to get Michael Dickens down the middle.
"Zack Hellman made a couple great plays. And Tyler Green, our freshman quarterback coming in in his first start, hanging in there and taking shots, hanging in the pocket and making big-time throws (was important)."
Cabarrus' rushing game complemented the passing attack by gaining 122 yards. Jones tallied a game-high 82 yards on 23 carries.
Be the first to know
Get local news delivered to your inbox!