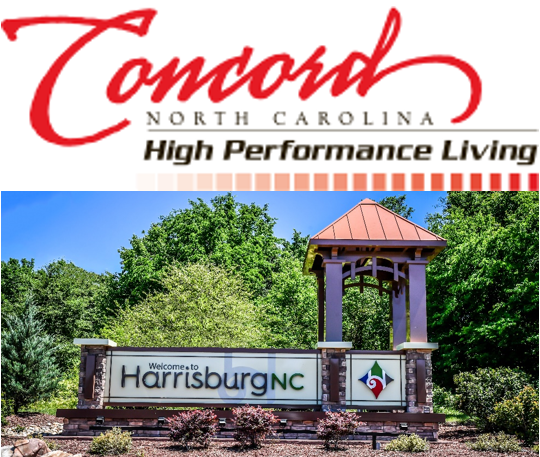 The City of Concord and the Town of Harrisburg have both received Healthiest Employer Awards in the greater Charlotte region from the Charlotte Business Journal.
Harrisburg placed first in the 100-499 employees category for Healthiest Employers. Last year, Harrisburg was recognized by the Charlotte Business Journal for being the Healthiest Employer with up to 99 employees. The town has since grown in its staff numbers and reached the next category.
"Our Human Resource department and a lot of our staff – we have a great deal of staff who participate in this via our wellness committee internally here with the town," said Harrisburg Town Manager Haynes Brigman. We have put in a lot of these processes and opportunities for our staff over the last several years and it is nice for that to be recognized by the Charlotte Business Journal."
The town hosts annual employee events for its staff to bolster health and wellness, said Harrisburg Human Resources Director Tihisha Sharif. An inter-department challenge that the town hosts is an Insta-Pot Challenge where departments compete to prepare a healthy meal. The town also has an annual wellness festival for staff  where benefits vendors and partners such as Atrium, our Employee Assistance provider, Benefits Broker, and  other resources share information.
"This past year, with COVID-19 shaking the world up as we all know it, we decided that it was important to keep our program going so we offered virtual fitness classes for our employees and virtual lunch and learns where we focused on managing debt and mental health.  We believed these were important topics that we all could benefit from during these times," she said. "The Healthiest Employer Award means the world to the Town of Harrisburg and its employees because we were able to accomplish this as a group with the support of our Town Manager who participates in all of our initiatives and the support of our Town Council."
Town employees also participate in a one-mile run in the town center. Town staff make it a goal to incorporate fun in its wellness programs, Sharif said. Many of the staff wellness events may include competitive activities such as vertical jumps, limbo, musical chairs, and the bouncing hopper.
"At the town, wellness is not just an initiative for our employees, but a part of our workplace cultural that we have built to hold each other accountable and to have fun while doing it.  Wellness means different things to different people, so we try our best to cover all areas of wellness such as, but not limited to, the physical, mental, and financial well-being of employees," Sharif said.
Concord received the second place award for employers with 500-1,499 employees, said Peter L. Franzese, public affairs and projects manager. The city has won a few of these awards in the past including: fourth place in 2017, fifth place in 2018 and seventh place in 2019.
Concord offers annual programs for the health of its employees. The city offers mass health screenings, an annual health and wellness fair, monthly wellness educational seminars, on-site flu shot campaigns and other wellness seminars. To get employees involved in keeping track of their health, the city holds events like sleep tracking challenges, water replacement challenges and team step challenges. And without employee participation, Franzese said, the health and wellness programs wouldn't be as successful.
"The City has been able to achieve this wonderful recognition due to the overwhelming participation and desired engagement of our coworkers," he stated. "We also receive support from elected and appointed leaders, as well as vendors that provide the platform to offer many of the benefits that City of Concord has to offer. The City invests in wellness and we continue to see the positive impact it has on our workforce in many ways."
The Concord City office also has an Onsite Wellness Center staffed with a nurse practitioner and medical assistant. City staff also continue to invest in the on-site clinic Franzese said.
"Applicable HR members also annually sit down each year to take deeper dives into our onsite clinic utilization, claims data, care gap analysis, survey areas of interest for employees and review medication dispensing for the city as a whole," he said.
Human Resources Director, Tihisha Sharif