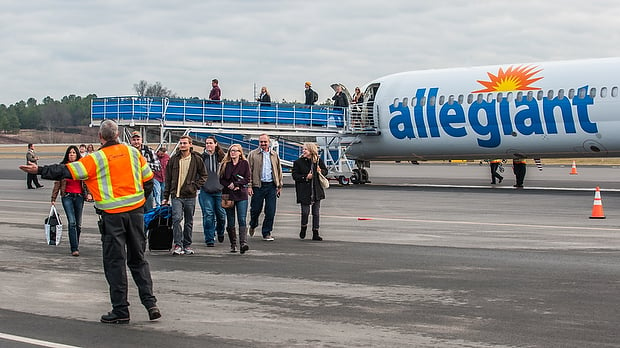 CONCORD, N.C. – Allegiant Airlines plans to add six new flights per week to three additional Florida destinations starting in October, Concord Regional Airport Director Rick Cloutier said Tuesday.
Allegiant Air began service from Concord Regional Airport to Orlando Sanford International Airport on Dec. 20 with two flights weekly.
"It's been about six months now since service was started with two departures per week. We have an average of over 95 percent capacity on every flight," Cloutier said. "That's a pretty big number compared to other industry averages. Allegiant is very pleased with their popularity"
Cloutier said Allegiant is proposing expanding to six more departures per week beginning in October. They will expand the flight offerings throughout the fall, Cloutier said.
"They will add three more destinations, also, with this increase. We would continue using our current space right now. We have continued discussing this right now with the TSA [Transportation Security Administration]," Cloutier said. "The airport will no longer be doing the baggage handling and ground service for the airline. The airline would provide that service. They will have their own customer service agents and ramp agents."
The new service would also create about 12 jobs at the airport. The employees would be employed by Allegiant, Cloutier said.
The airline will lease additional gate space from Concord Regional Airport. It will also rent office space. The airline is looking at a five-day a week schedule: Monday, Tuesday, Wednesday, Saturday and Sunday, Cloutier said.
Cloutier said all three of the destinations are existing Allegiant destinations in Florida. Allegiant's Florida destinations include Orlando, Fort Lauderdale, Tampa, Daytona and Palm Beach. The Orlando destination is already offered at Concord Regional Airport.
"They are looking at hiring 12-14 personnel to provide this service," Cloutier said. "There will be ramp agents, baggage handling agents, service agents."
Contact reporter Karen Cimino Wilson: 704-789-9141.
Be the first to know
Get local news delivered to your inbox!