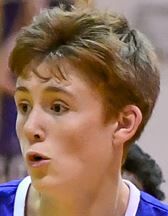 SALUSBURY – With senior Jadon Carnes pouring in a career-best 30 points, the Mount Pleasant boys basketball team secured an 85-80 victory at East Rowan Tuesday night.
Carnes led four Tigers in double figures in the non-conference win over the Mustangs,
Brady Duke added 24 points for Mount Pleasant (1-0), while Lawson Little and Easton Leonard contributed 10 points apiece.
Carnes added nine rebounds and four assists.
Mount Pleasant overcame an early deficit, as the Mustangs (0-1) held a narrow 15-13 edge after one quarter of play, and the Tigers trailed by 10 points at halftime, 41-31.
But when the Tigers warmed up in the third quarter, there was nothing the Mustangs could do, and Mount Pleasant went on to secure the opening-night win.
Tigers take the court again next Tuesday when they host Monroe Piedmont.