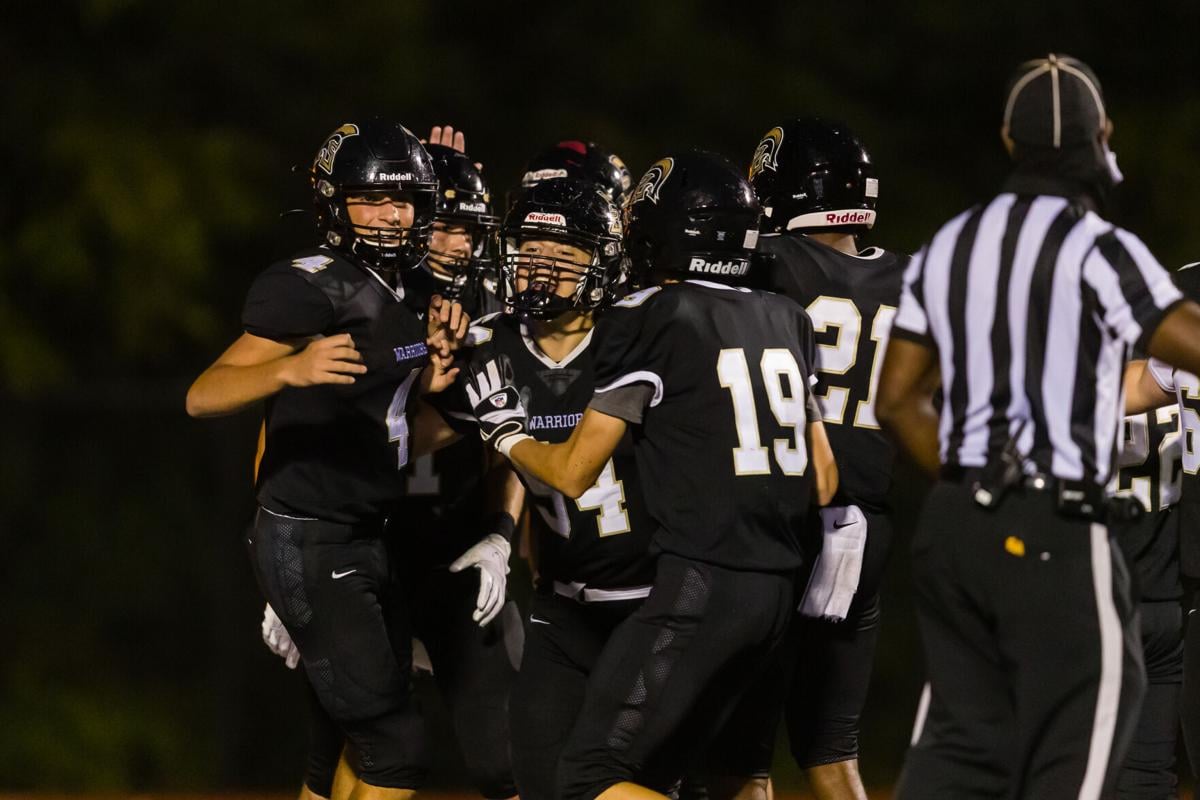 CONCORD – The Cabarrus Warriors scored four different ways, and their pass defense turned in a red-zone stop in the game's final seconds as they turned away North Raleigh Christian Academy at Randy Marion Field Friday, 21-14, in the high school football season opener for both teams.
Cabarrus held a two-touchdown lead early in the fourth quarter, and it seemed to be wearing down the visitors physically. But NRCA strung together a nine-play, 71-yard scoring drive midway through the final period to cut its deficit in half.
The Warriors shaved fewer than two minutes off the clock on their next drive, and the Knights regained possession at their 42-yard line with 2 minutes, 38 seconds remaining. NRCA Reserve quarterback Connor McGann's 14-yard completion on fourth-and-7 at the Cabarrus 44 helped keep the drive alive.
NRCA had first down at the Cabarrus 15 before the Warriors called a timeout. Afterward, the McGann threw twice to the end zone to Jacob Hukins, one of which was batted away by Cabarrus' Zack Kellman.
After a completion to Rogerick Ray yielded no gain, McGann again looked for Hukins on the left side of the end zone on fourth down. The 6-foot-3-inch Hukins and the 5-9 Kellman battled for the ball. and again Kellman knocked it away.
"That was a defensive team effort right there," said Kellman, a senior. "He had run that same route two plays prior so I was expecting an inside route, but he cut it outside. But that's a team win right there."
Jamie Bolton, who won his first game as Cabarrus' head coach, said the Warriors started 10 underclassmen.
"I knew we were going to make some mistakes here and there," said Bolton. "... I kept telling our kids, 'Good things are going to happen, bad things are going to happen. It's how we respond that makes a difference.'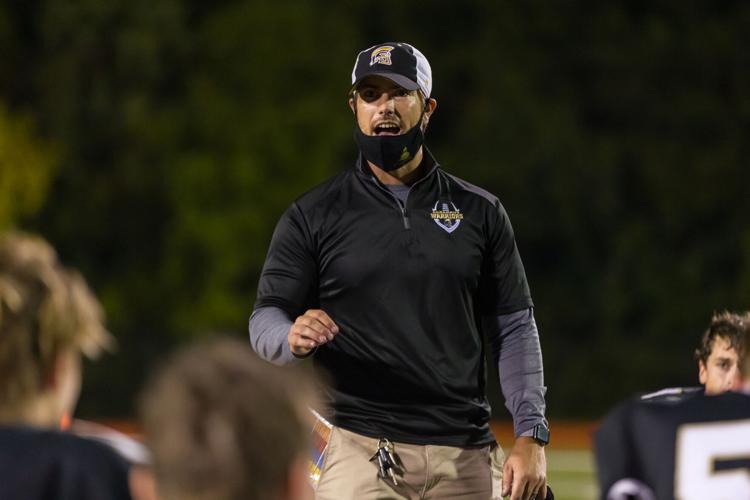 "I thought our kids had more positive responses tonight that put them in position to be successful."
North Raleigh Christian Academy 0-1, 0-0 Big East Conference; Cabarrus Warriors 1-0, Piedmont Conference
A safety and an improving passing game helped Cabarrus gain momentum in the third quarter. A 9-yard touchdown run by Will Jones helped the Warriors gain their first lead, 12-7, midway through the third period.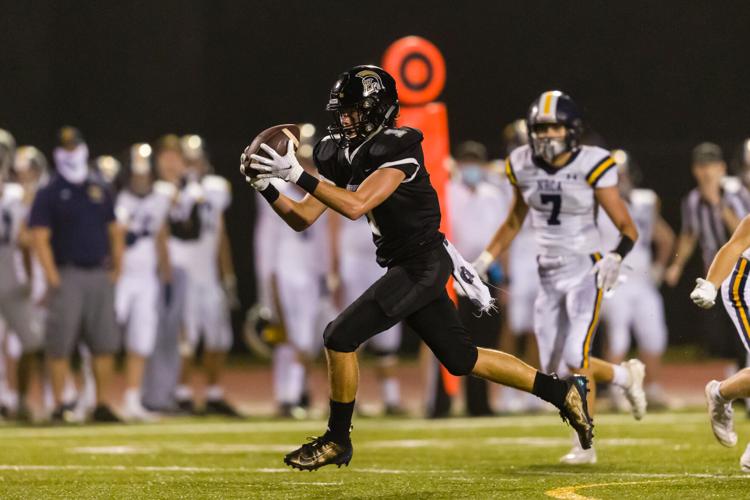 Cabarrus scored the decisive points when freshman quarterback Tyler Green found Michael Dickens cutting through a seam in the middle of the field. The senior tight end reeled in Green's quick strike and scooted untouched to the end zone for a 63-yard touchdown and a 21-7 advantage.
North Raleigh Christian Academy
-- Ray, who led the Knights with 74 yards rushing on 13 carries, also led the defense with nine tackles.
-- Green, starting his first varsity game, completed 19 of 33 pass attempts for 239 yards and a touchdown. He inspired Cabarrus during a stretch to close the third quarter in which he connected on five of six throws for 132 yards and a score.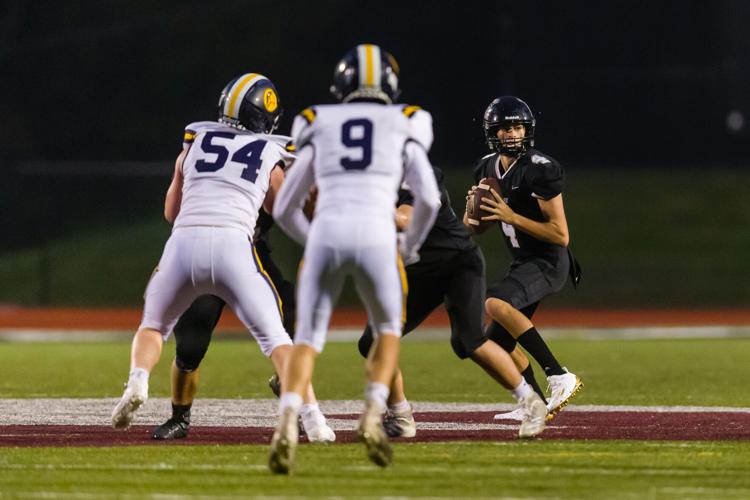 -- Freshman running back Jones, who was also a presence on defense, led the Warriors with 82 yards rushing on 23 carries.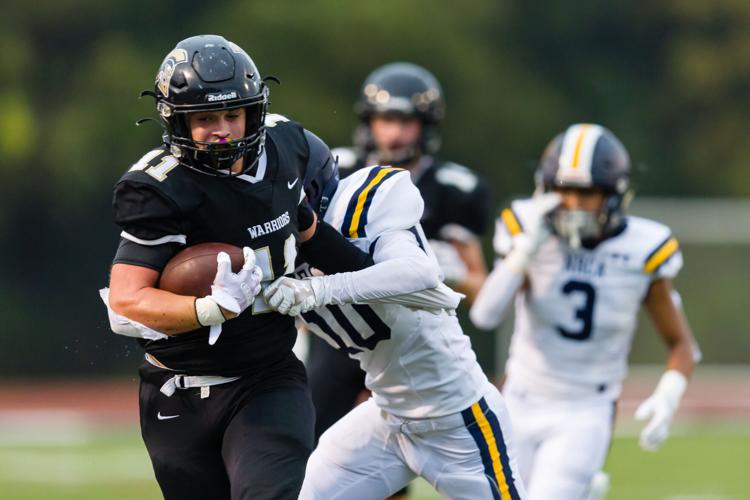 -- Kellman, a senior, had game-highs of five catches and 78 yards receiving.
-- Dickens tallied 78 receiving yards on four receptions.
-- Defensively, freshman Gavin Powell (interception) and sophomore Jackson Schultz (fumble recovery) registered turnovers.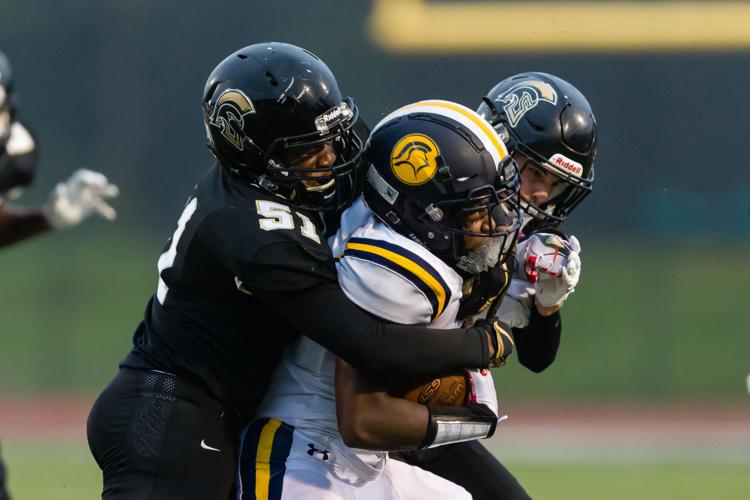 -- The game looked like a slugfest in the making when NRCA drove 85 yards on seven plays and built an early 7-0 lead. Cabarrus quickly answered by driving 69 yards on 11 plays and finishing with a 21-yard Timothy Watson field goal. Watson added a 32-yarder early in the fourth quarter.
-- Cabarrus defensive end Waylan Petiote dropped NRCA running back Dalton Bennett in the end zone for a safety. It was set up by Watson's punt that took about a 10-yard bounce and rolled to the NRCA 2-yard line.
-- Cabarrus was a yard away from the end zone in the second quarter. The Warriors drove 80 yards in 13 plays. But on second-and-goal from the 1-yard line, Green dashed toward the center from his shotgun position and mishandled a quick snap. The Knights recovered the fumble to thwart Cabarrus' threat.
NRCA plays host to Harrells Christian Academy on Oct. 2, while Cabarrus welcomes Matthews Covenant Day on Oct. 5.
North Raleigh           7       0        0     7       -- 14
Cabarrus Warriors 3       0       15     3       -- 21       
NR – Khalil Snell 15 run (Nolan Rock kick).
CW – Timothy Watson 21 field goal
CW – Waylan Petiote tackles Dalton Bennett in end zone.
CW – Will Jones 9 run (Watson kick)
CW – Michael Dickens 63 pass from Tyler Green (pass failed)
CW – Watson 32 field goal
NR – Rogerick Ray 3 run (Rock kick)
Be the first to know
Get local news delivered to your inbox!