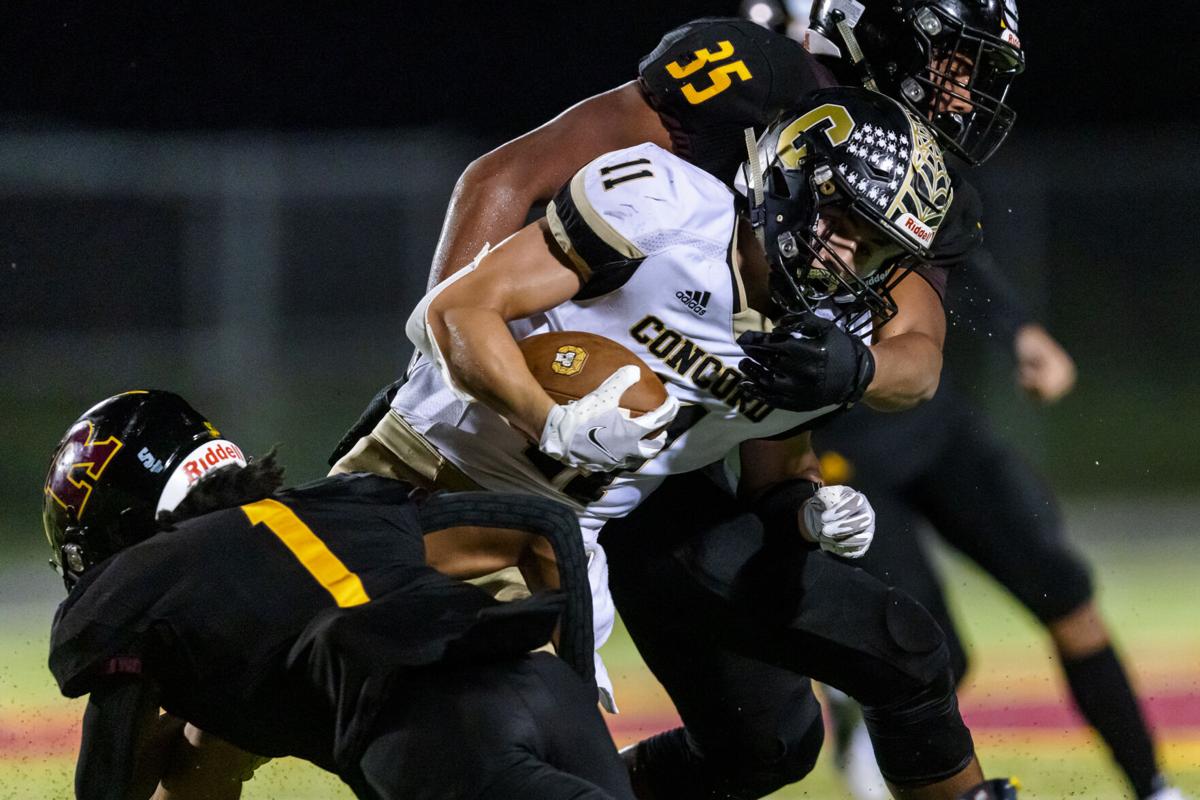 CONCORD – For much of Friday night in Bulldog Stadium, it was a Rock 'Em, Sock 'Em game between a pair of old South Piedmont foes, and both Concord and Jay M. Robinson had their chances to take control.
But Concord's untimely turnovers and Jay M. Robinson's ability to make the big play ultimately was the deciding factor as the Cream of Cabarrus third-ranked Bulldogs took a 20-0 victory over the Spiders in the 2021 season opener.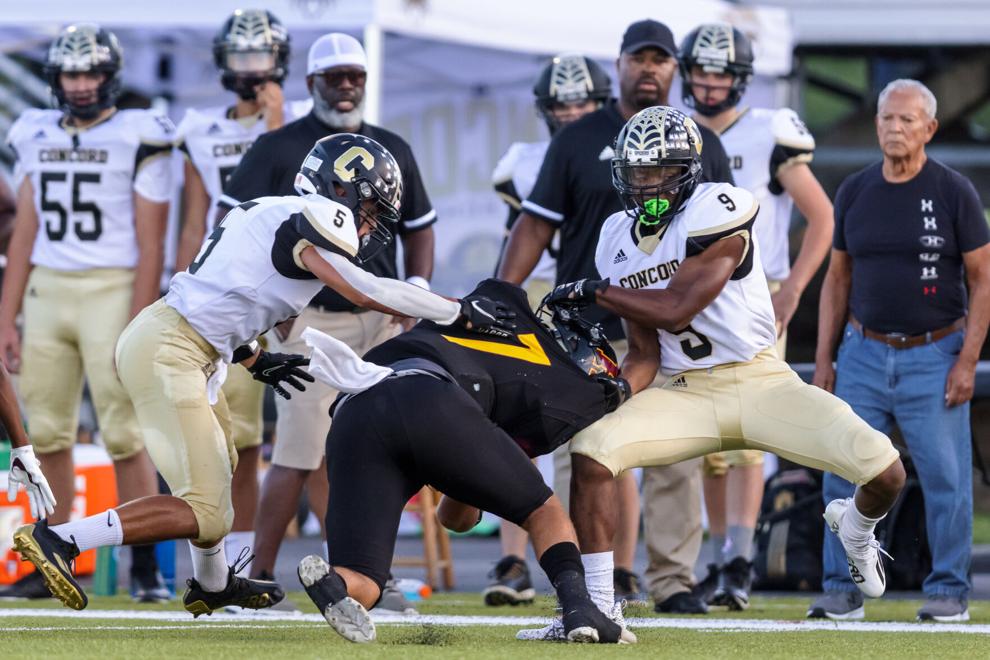 The two teams are in different leagues now – Concord is still in the SPC, while Jay M. Robinson has dropped down to the Yadkin Valley 1A/2A – but it was still a close contest until the Spiders' mistakes and the Bulldogs' Daevin Hobbs (an offensive touchdown and a defensive score) began to make their presence felt.
Jay M. Robinson clung to a slim 6-0 lead going into the fourth quarter, but the Spiders ended the night with four turnovers, while the Bulldogs closed out the game with a pair of touchdowns in the final 10 minutes, 28 seconds.
Although it was the dawning of a new season, Jay M. Robinson second-year coach Darius Robinson said Friday night's win was just as much about last year – when his team almost tied for the SPC title and reached the Class 3A state playoffs – as it was this year.
"The big difference was just having last year under our belts," the Bulldogs' mentor said. "Last year, we were taking over a 1-10 football team, so they were trying to figure out how to win. So this team right here, even though things weren't pretty for us offensively early on, everyone just kept their composure. Everybody was fine, nobody was panicking, nobody was questioning anything. So when all of that transpired, that's when we got the third and fourth quarter that we got.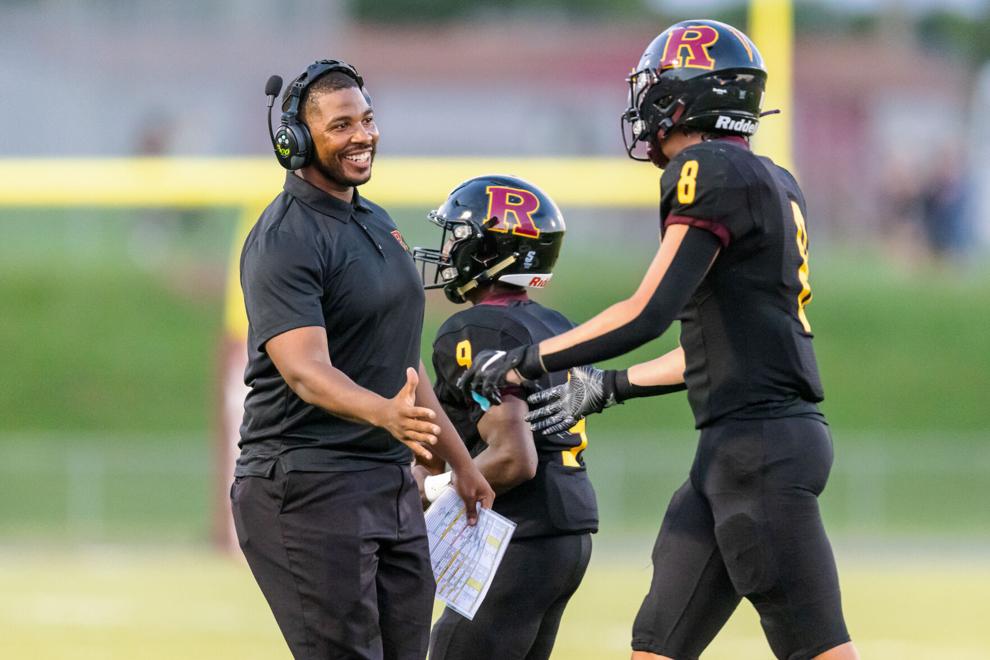 "Guys knew how to just get the fire ignited, and it was a beautiful thing to see," Robinson added. "Because last year's team, sometimes when we were in those situations, you saw guys getting flustered. Tonight, you didn't see that. You saw everybody keeping their composure."
Concord 0-1 overall, 0-0 South Piedmont 3A Conference; Jay M. Robinson 1-0, 0-0 Yadkin Valley 1A/2A
Early in the fourth quarter, the Spiders were driving and had crossed midfield. Concord quarterback Zack Jenkins ran on first down and was fighting for extra yardage in traffic, when Hobbs stripped the ball and knocked it to the turf.
The 6-foot-6, 240-pound Hobbs scooped up the ball and galloped 51 yards for the touchdown, putting the Bulldogs farther in front, 12-0.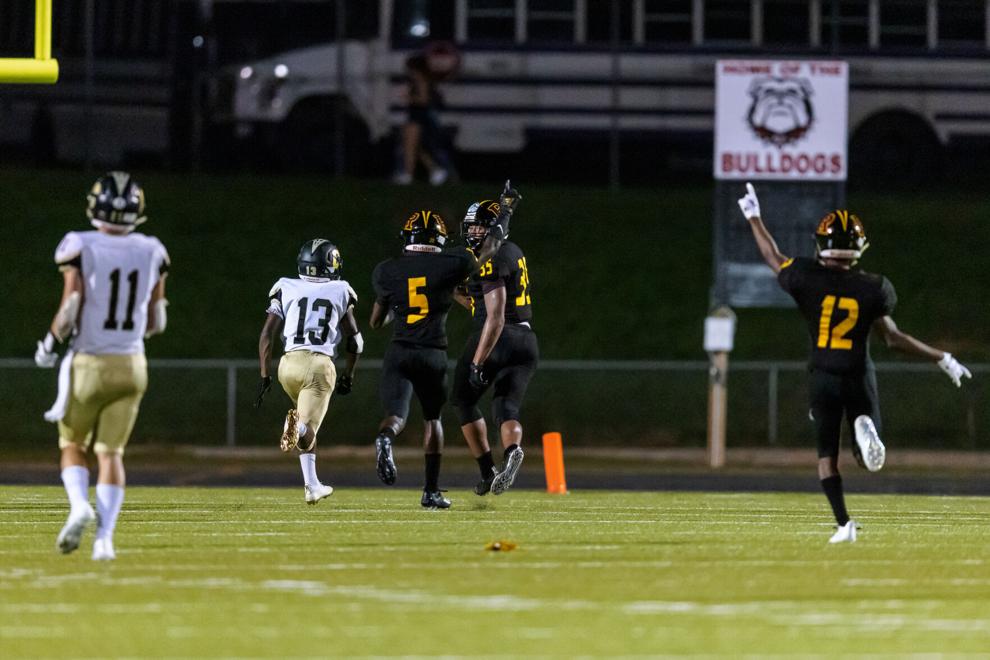 It was one of many plays in which the Spiders failed to capitalize when they seemed to have momentum swinging their way.
"We've got to make plays when plays present themselves," Concord coach Marty Paxton said. "That's simply put. We had some open guys in the end zone, maybe some dropped balls. Or if it wasn't dropped balls, maybe it was missed blocks. But the bottom line is we've got to make plays when plays present themselves."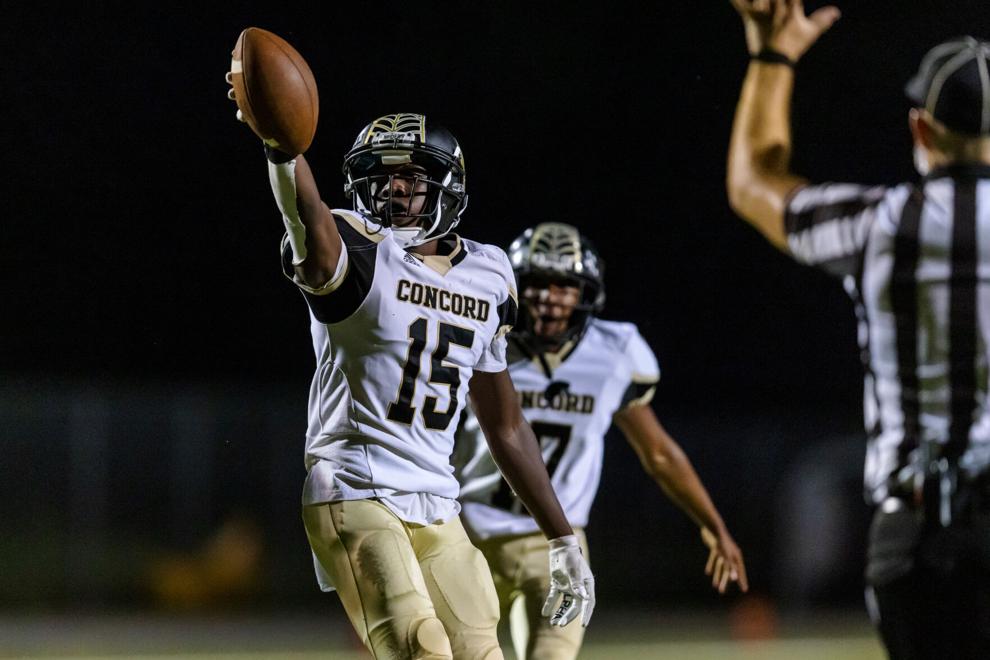 --  Kadin Presutti was electric at times. The first time he touched the ball, he scampered 51 yards around the right side to move to the Bulldogs' 15-yard line, but the drive stalled when he had trouble handing a pitch from Jenkins on fourth down, resulting in a turnover. Presutti also caught a pass for 26 yards.
--  Although he threw an interception and had the fourth-quarter fumble, Jenkins completed eight of his 20 passes for 144 yards.
 -- Brenden Crowder and Jameson Hackett played well for the Concord defense, with each registering 5.5 tackles.
 --  Jarrell Smith added a sack for the Spiders, and Tristan Pitman had a first-half interception to stall a big Jay M. Robinson drive.
 -- Besides his scoop-and-score, Hobbs also caught a 33-yard touchdown pass and added a reception for a two-point conversion.
 -- Quarterback Blue Monroe was 7-for-12 passing for 152 yards with a touchdown and an interception.
"It's big for us," Monroe said of the win. "We're in a 2A conference, and to come out and beat a 3A team is a big confidence booster. We came into the season with confidence and came into this game with confidence, but we have a lot to work on on the offensive side – the defense played great. But we got this game down, and we got the win "
-- After some early struggles, running back Will Suttles heated up in the second half and ended the night with 16 carries for 100 yards the outcome deciding points on a 23-yard touchdown run.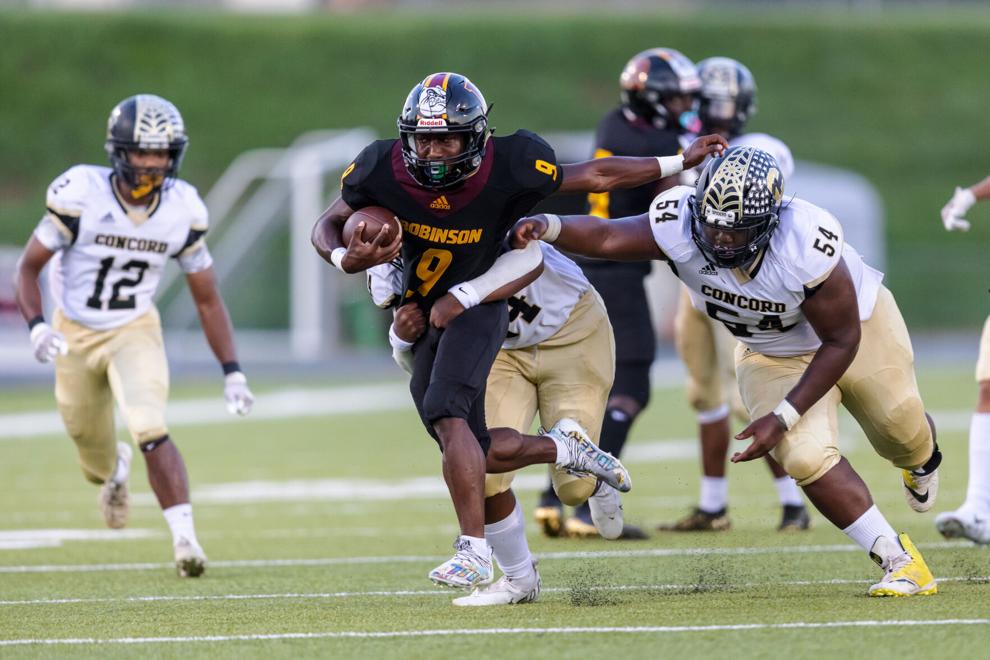 "As the game went on, the more my teammates get locked in," said the 5-5, 140-pound Suttles. "And the more they get locked in, the more I get locked in and started to my job. Once they do their job, I can do my job better."
--  The Bulldogs added two interceptions, both in the fourth quarter. First, with Concord threatening from the 10-yard line, Shimill Flake stepped in front of a Presutti pass to end the drive. Then, with just seconds remaining in the game, Simarion Hughes picked off Jenkins near the end zone.
 -- Hughes also was the Bulldogs' leading receiver with two catches for 72 yards.
-- The Bulldogs' defensive front of Lorenzo Morgan, Terrell Macklin and D'Nas White was impenetrable at times. Linebackers Elias Martinez and Jaelin Tillman were also very active.
 -- Jay M. Robinson PA announcer Joe Serviss did his thing. Serviss, who teaches business, marketing and finance at the school kept the crowd entertained all night. When he introduced the Jay M. Robinson band at halftime, "The Pride of Robinson," which was indeed good, he made it seem as if the hottest pop band in the world were taking the stage. He was also able to establish some pretty cool atmosphere, managing to get the fiery crowd to take a moment to appreciate the lightning bugs fluttering through Bulldog Stadium.
 -- The Atrium Health folks on the sidelines Friday night were pretty busy, with the game being stopped several times because of injury, mostly cramps.
 -- The game featured no extra-point or field goal attempts, as the Bulldogs went for two on each of their three touchdowns, and the Spiders failed to reach the end zone.
Concord plays host to Monroe Parkwood, while Jay M. Robinson visits another old SPC foe, Central Cabarrus.
Concord                0   0  0     0 --   0
Jay M. Robinson  0    6  0   14 -- 20
JMR – Daevin Hobbs 33 pass from Blue Monroe (pass failed)
JMR – Hobbs 51 fumble recovery (run failed)
JMR – William Suttles 23 run (Hobbs pass from Monroe)