CONCORD – Maybe it's not quite fair to talk about the "history" of the Cabarrus Warriors. After all, the 2020 season marks just the second year of existence for the co-op team of players from Cannon School and Concord Academy.
But the fact is the Warriors are rewriting their history books. And, according to their coach, they've done it without even playing their best football just yet.
In a rare Monday night game, the Warriors used stellar defense to overcome shortcomings in other areas to take a 31-3 victory over visiting Matthews Covenant Day at Randy Marion Field.
The Warriors are now unbeaten after two games for the first time in program history, and they've totaled 52 points on the season following their 21-14 win over North Raleigh Christian on opening night. Last year, it took the Warriors five games into the season to reach that point total.
Junior defensive back Josh Reid and sophomore linebacker Randy Marion III scored defensive touchdowns for the Cabarrus team, which handled Covenant Day's triple-option offense with aplomb.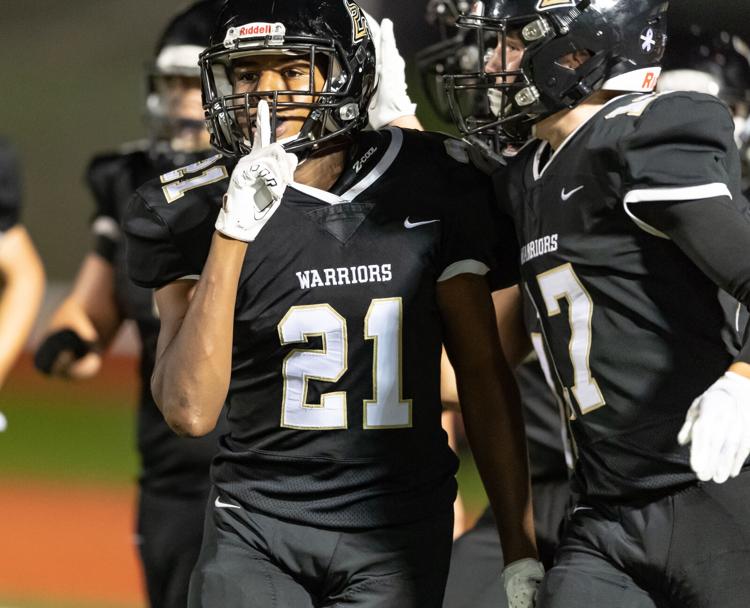 "It was a great overall defensive effort," Reid said. "I know with my interception, Gavin Powell made a great break on the ball, and it bounced off of him. I caught it, and I had some great blocks from Michael Dickens and Ashton Cunningham and some other great defensive players, and I just happened to score. That was a pretty special feeling."
The Lions never broke for any big runs, and Covenant Day quarterback Daniel Nelson was under duress all night long. The Warriors' defense often shut down the Covenant Day offense before it could get going, with many tackles made in the backfield.
The result was a perfect start to the season, record-wise, meaning the Warriors have already equaled last year's two-win total.
"There's nothing like being 2-0," said Cabarrus coach Jamie Bolton, a Gaston County native in his first season leading the program.
"Now we're not satisfied at all with our performance tonight, but it's really only Week 2," he added. "We're just a young football team. We've got freshmen at nine different spots. Those kids rallied, but they made a bunch of mistakes tonight, had a lot of penalties. We're just going to have to make some adjustments going forward because we've got a pretty tough schedule down the stretch.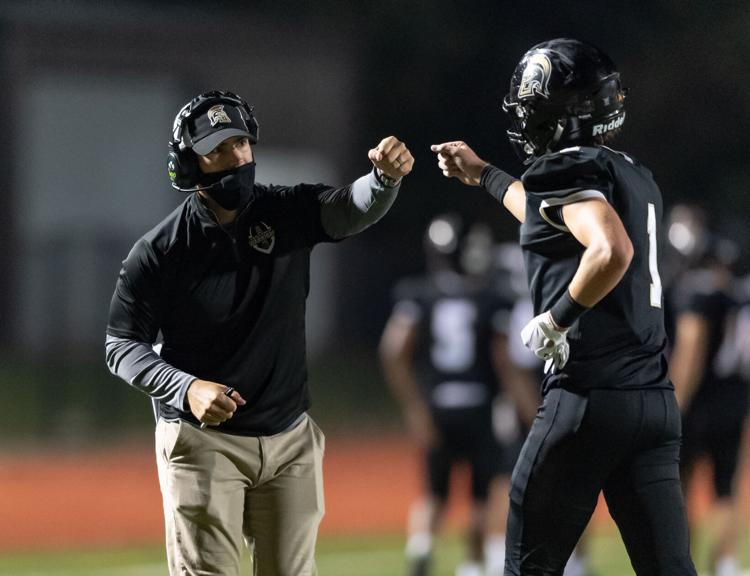 "I told the guys, 'We're not satisfied with just winning; we want to play up to our standard. And right now, we haven't done that. But the defense did a great job and was able to score twice. I feel good about where we are."
Covenant Day 0-1, 0-1 NCISAA Piedmont Conference; Cabarrus Warriors 2-0, 1-0
Despite inheriting good field position when Eli Snodgrass recovering a fumble on the opening kickoff at the Covenant Day 26-yard line, the Warriors failed to convert, with the drive ending in an interception in the end zone.
It was no problem for the defense on this night.
On the Lions' third play at their own 15-yard line, Nelson dropped back to pass, and sophomore defensive end Jackson Schultz was on him quickly, hitting the quarterback and knocking the ball loose. Marion III scooped up the ball and alertly rumbled 5 yards into the end zone for the first score of the game.
They would be the only points the Warriors would need to secure the win.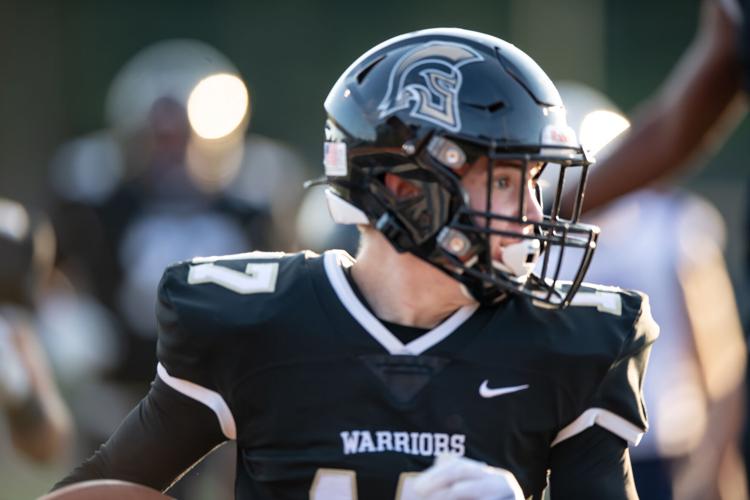 "It was really a great thing," Marion III said. "My coaching staff put me in a great position to go get that ball, and Jack Schultz really helped me out because he went and made the tackle. The ball was just there wrapped like a Christmas gift, and I just picked it up and ran it into the end zone."
 -- Daniel Nelson: Junior quarterback was under pressure all night and went 3-of-12 passing for 44 yards with an interception that was returned for a touchdown.
 -- Isaac Prevette: The senior had an interception in the end zone to end an early Cabarrus scoring drive.
 -- Tyler Green: The freshman quarterback completed 16 of 21 passes for 197 yards and a touchdown.
 -- Gavin Powell: The freshman had a strong overall game. He hauled in six passes for 73 yards and a touchdown as a receiver. Defensively, he deflected a pass that teammate Josh Reid caught and ran for a touchdown.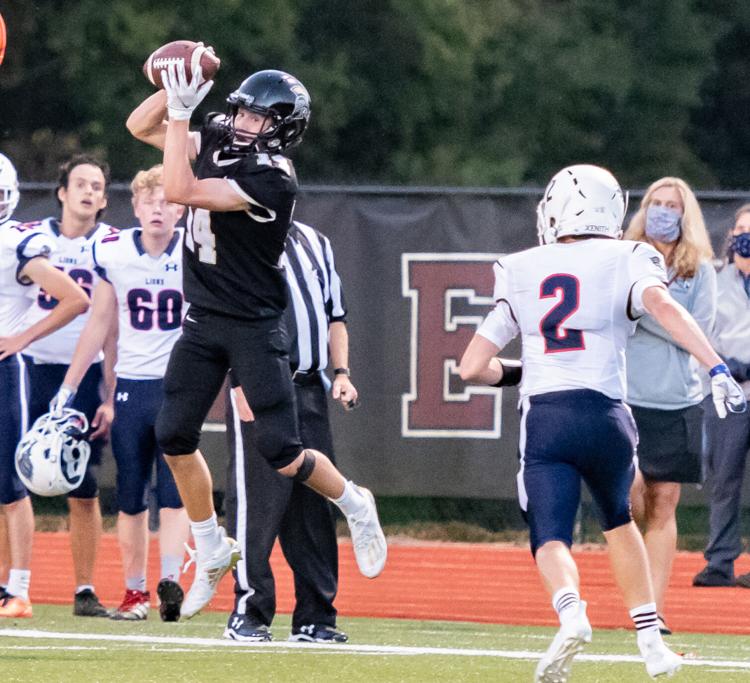 -- Will Jones: The freshman running back had 70 yards rushing and 15 yards receiving.
-- Max Riley: The receiver had three catches for 56 yards.
-- Eli Snodgrass: The sophomore safety recovered a fumble on the opening kickoff to put the Warriors in great field position to start the game.
-- Jackson Schultz: The defensive end was in on several tackles and forced a fumble.
-- Myles Stradford: The junior defensive lineman was a regular in the Covenant Day backfield.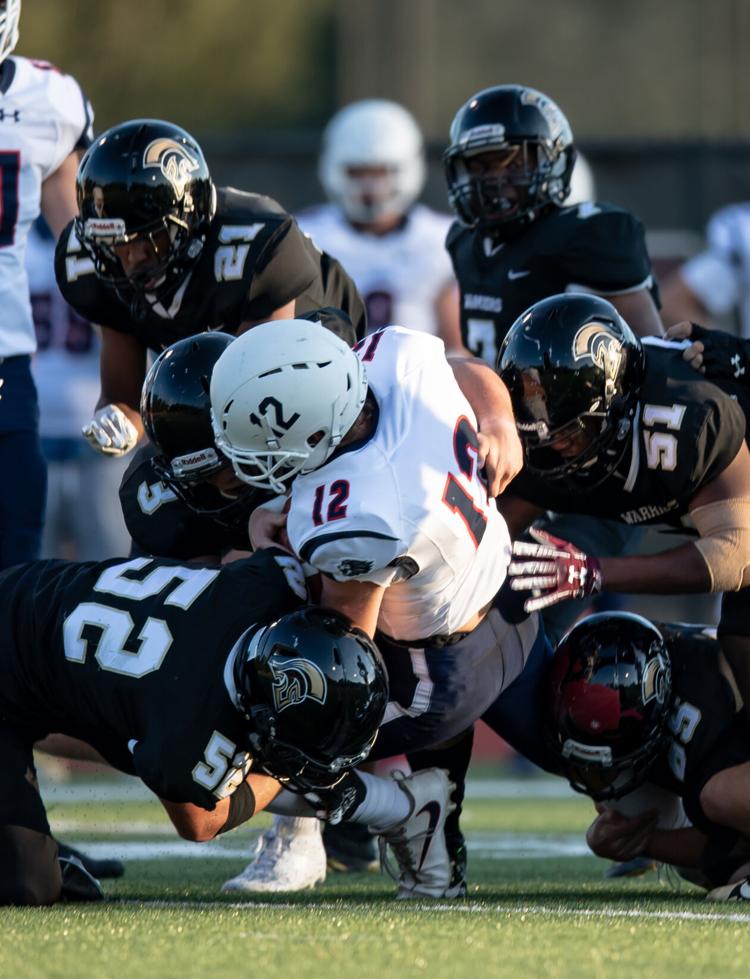 -- Monday's game was the first with fans in the stands. This week, the N.C. Independent Schools Athletic Association changed its initial ruling, permitting parents of senior players to attend games. There also were some vocal Covenant Day fans in the stands.
-- The game was played on Monday night because some members of the Covenant Day student population had been diagnosed with the coronavirus last month. The Warriors agreed to push the game back a few days in order to give Covenant Day enough time to fully recover, but it also means Cabarrus will play two games in a six-day span.
-- Late in the first quarter, Cabarrus standout senior defensive end Waylan Petiote injured his hamstring while sprinting to make a tackle along the sideline. He was unable to return, but Bolton is hopeful he'll be able to play in the next game.                                                      
On Friday, Covenant Day visits Indian Trail Metrolina Christian. On Saturday, the Warriors travel to Georgia to take on Rabun-Gap Nacoochee.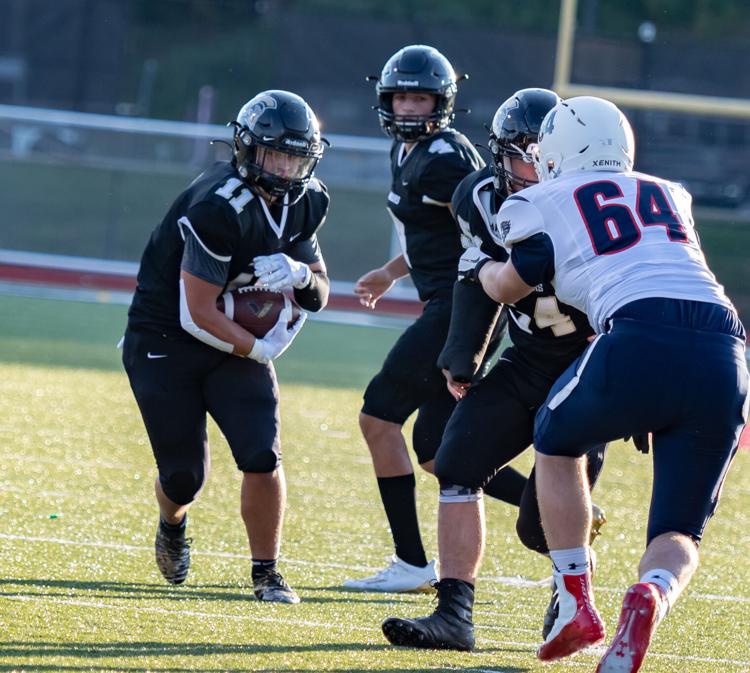 CW – Randy Marion III 5 fumble recovery (Todd Pelino kick), 7:18
CW – Will Jones 3 run (Pelino kick), 4:20
CD – Drew Turner 32 field goal, 58.2
CW – Pelino 28 field goal, :00
CW – Gavin Powell 5 pass from Tyler Green (Pelino kick), 9:09
CW – Josh Reid 21 interception return (Pelino kick), 8:44
Be the first to know
Get local news delivered to your inbox!