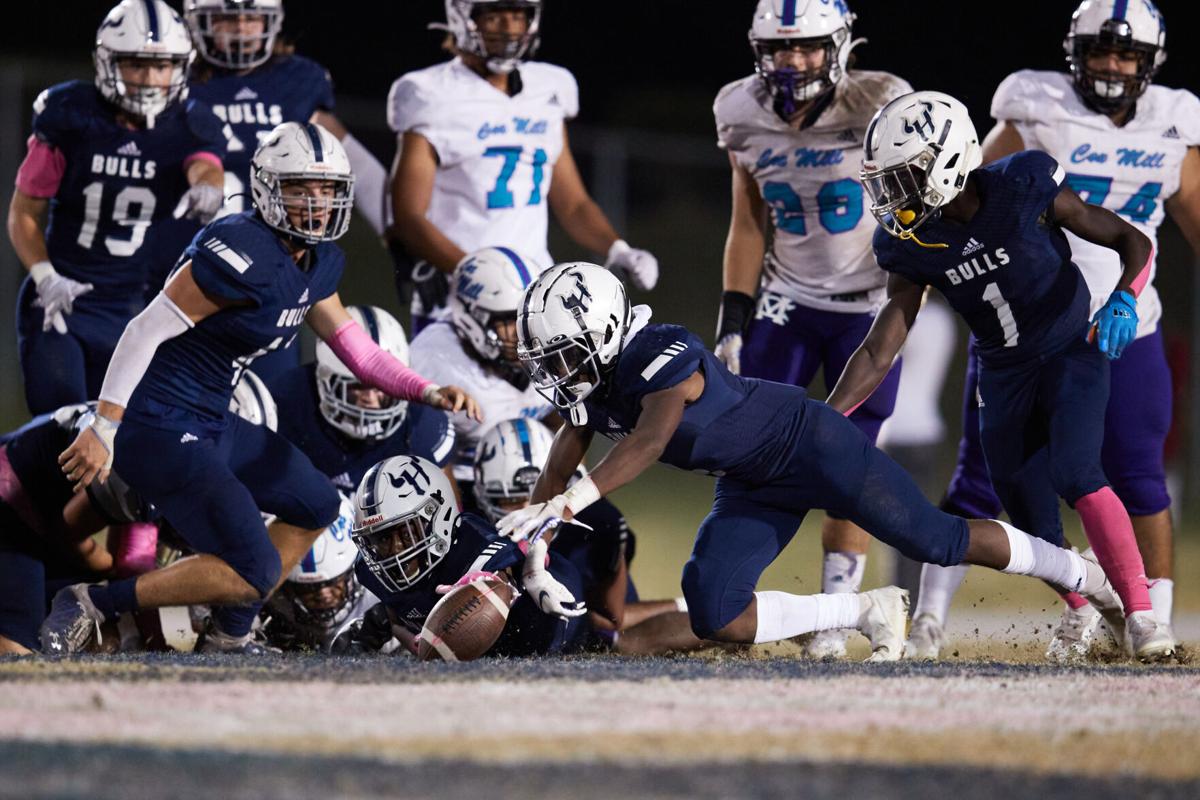 HARRISBURG – This season, Hickory Ridge has been sound on both sides of the ball, but most of the highlight-reel plays have come on offense, with quarterback Alex Bentley throwing long touchdowns to any number of the Bulls' top-flight receivers.
It wasn't that kind of night on Friday.
On this night, the highlight-reel plays came from the Hickory Ridge defense.
In fact, they might've been game-saving plays.
And championship-winning plays.
Despite a relatively sluggish night from the Ragin' Bulls' explosive offense, the defensive unit shut down Cox Mill in the second half, producing three interceptions and two touchdowns of its own, to lift Hickory Ridge to a 28-17 comeback victory over the Chargers at The Ridge.
With the victory, the Cream of Cabarrus No. 1-ranked Ragin' Bulls secured at least a share of the Greater Metro 4 Conference title. It marks the first time since 2012, when the Bulls won the South Piedmont 3A championship, that they have worn a conference crown.
Hickory Ridge is the GMC's only undefeated team in conference play, however, Mooresville and Lake Norman are in a tie for second place with one loss apiece in league games. Those two teams face off in a regular-season finale next week, while the Bulls travel to West Cabarrus, where they can secure the title outright.
Hickory Ridge, however, has beaten Mooresville and Lake Norman head-to-head, so the Bulls would own any tie-breakers for playoff seeding.
"It's big," Hickory Ridge coach Jupiter Wilson said of winning the GMC title. "But our thing next week is we want to be outright (champions), so we've got to finish the job next Friday night going down to West Cabarrus. We've got to be ready to go, and I know we will."
But the Cream of Cabarrus sixth-ranked Chargers gave Hickory Ridge a scare on its home field Friday night.
The Bulls offense had several uncharacteristic turnovers, including losing the ball three straight times in the first half (on a fumbled punt return, and back-to-back interceptions).
All the while, Cox Mill was strategic offensively, finding creative ways to get the ball to standout running back Tyrell Coard and jumping out to a 10-0 lead.
But in the second half, the Hickory Ridge defense literally took things into its own hands, as Layton Clouse and Kyle Perry each had interceptions that they returned for touchdowns, and Christian Hamilton secured his own pick in the game's final moments to make certain the Bulls were titlists.
"(The defensive players) really came out for us," said Hamilton, who is a highly regarded junior receiver who also spends time at defensive back.
"They won us the game. They really won us the game."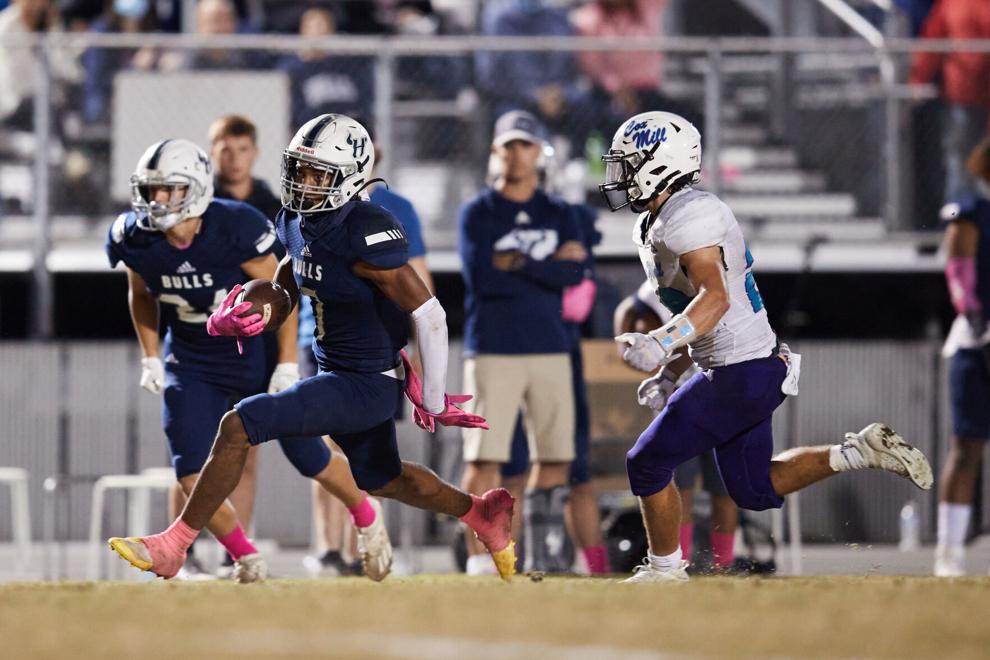 Cox Mill 4-5 overall, 1-4 Greater Metro 4 Conference; Hickory Ridge 7-2, 5-0 GMC
As time wound down in the third quarter, the Chargers were nursing a 17-14 lead following a touchdown run by Hickory Ridge's Randall Fisher.
On the Chargers' first play from scrimmage at the 20-yard line, quarterback Khalel Wright dropped back and fired a pass toward the right sideline. Hickory Ridge junior linebacker Luke Gilbertson came charging in, arms high, and got a piece of the ball, and it bounced perfectly into the hands of junior safety Layton Clouse.
Clouse squeezed the ball, took off and never broke stride as he raced 25 yards into the end zone, giving the Bulls a 21-17 lead with 2:08 left in the quarter.
The crowd rose to its feet, the momentum began to shift, and Hickory Ridge led the rest of the way.
"It was a Cover-3 call, I was in the flats, (Miles) tipped it, the guys opened up a lane, and I ran right to that touchdown," Clouse explained. "I just felt extremely supported by my team and all the fans cheering me on."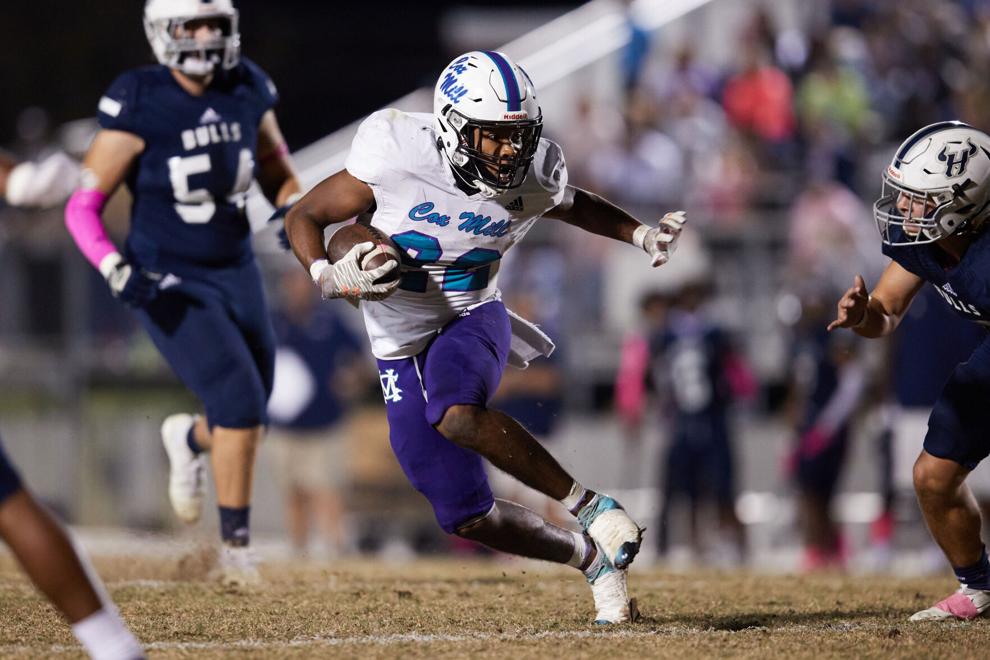 ● The Chargers used Coard effectively as a runner and a receiver. He carried 27 times for 133 yards and touchdown, and caught two passes for 61 yards and another trip to the end zone.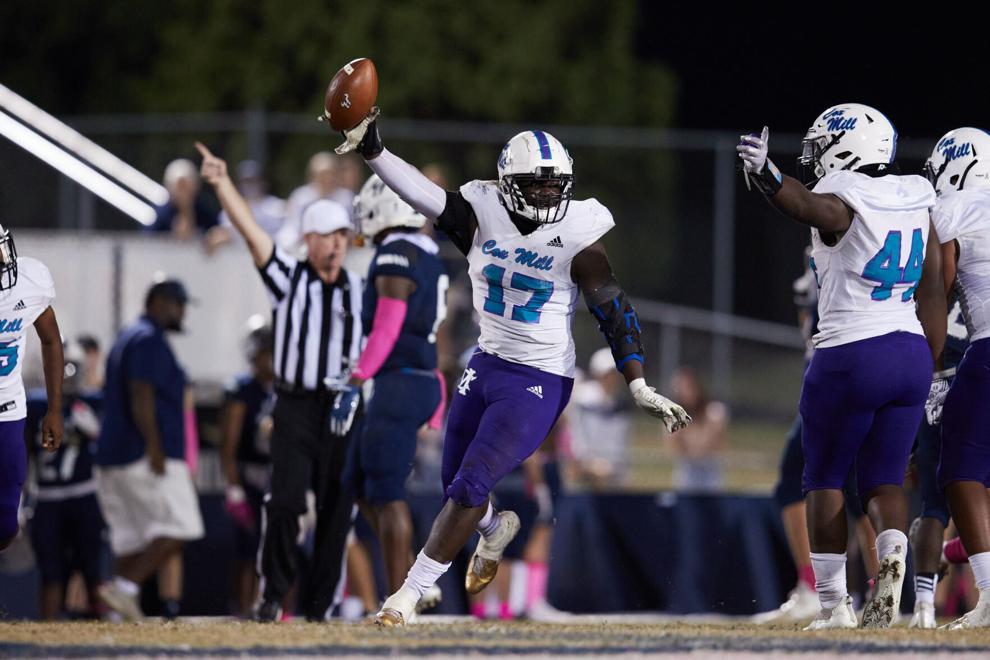 ● Senior defensive end Tyshon Bullock kept pressure on Bentley all night and registered several tackles and an interception.
● Senior defensive back CJ Wilson had an interception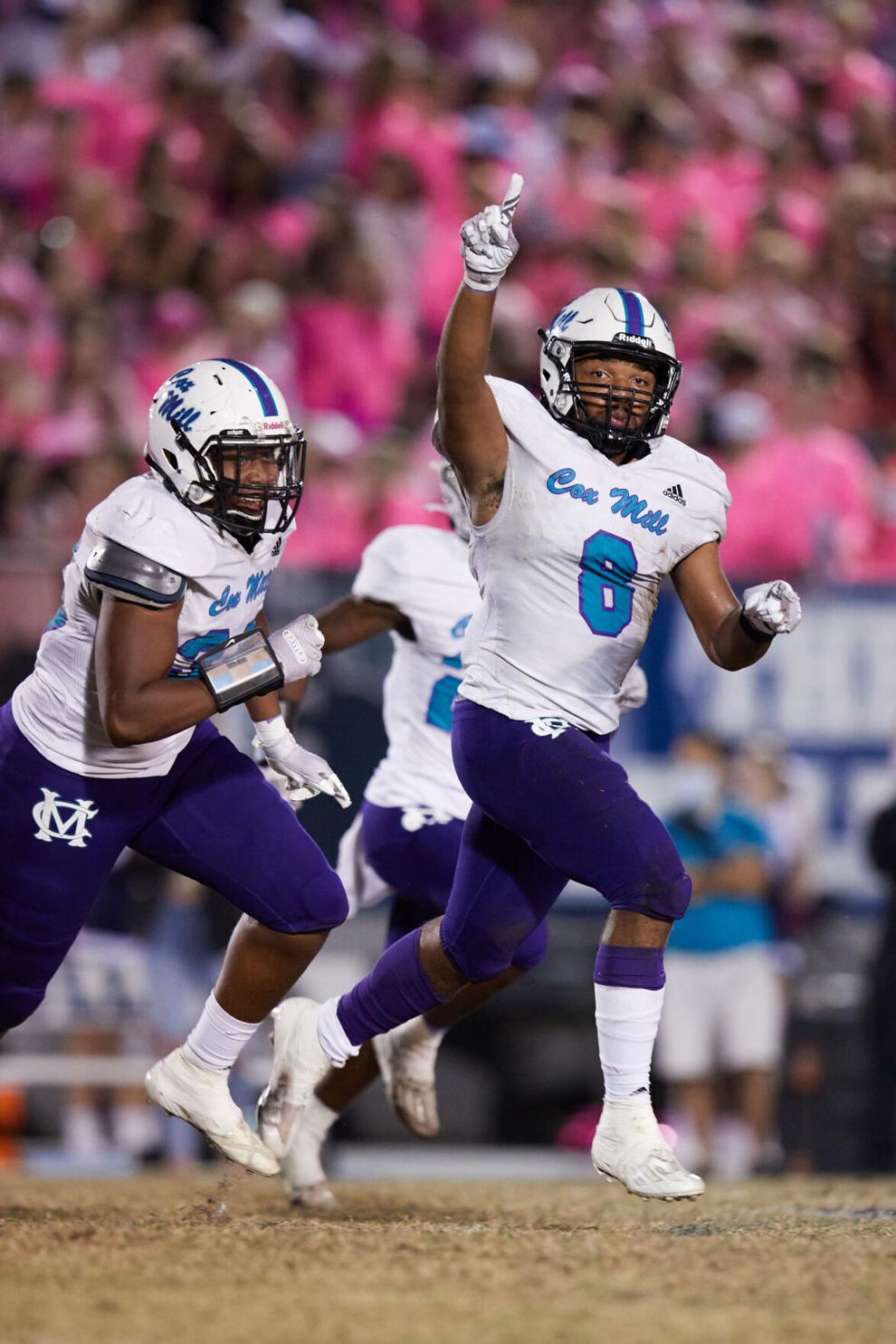 ● Perry was in the thick of things defensively all night for the Ragin' Bulls. While also getting his nose in on several tackles, he had a big interception that he returned 40 yards for a score that put the Bulls up, 28-17.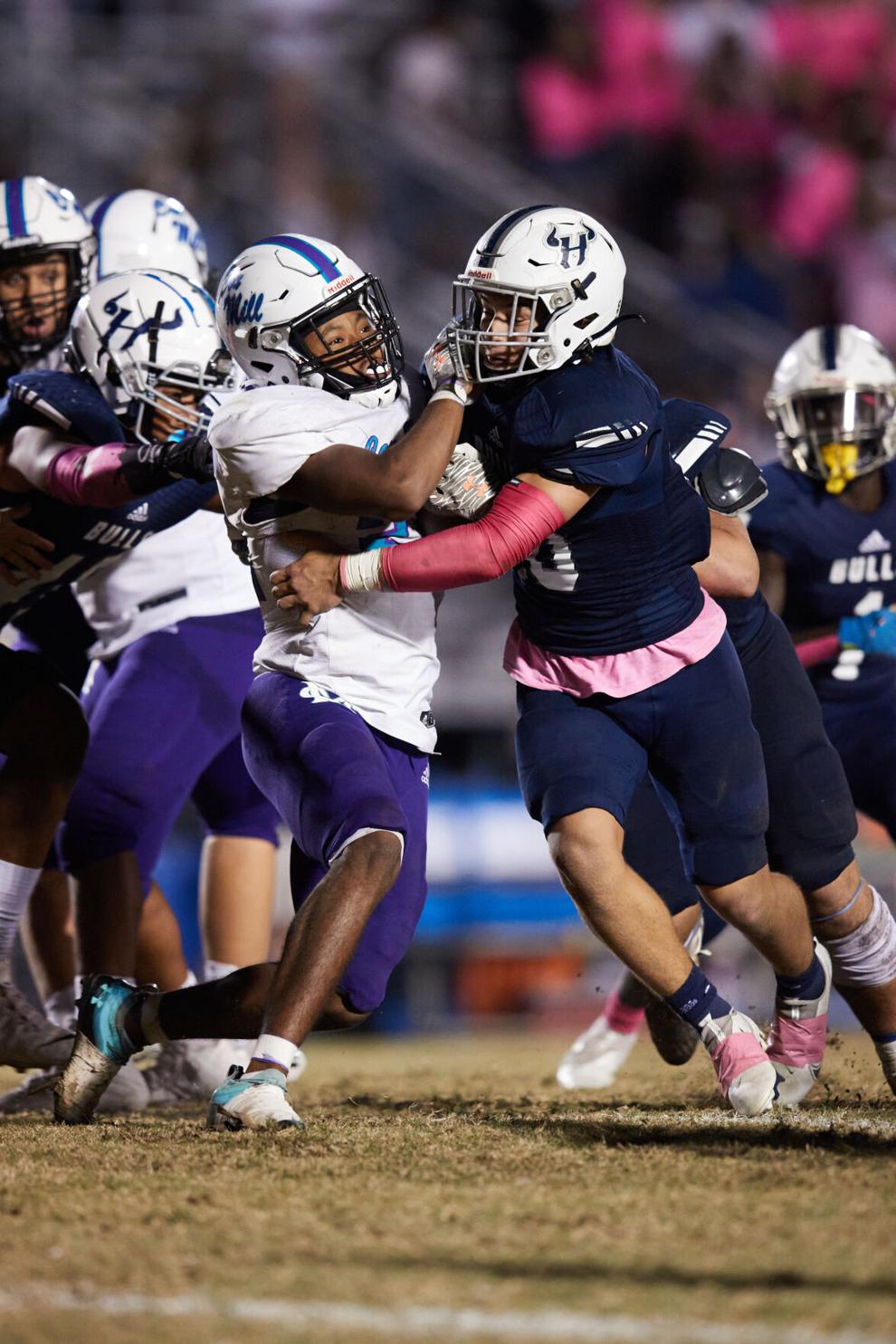 "I saw the quarterback roll out," Perry said. "He throws the ball, and it was right in my hand. After that, I saw nothing but green grass in front of me, and I got in the end zone."
● Senior running back Randall Fisher finished with 17 carries for 98 yards and a touchdown.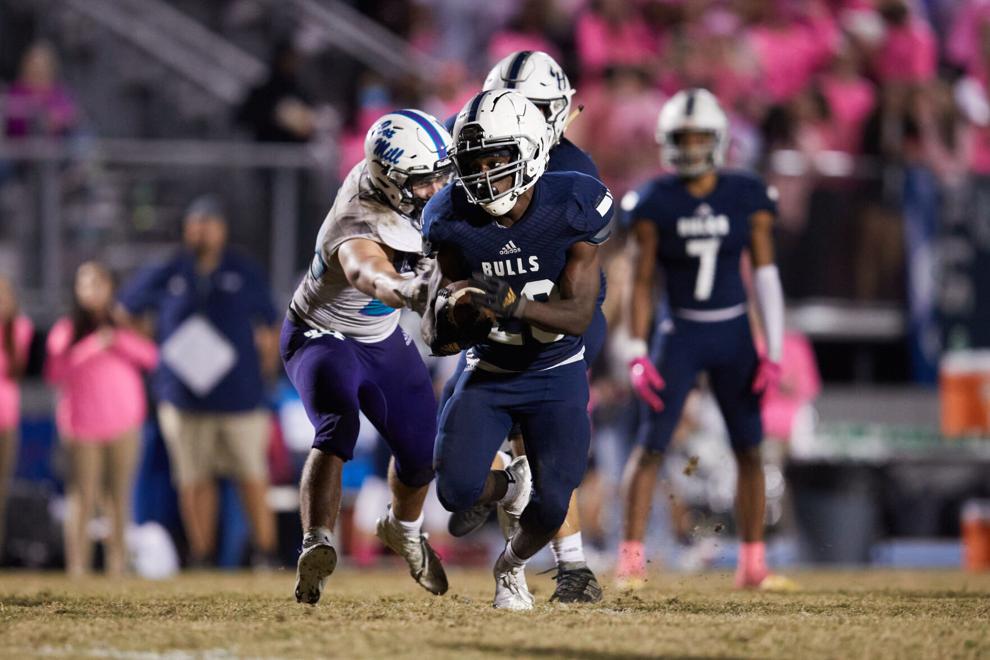 ● Junior linebacker Vincent Tuders recovered a fumble.
● Defensive back Jaylon Pemberton was very active and even had some key pass breakups.
● Ethan Young and Silas Mills helped hurry some of Cox Mill quarterback Wright's passes and made some stops in the backfield.
● It was Senior Night at Hickory Ridge, and the crowd was large and enthusiastic on the first night this season that a game started when it was fully dark outside. For the first time this year, particularly after the COVID-induced spring campaign, it truly felt like football season.
● Going into Friday, the Ragin' Bulls had been scoring an average of 40.5 points per game in GMC play.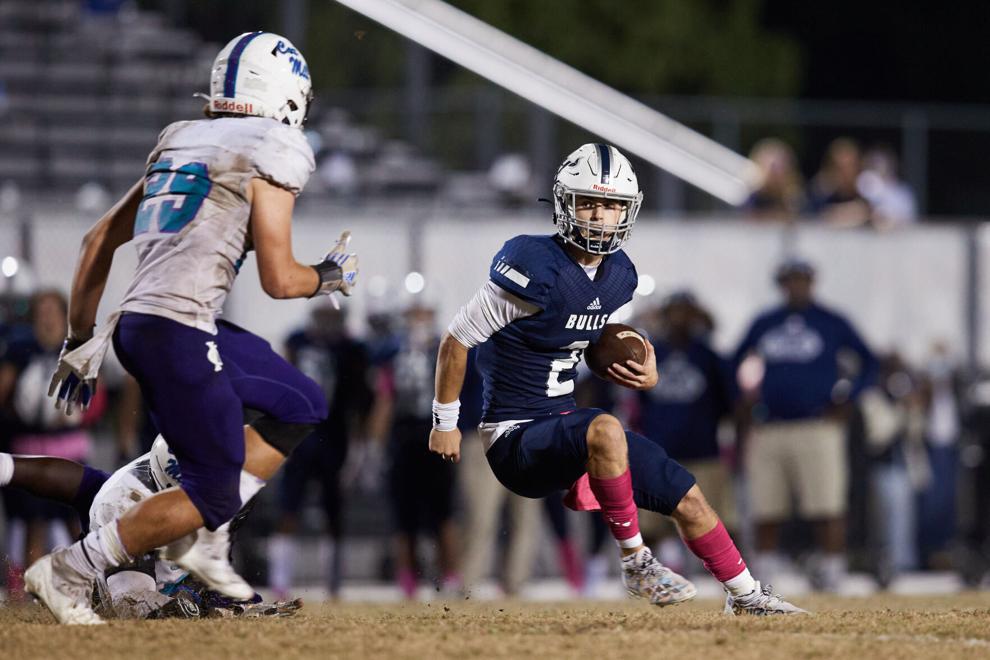 ● The Bulls did put together one highlight-reel offensive play, and it came when Bentley took a keeper 39 yards for the touchdown. However, Bentley, who started sprinting down the left sideline before making some sweet moves to avoid defenders and wound up near the right side of the end zone, probably ran about 60 yards total on the play.
Cox Mill plays host to South Iredell next Friday, while Hickory Ridge travels to West Cabarrus with a chance to wrap up the conference title outright.
Cox Mill                       7       10       0     0 -- 17
Hickory Ridge           0         7     14     7 -- 28
CM – Tyrell Coard 5 run (Sam Weber kick)
CM –  Weber 34 field goal
HR – Alex Bentley 39 run (Will Laing kick)
CM – Coard 46 pass from Khalel Wright (Weber kick)
HR – Randall Fisher 5 run (Laing kick)
HR – Layton Clouse 25 interception return (Laing kick)
HR – Kyle Perry 40 interception return (Laing kick)