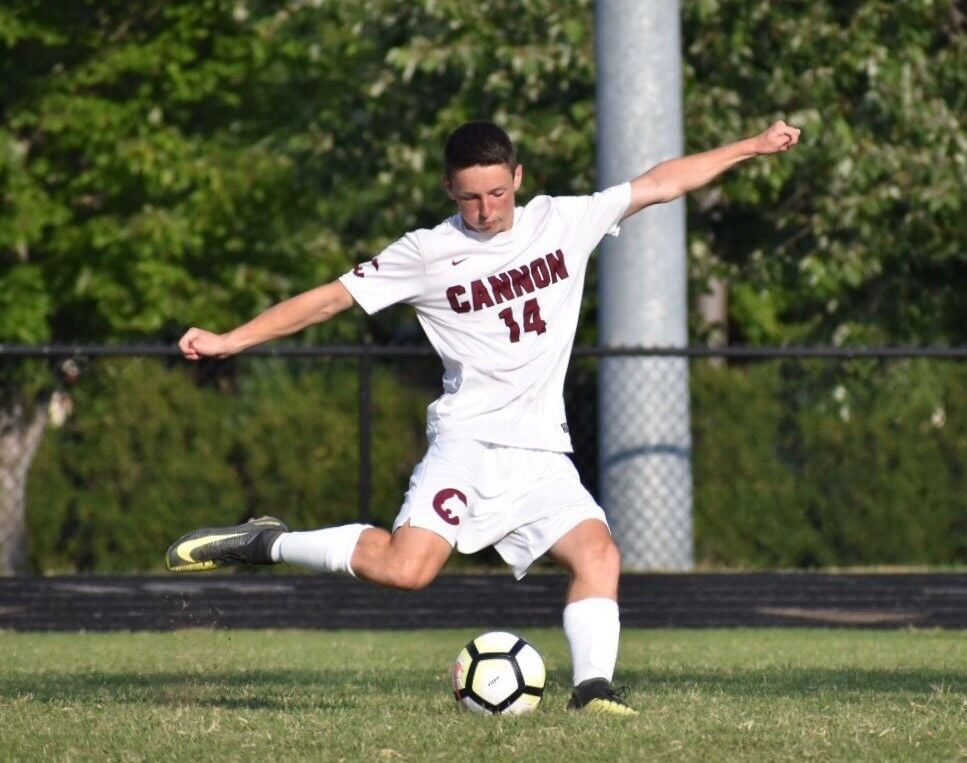 CONCORD – Ask almost any high school athlete what his goals are after high school, and he'll tell you: to play his sport in college at a Division I program.
Cannon School's Jake Wood, a junior soccer player, has that same goal, but with a certain caveat: He wants to play for an Ivy League school.
"I would love to find the best academics I can (in addition to soccer)," Wood stated.
This is no small task, as earning a spot on an Ivy League team would not just be a testament to his prowess on the soccer field but his academic acumen as well.
Wood, a forward/midfielder who led the Cougars last season with 11 goals and five assists, said he has already spoken with one of Dartmouth College's soccer coaches. As he enters his junior season, Wood wants to prove that he belongs at the Ivy League level, both athletically and academically.
On the field, Wood believes one side effect of the COVID-19 pandemic will actually work out in his favor.
With the Ivy League having canceled all fall sports this year, he believes coaches will have more time to devote to scouting and recruiting with no games being played.
As the junior season is often the most pivotal for high school athletes who want to be recruited, this will become even more so for Wood as the Ivy League coaches will have more time on their hands.
Academically, this year will also be crucial for Wood to achieve his goal.
According to Wood, he has gotten all A's in his classes so far in high school. As his schedule ramps up in difficulty, with three Advanced Placement classes and three honors classes on the horizon, he will have an opportunity to bump up his already-lofty grade point average.
With his grades thus far giving him a 4.17 GPA, being able to get all A's again, especially in his AP classes, he could potentially see that GPA increase to a number that would make him even more attractive to those Ivy League schools.
As this crucial school year is just getting going for Wood, he is certainly feeling the effects of the virus in his own preparation, both for soccer and his classes.
Academically, Cannon has started the year with a hybrid model, which involves students alternating weeks between being in the school and learning remotely.
With this model also involving extended class periods and 50-percent class sizes, Wood will have opportunities to learn more while he is in a classroom.
"I have a class with only three people in it," Wood said. "(The classes) can be a little long (with the extended periods)."
As for this fall's soccer season, Wood has had a very different offseason than most when it comes to preparing.
He spent most of the summer playing for the Charlotte Soccer Academy, a club soccer program. But he also had to get creative for exercising, with his school team unable to train together for most of the summer.
His family was able to provide an at-home gym, which allowed him to adequately strength train.
As for conditioning, which is often essential to successful soccer players, Wood had to step out of his comfort zone.
"Before quarantine started, I rarely worked out other than playing soccer," Wood recalled. "I just hated running in general. At the end of March, I thought that if I wasn't going to be playing for the foreseeable future, I should probably make a workout routine.
"I made a routine where I ran a mile every day, or sometimes two miles," Wood continued. "Then, I did pushups and sit-ups every night. On the weekends, I would work out and go play soccer. I would go to my school by myself and just shoot. I did that every week during the summer."
With running regularly being somewhat foreign to him, it could have been difficult for Wood to get in a routine of doing so. Thankfully for him, his sister, Sydney, is one of Cannon's top cross country runners.
Sydney was able to teach him about pacing and some other nuances of successful distance running. However, these were lessons better taught before or after runs rather than during.
As Jake and Sydney recalled a time when they attempted to run together, they both laughed at how different their running styles were.
"I just don't like running with other people," Jake said. "I'm not good at pacing; I just try to run as hard as I can and get as fast as I can, whereas (Sydney) actually knows what she's doing. I'm just trying to get it over with as fast as possible."
Despite the slight brother-sister conflict that arose at times, Wood now has a better idea of how to properly condition himself, thanks to his older sister.
As Wood sets his sights on achieving his Ivy League dreams, he will attempt to utilize the lessons learned from Sydney.
Cannon's boys soccer team will take the field for the first time this season when it plays host to Matthews Covenant Day School on Sept. 15.